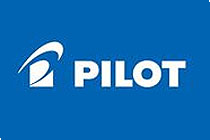 Pilot Pen Corporation, founded in 1918, is the largest pen manufacturer in Japan. Known for its leadership in product innovation, Pilot Pen Corporation consistently introduces bestselling items to the marketplace for consumers to enjoy.

For the general consumer market, some of Pilot's famed product lines include: Hi-Tec-C gel ink pens (known for its fine and sturdy tip and ink color variety), Dr. Grip ballpoint pens and mechanical pencils (praised for its ergonomic grips), and FriXion erasable pens and markers (loved for its heat-sensitive erasable ink).

In the high-end luxury writing instrument space, Pilot maintains the brand of its founder's last name, Namiki. Capless (also known as Vanishing Point in the US) fountain pens and Iroshizuku fountain pen inks are some of the highly sought-after Namiki items.