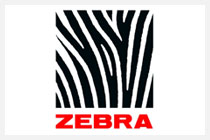 Zebra of Japan was originally established in 1897. Its founder Tokumatsu Ishikawa decided to use zebra print as its trade mark in the hope that business' employees and customers herd together like a big zebra family.

Zebra's corporate philosophy is, "Revisit the past to reveal new knowledge (温故知新)." The company strives to develop writing instruments that are in step with the progress of culture.

For example, Zebra invented the first multi pen and called it "Sharbo" in 1977. The name is a combination of "sharp" (i.e. mechanical pencil) and "ball" (i.e. ballpoint pen). Zebra continues to capitalize on the multi space, creating a premium multi pen line under the name "Sharbo X" and adding other affordable and innovative product lines like the Clip-On series (known for their binder clip) and the nuSprial series (known for their ergonomic grip).