December 9, 2011 - Posted by Brad Dowdy to
Pen Perks
---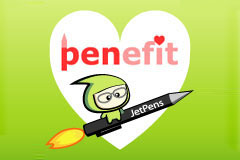 JetPens is a big believer in supporting educational initiatives. Every year, we support a nonprofit through our
Penefit Program
and this year we want you to help direct our support!
Next week, we will launch our JetPens Penefit Get $25, Give $25 campaign. On each day from Monday, December 12th, 2011 through Friday, December 16th, 2011 there will be a giveaway on the JetPens blog where one winner will be selected to win a $25 JetPens Gift Certificate. In addition, each winner will get to choose a non-profit education related charity of their choice that JetPens will donate $25 to on their behalf.
You can read more about our past programs on the
JetPens Penefit
page.
---
---
comments powered by Disqus