---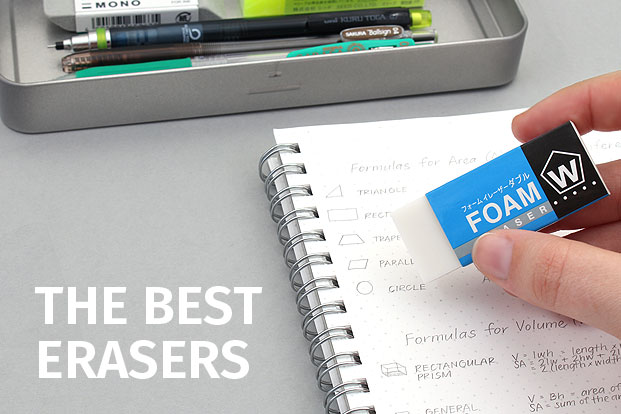 We all have memories of our elementary school days, using gummy pink erasers—that rubbery smell that lingered on our fingers, the inevitable pink smear and occasional hole in our math homework, and red faces from frantically blowing wads of blackened pink residue. Erasers have come a long way since then, especially with the advent of plastic erasers and the revamp of the formula in rubber erasers. How do erasers work exactly? Eraser molecules are "stickier" than paper molecules and thus are able to lift graphite (what pencil lead is made of) from the paper.
With hundreds of erasers on our website, we know the magic of a good eraser. Whether you're an eraser expert or not yet convinced that erasers warrant so much attention, this article will shed some light on why having a good eraser can change your life.
What to Look for in an Eraser
There are many things to consider when you're picking out an eraser. Here are some of the things we looked into as we were testing our erasers:
Erasability. Counting the number of strokes an eraser makes should not be like counting sheep. A good eraser should lift graphite with the lightest of touches without smudging or smearing.
Paper trauma. There's nothing more embarrassing than handing in a piece of work with a bunch of holes in it! An eraser should treat paper nicely. No matter how hard or how much you rub, the paper should stay hole-less.
Residual mess. No one wants to have a mountain of eraser bits after finishing a big test! Nor do you want a bunch of eraser dust stuck to your paper. The ideal leftover residue from an eraser clumps together and is easily brushed or blown away.
Lifetime. It's the worst feeling in the world to have a brand new eraser not even last through one big project. Look for an eraser that doesn't wear down too quickly.
These are all things to keep in mind as you read through our favorite picks.
Eraser Facts
It's time to delve a bit into the different kinds of erasers and their characteristics. There are four major kinds of erasers: rubber, soft vinyl (plastic), art gum, and kneaded erasers. Keep reading to find out more about each type!
Rubber
Rubber erasers are what most people think of when they think of erasers. These classic erasers include the gummy pink erasers and the ones found on the backs of pencils. Usually made from a blend of rubber and pumice, these erasers tend to smear and leave a residue. The pumice in the eraser can be abrasive to paper. However, there are some rubber erasers that have an improved formula, like the Tombow Mono Non PVC Eraser, which are gentle to paper and leave no residue or smearing.
Soft vinyl
Also known as plastic erasers, the soft vinyl eraser provides an easy, clean erase as leftover residue tends to clump together. It is similar to rubber erasers in that they may be abrasive enough to damage paper, but manufacturers have experimented with different types of plastic to minimize paper trauma. Some of the popular PVC erasers are not as readily available in the U.S., but there are many plastic (and non-plastic) erasers that work just as well! Plastic is a popular material for erasers because it is easily shaped and molded. Without it, we wouldn't have the cute Iwako novelty erasers!
Art Gum
The art gum eraser is made from a soft coarse rubber that crumbles easily when being used. It's extremely gentle, so the integrity of the paper is never compromised. It erases graphite effectively; however, because it disintegrates so quickly, it doesn't last as long as its rubber and soft vinyl counterparts.
Kneaded
The kneaded eraser is made from a type of rubber that absorbs the graphite so there is no residue and it doesn't wear away. However, it gets dirty quickly, at which point, you have to "knead" it to push the dirty surface inward to have the clean area on the outside, or you can also clean it to remove the graphite. Otherwise, the graphite on the eraser will transfer back to the paper. If placed in a warm area, it may smear or get sticky. Kneaded erasers are not just effective for graphite; they also remove charcoal easily. Many artists use this eraser for that very reason!
Erase Away
The good thing about erasers is that they're fairly inexpensive, so you can experiment with different ones to find out what is best for you, or have several for different purposes. Never underestimate the power of a good eraser! It can mean the difference between an A and a B grade, a framed work of art or a crumbled piece of paper, or a stunning presentation and a haphazard mess.
We hope you found this article useful and maybe even learned a few things you didn't know about erasers. Do you have any eraser recommendations or questions? Share with us in the comments below and be sure to check out the Eraser Category of our website!
---
---
---
comments powered by Disqus