---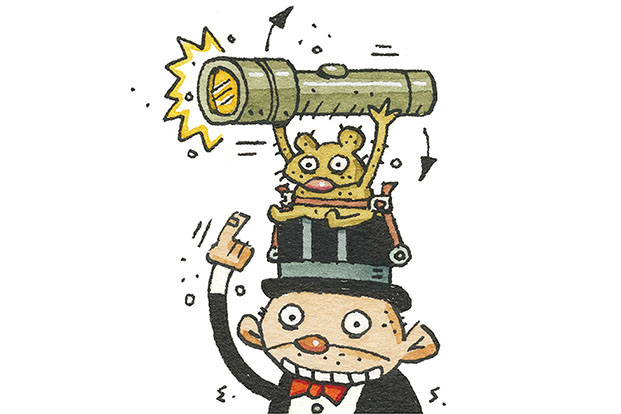 You may have seen the colorful artwork of Elwood H. Smith before in newspapers or children's book. Elwood studied art at the Chicago Academy of Fine Arts and the Institute of Design at IIT in Chicago. After spending eight years working as an art director, Elwood began his career as a full-time illustrator. He has illustrated numerous children's books and has received many illustration awards and honors. In 1983 Elwood and his wife, artist and designer, Maggie Pickard, moved from Manhattan to Rhinebeck, New York where they live a chaotic life thanks to three unruly pussycats, Luigi, Trixie & Pickles.
Give us a little insight as to how you use our JetPens products in your illustrations.
I created the [above] Wall Street Journal illustration using a Pelikan M200 fountain pen with a Pelikan M250 nib. I used
Platinum Carbon Black Ink
in the pen, available from JetPens. It's very waterproof and flows well in my pen. I ink-in my final art on Arches 90# Cold Press Watercolor Paper. I then add Pelikan watercolors, which is why I need a good waterproof ink. The
Platinum Carbon Black
works beautifully and I was delighted to find it available here on JetPens. If anyone would like to see more of my work, please visit my website at
www.elwoodsmith.com
or drop by my blog on Drawger at:
www.drawger.com/greenmonkey/
for more art and more information about me, my tools and process.
---
---
comments powered by Disqus