---
What a surprising honor it was when we spotted the famous Will Meugniot in our
JetPens Facebook group
and found out he was one of our customers! Will Meugniot has enjoyed a long career in the entertainment industry as an executive, artist, writer, producer and director. Will's television work includes producing and directing many animated series including X-Men, The Real Ghostbusters, Jem, Captain Planet, Spydogs, Spider-Man Unlimited and his personal favorite, ExoSquad. In print Meugniot is best known for his co-creation of the DNAgents comic book, but has also contributed to such series as FemForce, Tigra, Howard the Duck, and Solomon Kane as well as briefly ghosting the Spider-Man newspaper strip. He is also noted as a storyboard artist having designed the titles and pilot films for several series, most notably G.I. Joe, Conan the Adventurer, Slimer and the Real Ghostbusters and Jem.
Give us a little insight as to how you use our JetPens products in your illustrations.
I use the
Pentel Pocket brush
for most of my large figure work. It has a flexible line not unlike an old school red sable water color brush and is durable as well as portable. I'm also a big fan of the
Zebra sign pens
in the fine and extra fine widths. They have the feel of crowquille pens without the mess and portability issues.
When working out a cover design I'll usually block out the composition with the
Zebra sign pen
. Then take it into Photoshop to scale it and do modifications. I use a Brother 11x17 all in one copier to print out a full size copy to trace onto the actual art board using blue pencil. Then comes the inking: Mechanical outlines for buildings and cars are done with a
Pigma marker
. Organic lines for people, animals, clothing and so on are a combination of
Pocket Brush
and
Sign Pen
. Large black areas are done with a Pentel Color Brush or conventional brush with India ink.
Hey Will, can the JetPens team get your autograph with some of our pens? :)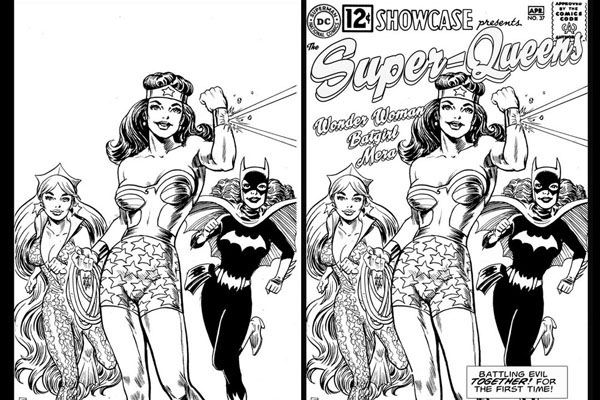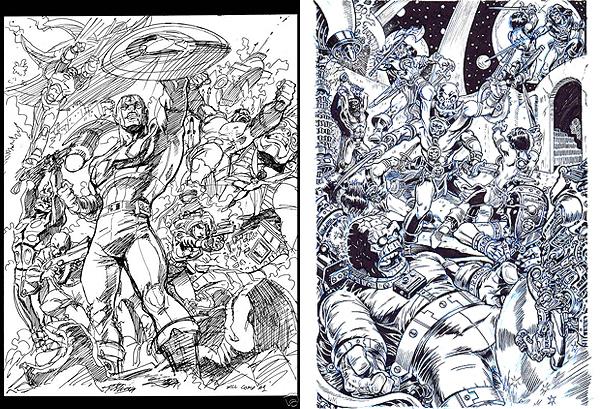 ---
---
comments powered by Disqus