August 28, 2013 - Posted by Elaine to
Pen Perks
---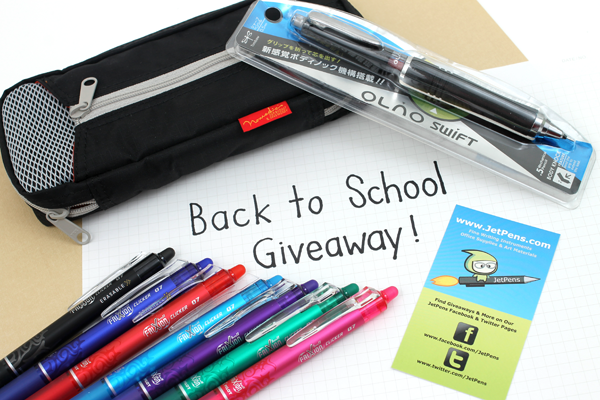 Time sure flies- it's already the end of August, and back to school season is in full swing! Students everywhere are getting ready to buckle down for another year, and that means picking up some fresh school supplies. Whether you're an actual student or just get excited about new stationery, we've assembled a prize pack of unique products that will keep you smart and stylish this fall.
- 1 set of Pilot FriXion Ball Clicker US Erasable Gel Ink Pens - 0.7 mm, 7 colors

- 1 Tombow Olno Swift Body Knock Mechanical Pencil - 0.5 mm, Jet Black
- 1 Nomadic PE-06 Side Zipper Pencil Case - Black


These Pilot FriXion gel ink pens are unique because they contain a thermosensitive ink that can be erased by rubbing. Just use the special rubber "eraser" at the top of the pen, and you won't have to worry about making mistakes on your class notes. The Tombow Olno mechanical pencil has its own tricks as well... to extend the lead, you simply press on the grip to bend the pencil, thus activating its lead dispensing mechanism. Finally, you will also receive a Nomadic PE-06 nylon case to securely house all your new gear!
Rules and Instructions:
1. To enter, please leave a friendly comment below!
2. Entries will be accepted from now until September 4th, 2013 at Midnight Pacific.
3. One winner will be selected at random from all entries and announced here on the blog on September 5th, 2013.
---
---
comments powered by Disqus