---
Not all fountain pen inks are created equal, especially when looking at the color
black
. The amount of color variance found among different black inks can be surprising.
Among the different
black fountain pen inks available at JetPens
, one can find different shades including blue, green, and purple hues. Choosing the right black ink for your needs can be difficult, so to help you out we've compiled a comprehensive swatch sheet of our black bottled fountain pen inks.
Note: Each swab is done on Kokuyo Campus High Grade CYO-BO paper using a Brause 361 Steno "Blue Pumpkin" calligraphy dip pen nib and a cotton swab.
Black Bottled Fountain Pen Ink Swabs
Click on individual swatches to view product details
My personal favorite black inks for everyday writing are the water-resistant
Sailor Nano Ultra Black
, and the
Sailor Jentle Black
. Both of these inks are a deep and intense shade of black, and have formulas that are very gentle on your fountain pens. I've left them in less frequently used pens for months and have never experienced clogging issues.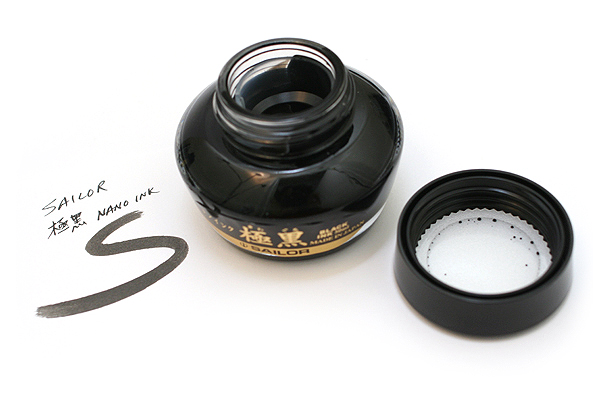 The
Platinum Carbon Black
ink is perfect for illustration, as it is completely waterproof when dry. You can use this ink to sketch and have no worries when using watercolors over your drawings.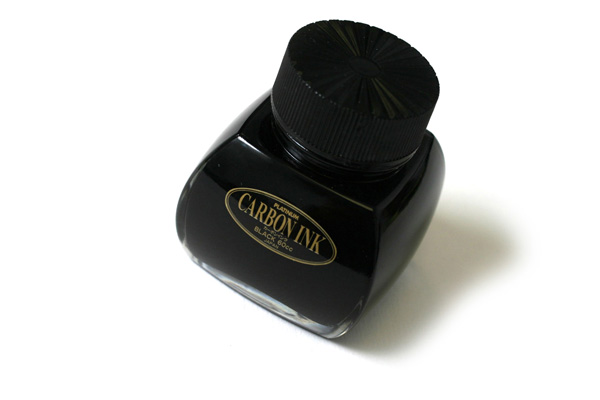 If you are looking for a blue black that is heavier on the black side, the
Diamine Eclipse Black
may be just what you need. The Diamine has a beautiful blue-violet hue reminiscent of the night sky.
If you prefer to use ink cartridges, you may like the international size
J. Herbin Perle Noir cartridges.
These will fit into any fountain pen that accepts the standard international size cartridge. The
Lamy Black
and
Sailor Nano Ultra Black
are also available in cartrdige format, but note that they will only work with their own fountain pen brands (Lamy to Lamy and Sailor to Sailor). The newly released
Monteverde ink cartridges for Lamy
have the same Monteverde black ink in a Lamy-brand compatible format.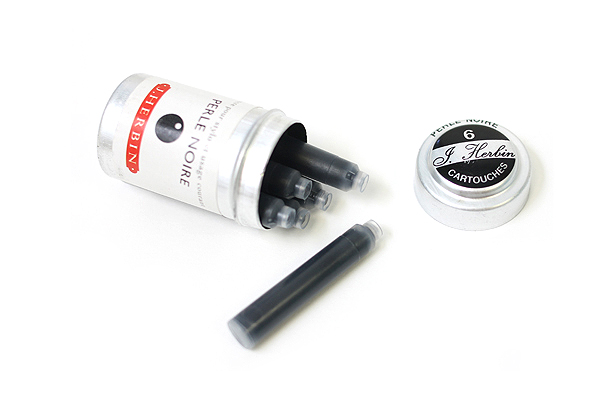 With the variety of black ink shades available, you can find an ink perfect for almost any occasion. Do you have a favorite shade of black fountain pen ink?
*Disclaimer: Our swab sheet has been touched up to represent the most accurate depiction of the ink colors in actuality, but note that every monitor is calibrated differently for color and brightness.
List of all black inks tested in alphabetical order:
Diamine Eclipse Black
Diamine Graphite Black
Diamine Jet Black
Diamine Onyx Black
Diamine Quartz Black
J. Herbin Perle Noire (Pearl Black)
Lamy T52 Black
Monteverde Black
Parker Quink Black
Pelikan 4001 Brilliant Black
Pelikan Edlestein Collection Onyx Black
Pilot Black
Platinum Carbon Black
Sailor Jentle Black
Sailor Nano Ultra Black
Waterman Nostalgia Intense Black
---
---
---
comments powered by Disqus