---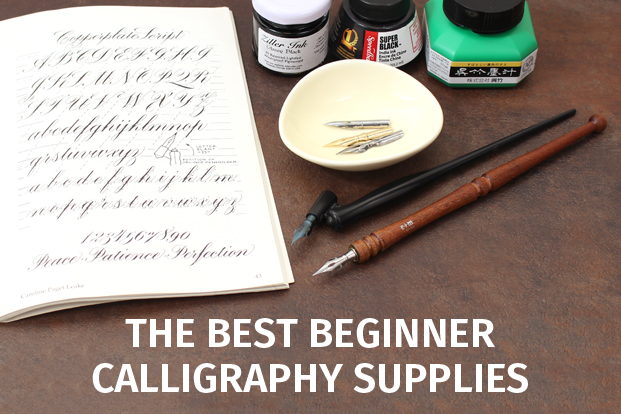 A nib and some ink is all you need to transform letters and words into works of art. With the right tools and some practice, you don't have to be a serious calligrapher or professional to take your writing from mundane to spectacular. However, with all the options and variations on the market, it can be overwhelming to parse through the different selections of nibs and styles. Never fear--we've blackened our hands and desks with ink to bring you some of our favorite calligraphy pens.
Things to Consider
Pen Style
There are two types of pens you can choose from: the traditional dip pen, or a regular cartridge-filled pen. Which you choose boils down to personal preference.
Using a dip pen allows for more freedom in choosing nibs, inks, and even holders, though they tend to be messy and more temperamental. When choosing holders, you can use straight holders that act as regular pens, or oblique holders, which some calligraphers prefer for more versatility in writing angles. Many left-handed calligraphers also use oblique holders to hold the pen more naturally without disturbing their work.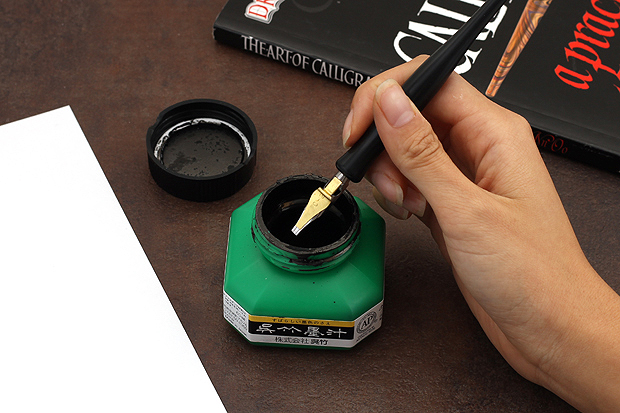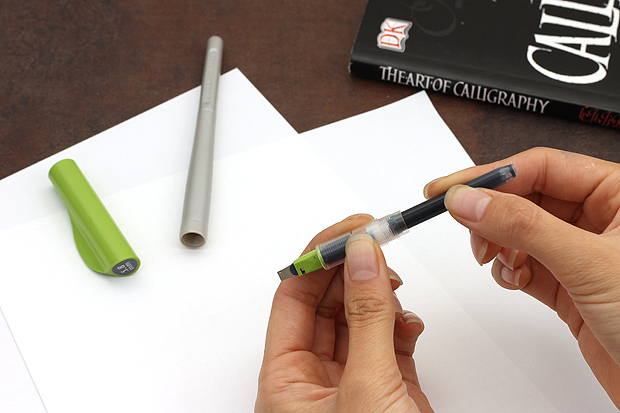 On the other hand, using a cartridge-filled pen is much cleaner and more convenient especially if you don't want to lug a bunch of tools around. However, you are more limited in the kinds of inks and nibs you can use. Traditional calligraphy inks are thicker and will clog the feeding mechanism of cartridge-filled pens.
Nibs
There are two main kinds of nibs: italic nibs and flex nibs. Italic nibs have a blunt edge, usually used for Gothic, Italic, and squared styles. These nibs don't have as much flexibility in terms of line variation.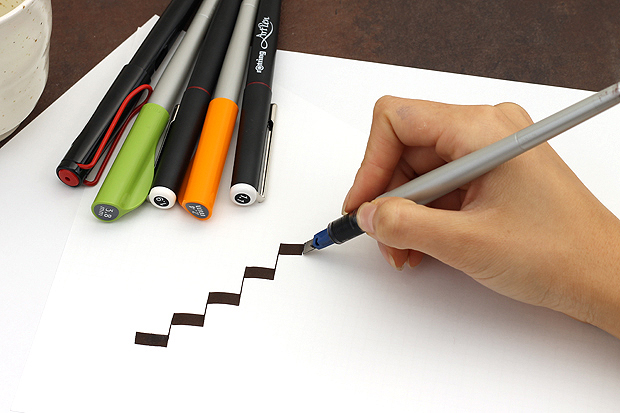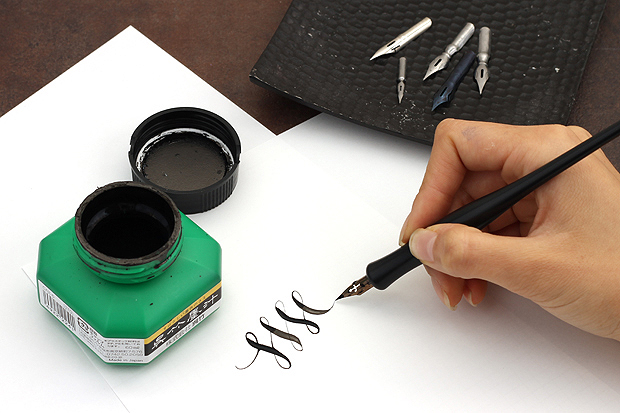 Flex nibs are rounded with two tines that come to a point, and the line variation comes from the tines' ability to split. The more they separate, the wider the line width. To get the tines to separate, you apply pressure as you write. Usually, this happens during the down strokes as the nib tends to catch on paper if you do a heavy up stroke. This is the technique used in most modern and pointed pen calligraphy.
Ink and Paper
In cartridge-filled pens, it is best advised to use the ink recommended by the manufacturer. Some of these pens do come with converters which you can fill with other kinds of inks. Be careful with the ink you fill them with, since you don't want to risk clogging the nib and ruining it.
With dip pens the possibilities are endless. It is better to use calligraphy inks that have more viscosity than regular fountain pen inks--they'll cling to the nib better and give you more control when you write, especially with those tricky line variations! Some calligraphy inks even come in different colors or with chunks of glitter, which can add texture and dimension to your calligraphy.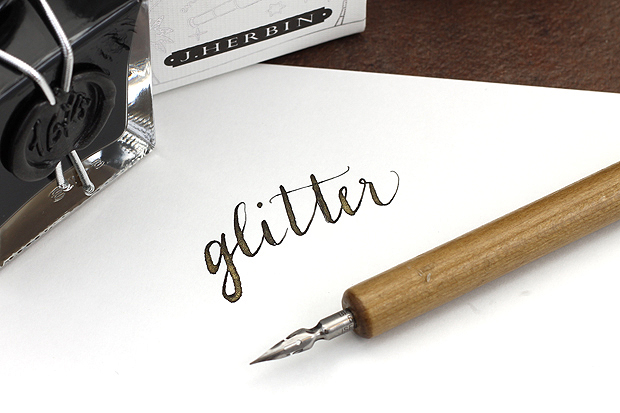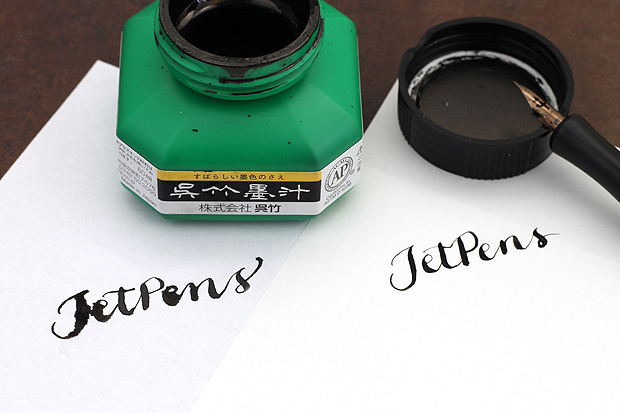 When choosing paper, forgo your regular printer paper. Calligraphy pens generally dispense more ink onto the paper, and with low quality paper, bleeding is more likely to happen as a result. Choose something that is higher quality so it will hold the ink better and not bleed or feather all over the place. If you're not sure what kind of paper is suitable for calligraphy, look for paper that is fountain-pen-friendly. You can see our Fountain Pen Friendly Paper selection guide here.
Product Lines - Italic Nibs
Product Lines - Flex Nibs
Tips for Using Dip Pens
Prepping the Nib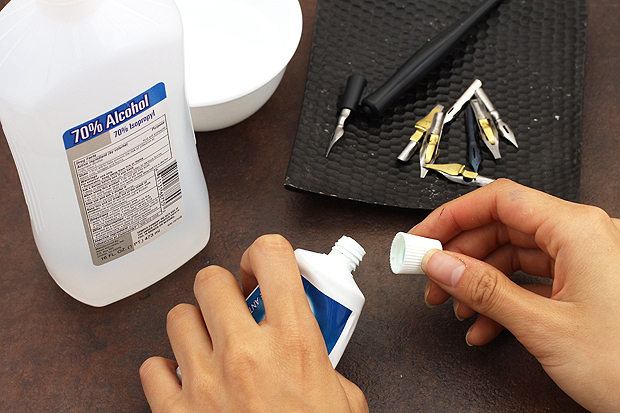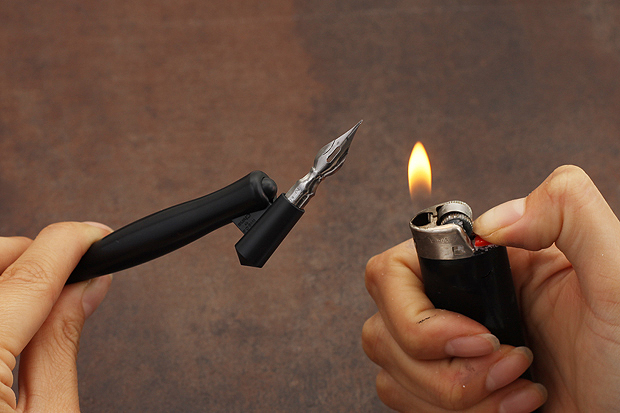 Before using a nib with your dip pen, clean off the oil from the nib. Manufacturers coat the nib with a protectant oil to prevent the nib from rusting. However the oil causes ink to run in globby bits resulting in a mess, so it's important to clean it off to get smooth, even writing. There are several ways to clean a nib. You can take toothpaste on a gentle brush and carefully rub the oil off with a good rinse. Rubbing alcohol also works, but we wouldn't soak it for too long. Another method is to use a lighter to burn the oil off, but please be careful when using fire.
Installation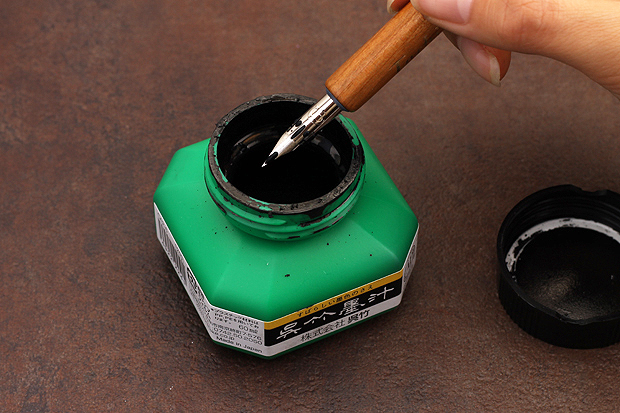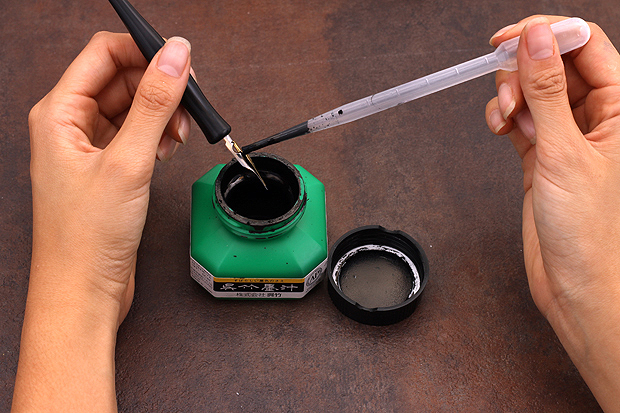 After you install your nib on the holder (make sure it fits correctly and securely), you can dip it into the ink or, if you have a nib with a built-in reservoir, use an eyedropper to fill it for a cleaner and more uniform flow.
Nib Cleaning and Storage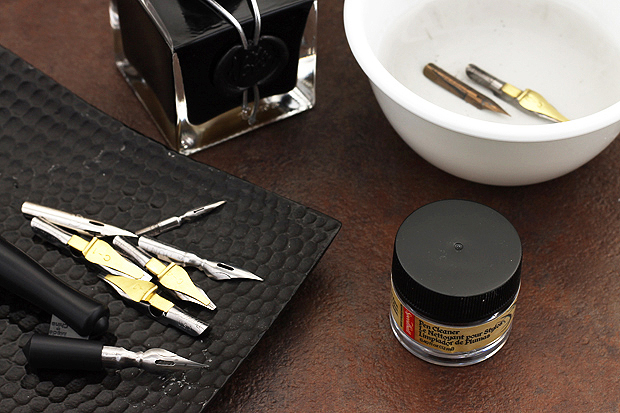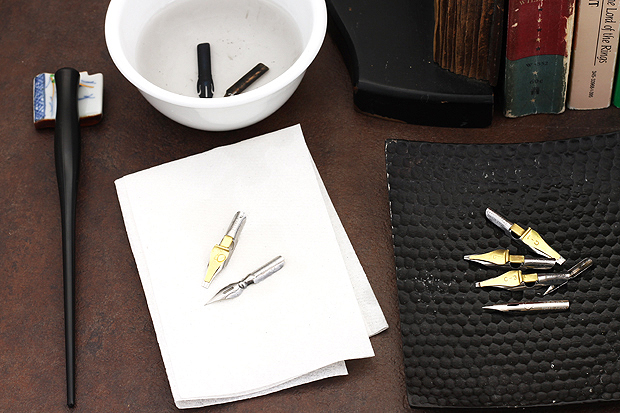 When you're finished writing, be sure to clean the nib and dry it off completely to prevent rusting. There are a variety of cleaning solutions on the market, but most non-waterproof inks will clean off well with mild soap and water. For those peskier waterproof, acrylic, or India inks, you may need a special cleaner, such as the Speedball Pen Cleaner.
Tips for Using Flex Nibs
Writing Angle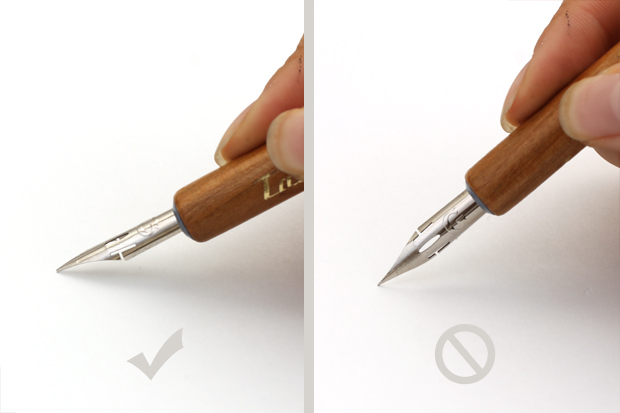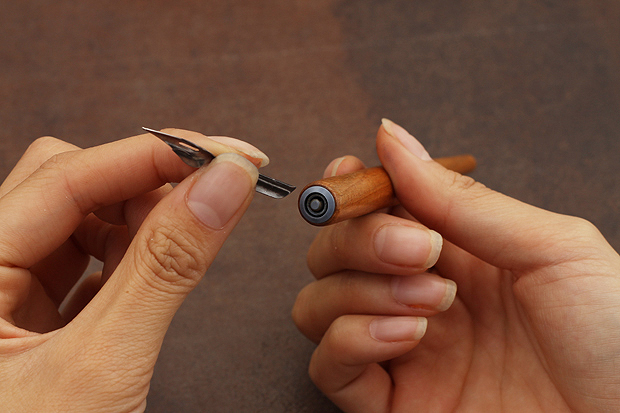 The best angle to write with a flex nib is at a 45 degree angle, so keep that in mind when you're installing the nib into a holder. If the nib holder has two grooves, the nib will usually go in the outer groove. Smaller nibs will go in the smaller groove.
Railroading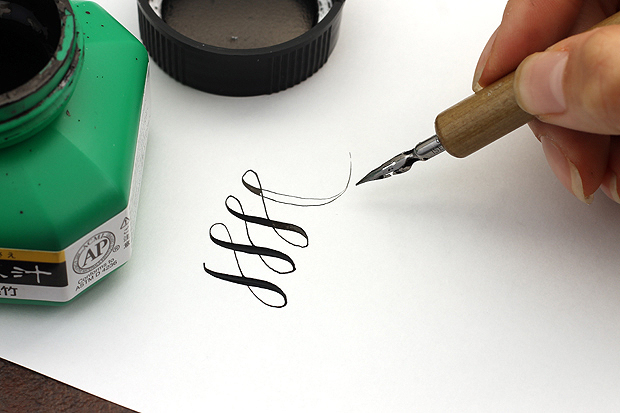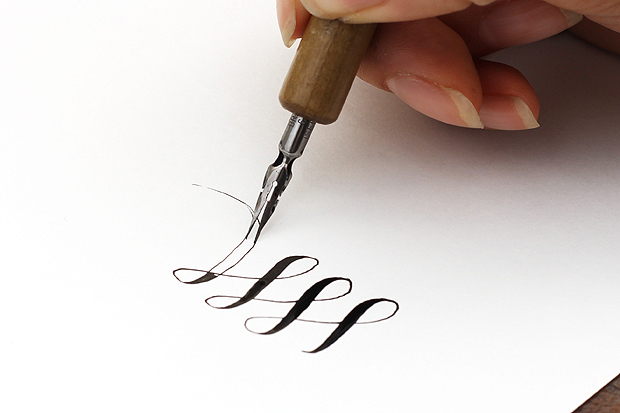 A common problem when writing with flex nibs is called "railroading". This is when the ink follows the two tines rather than flowing smoothly between them, creating a railroad track effect. This happens when you don't have enough ink in the nib, so be sure to dip and test often!
Calligraphy Strokes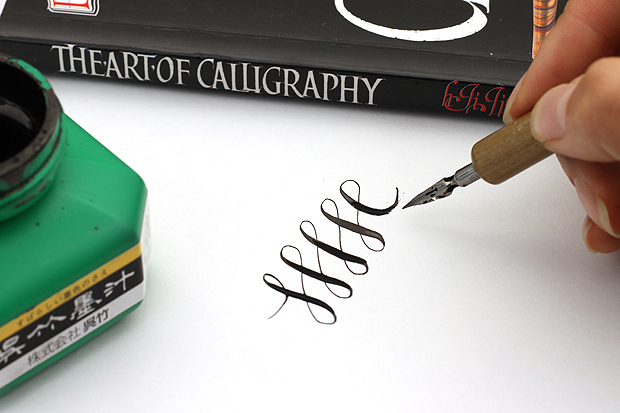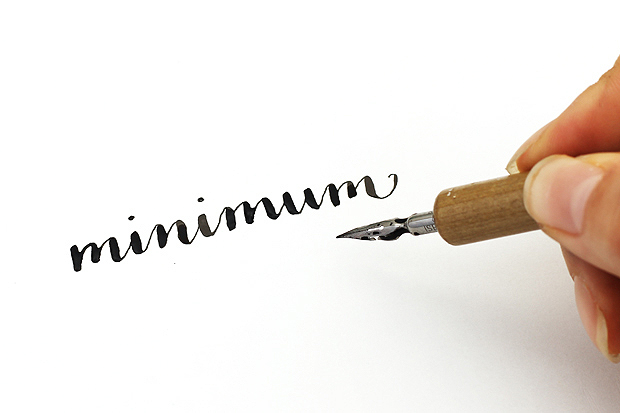 Getting used to using flex nibs takes a lot of practice and patience. With italic nibs, once you are accustomed to the holding angle, you can create certain styles of calligraphy easily; for example, Italic or Gothic styles. However, flex nibs are more temperamental and express each delicate flick and change of pressure, making it difficult to maintain consistency. It's good to practice down and up strokes until you are familiar with how the nib responds. To achieve a modern calligraphy look, go heavy on the down strokes and light on the up strokes, and keep the pressure the same on the downstrokes for a cleaner, more uniform look.
Finishing Strokes
We hope you've found this post helpful and that you are inspired to try some calligraphy pens yourself, whether it comes with the bold and boxy italic nibs or the delicate and graceful flex nibs. Even if your first couple of tries may not be Pinterest-worthy, with some practice and a lot of ink, we're certain you'll find a calligraphy style to call your own.
| Name | Nib Type | Pen Style | Line Width | Flex Level |
| --- | --- | --- | --- | --- |
| Pilot Parallel Calligraphy Pens | Italic | Cartridge | 1.5, 2.4, 3.8, 6.0 mm | Low |
| Lamy Joy Calligraphy Pens | Italic | Cartridge | 1.1, 1.5, 1.9 mm | Low |
| Rotring ArtPen Calligraphy Pens | Italic | Cartridge | 1.1, 1.5, 1.9, 2.3 mm | Low |
| Pilot Plumix Fountain Pens | Italic | Cartridge | Fine | Low |
| Kaweco Calligraphy Pen Sets | Italic | Cartridge | 1.1, 1.5, 1.9, 2.4 mm | Low |
| Speedball C-Series | Italic | Dip | 1.8 (C4), 2.0 (C3), 3.0 (C2), 3.5 mm (C1) | Low |
| Speedball 101 | Flex | Dip | Extra Fine | High |
| Speedball 512 | Flex | Dip | Fine | Moderate |
| Brause 66 Extra Fine Arrow Calligraphy Pen Nib | Flex | Dip | Extra Fine | High |
| Brause 361 Steno Blue Pumpkin Calligraphy Pen Nib | Flex | Dip | Fine | Moderate |
| Zebra Comic Pen Nib -G Model | Flex | Dip | Fine | Moderate |
| Pilot Elabo Fountain Pens | Flex | Cartridge | Extra Fine, Fine, Medium, Broad | Low |
---
---
---
comments powered by Disqus