---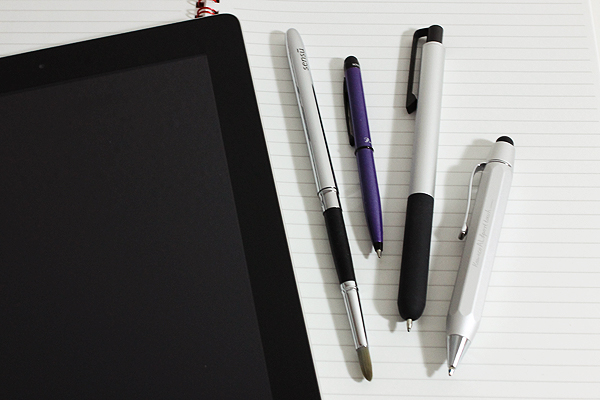 So, you have a shiny new iPhone or iPad and now you can't bear to peel the screen protector off. We've all been there. But if you find yourself clinging to it twelve months later, it might be time to invest in a capacitive stylus pen.

Capacitive Touch Screens & Stylus Pens
---
Most smartphones and tablets (including the iPad, iPhone, and Kindle) have capacitive touch screens. These special touch screens have built-in sensors that constantly monitor the surrounding electrostatic field. When your finger touches the screen and disturbs the electrostatic field with its natural bio-electricity, the device can determine its location and react accordingly.
Capacitive stylus pens simply act as substitutes for your finger, conducting the electrical charge from your hand to the touch screen. The tip of a stylus pen is typically made of soft rubber, which won't damage your screen as long as its regularly cleaned of dust and debris. In general, capacitive styli must have:
1. A conductive surface that can transmit the electrical charge between your hand and the screen.
2. A tip greater than 0.25" wide (so that the device "recognizes" it as a finger)
3. A smooth surface, so that your screen isn't damaged.
In most cases, the stylus pen won't work if your palms are resting on the screen. However, iPad apps like Notability, Penultimate, and Ghostwriter all have wrist-guards so that you can rest on the screen without messing with the feedback.

Compatibility
---
The capacitive stylus pens listed in Staff Picks are compatible with most smartphones and tablets, including the iPad, iPhone, Kindle, and Android devices. The styli used for graphics tablets (like Wacom tablets) and the styli used for the Nintendo DS are not capacitive, and generally will not work with smartphones and tablets.

Staff Picks
---
We tried four of our favorite stylus pens out using an iPad2 and the drawing app Paper by FiftyThree: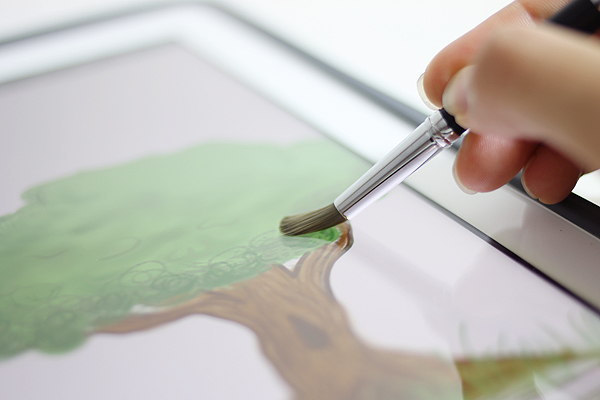 Sensu Artist Brush & Stylus Pen
The Sensu Artist Pen emerges from its box as a nice, smooth capsule that feels right at home in your pocket. The round rubber stylus is solidly attached to one end, and does a respectable job of opening apps, checking Facebook, and selecting keyboard letters. The response time when writing with the stylus feels a bit slow and clumsy, so if you're looking to write notes on your tablet, scroll down for the LunaTik Touch Pen.
Once you remove the cap and post it, the Sensu becomes a full-fledged 7" paintbrush with enough length to feel comfortable in your hand, and the most exciting part of the pen is revealed: a brush tip with synthetic, conductive fibers. The lack of resistance against the brush takes some getting used to, but the experience is surprisingly realistic. The brush is responsive, fluid, and never frustrating. Plus, there's something freeing about the experience -- no dripping water, no crusty tubes of paint, and no easel to trip over. It's perfect for sketching during long commutes, and not nearly as conspicuous and unwieldy as pen and paper. When we interviewed Sensu designer Rick Rousseau back in August, he observed that the brush "has a little bit of magic that makes people smile." I'm inclined to agree.
BEST FOR: Artists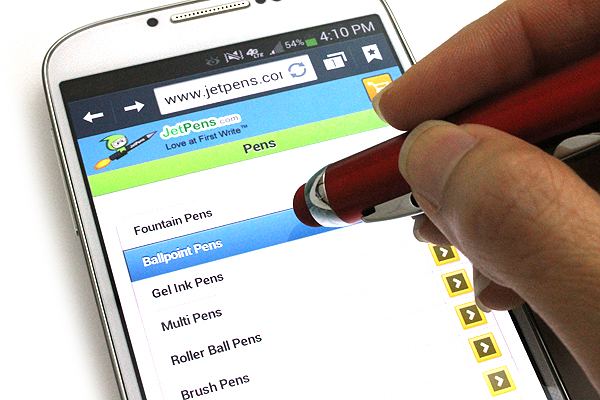 Zebra Wing Stylus C1 Ballpoint Pens
This sleek, modern stylus pen features a sophisticated metallic finish that looks more expensive than it is. The stylus is made of soft silicone and is located conveniently at the end of the pen. Perfect for school or fun, the stylus has god sensitivity, so you can navigate your touch screen device with ease. We also enjoy using the ballpoint pen--to use, simply twist the grip area to extend the tip. Black ink is included, and refills are available in additional colors.
This stylus plus ballpoint pen is compact and easy to carry around due to its lightweight aluminum body, making it an ideal every day carry item for students--not to mention, affordable!
BEST FOR: Students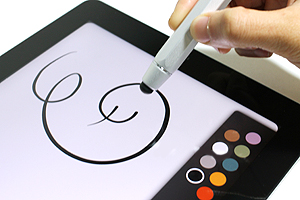 Kaweco AL Sport Touch Ballpoint Pen + Stylus
The Kaweco AL Sport is wider than the other styli, with a compact shape that feels solid in the hand. The body is angular and composed of panels that give it its characteristic "sporty" look. Its rubber stylus is pretty big and adept at navigating touch screen interfaces, with a surprisingly fast response time. It performs well at both writing and sketching.
If you apply a small amount of pressure to the stylus while writing, there's actually a slight feeling of resistance -- sort of like the feeling of a pen on paper. This can be attributed to two things: the heaviness of the pen and the slight "stickiness" of the rubber stylus. It's a nice, unique quality that tends to be rare among stylus pens. Twist the back of the pen to reveal the pen component, which is a 1.0 mm ballpoint refill in blue. It tends to skip and isn't the smoothest writer, but it's serviceable for limited writing sessions.
BEST FOR: Office workers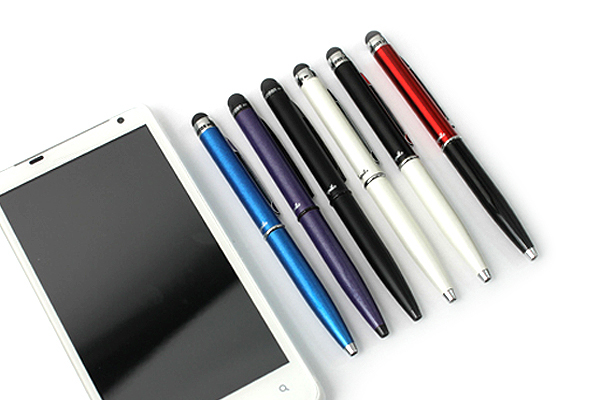 Monteverde Poquito Ballpoint Pen + Stylus
The pocket-sized Poquito is the most affordable pen on the list, and also the most portable. Its rubber stylus is fairly small in comparison to the others, making it better for precision browsing, and the stylus is of average sensitivity. The ballpoint ink is generally quite smooth, exceeding my expectations for writing performance. At 4.1", the pen body is shorter than most smartphones, and can be easily stored in pockets or purses. If you know anyone that burns through data with constant Instagram uploads and Foursquare updates, the Poquito is the perfect gift.
BEST FOR: Commuters

WRAPPING UP
---
Since smartphones have much smaller screens than tablets, it stands to reason that we might want to use smaller styli for them. The Monteverde Poquito is the perfect size for an iPhone, while the Sensu brush clearly requires more touch screen real estate. For the full list of available stylus pens, check out the Stylus Pens Selection Guide.
Staff picks are listed in this table. The model, functions, and user recommendation are all displayed.

Do you use a stylus? What kind?
---
---
---
comments powered by Disqus