---

Certain materials just look like they belong on a space colony of some sort. Titanium is one of these materials; carbon fiber is another. It's easy to picture that iconic carbon fiber weave pattern against a harsh lunar landscape, or perhaps integrated into the sleek controls of a spaceship.
Carbon fiber is a high-tech material with an incredible strength-to-weight ratio. It's stronger than steel, lighter than aluminum, and resists corrosion. It was initially developed for aerospace applications, but soon became an important material for sporting goods (like vaulting poles, bikes, and longboards) as well as musical instruments (like bagpipes, guitars, and cellos).
And now, it's entering the world of pens.

What is Carbon Fiber?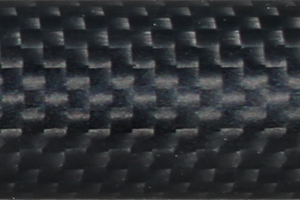 To create carbon fiber, thousands of strands of super-thin carbon are wound into a yarn. The yarn is woven into a sheet, which can then be molded into various shapes depending on the application. This resulting weave reflects light in unusual and unpredictable ways, creating a shimmering and mirage-like effect. If you ever rotate a carbon fiber pen in your hand, you'll see the effect firsthand.




Carbon Fiber + Pens = Carbon Fiber Pens
With pens, carbon fiber is often combined with another material -- usually epoxy -- to form a composite material for the pen body. The epoxy protects the carbon fiber from abrasive surfaces and scratches. You may be tempted to hurl the pen into hard surfaces and volcanoes to test its mettle, but it's probably best to refrain from doing so. Carbon fiber is strong, but can also be brittle.

Types of Carbon Fiber Pens
There are two main types of carbon fiber pens:

1. Pens that have a carbon fiber finish. The finish is layered over another material, such as aluminum or stainless steel.
2. Pens that have a carbon fiber body. The carbon fiber is the main structural component of the pen.
Pens that have a carbon fiber body tend to be lighter. Although many people prefer the heavier feel of traditional fountain pens, light pens do offer more control over a longer period of time. They're also less of a strain for shirt pockets, which are apt to stretch out and become awkwardly baggy if subjected to enough weight.

Staff Picks
Kaweco AC Sport Carbon Fountain Pen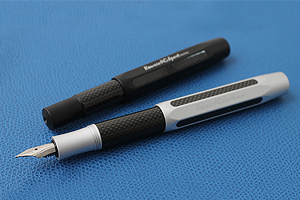 This Kaweco pen is an attention-grabber, particularly in red or champagne. The majority of the pen is made from smooth, anodized aluminum that feels cool to the touch, while the inlaid strips of carbon fiber finish emphasize the angles of the pen body, creating a look that is decidedly sporty. It's the sort of pen that would feel right at home on a sailboat, or perhaps in the glove compartment of a fast car. It's compact enough at 4.1 inches to drop into your pocket, and the carbon fiber brings an edge of modernity and class to a pen that's otherwise quite utilitarian. The pen weighs 22.7 grams when empty, making it more than two times heavier than its plastic counterpart, the Kaweco Classic Sport Fountain Pen.
Tombow Zoom 101 Carbon Fiber Fountain Pen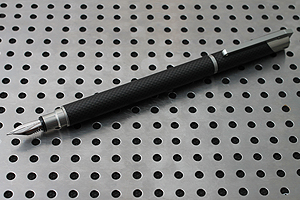 The Zoom is well crafted, with a minimal and industrial aesthetic that appeals to engineers. The pen uses carbon fiber for more than just finish -- unlike the other pens listed here, it integrates carbon fiber into the whole structure of the pen body. The clip, tip and ring are made of duralumin, an extremely light and durable type of aluminium. It follows that the Zoom is our lightest carbon fiber pen, measuring in at 14.2 grams when empty. You can clearly feel that it's lighter than the others, even without a scale.
Platinum MWBC-5000 Carbon Fiber Multi Pen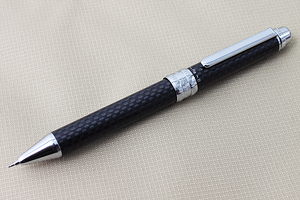 The MWBC-5000 has a glossy carbon fiber finish over a heavy brass body. The trim is composed of chrome-plated brass, making this the heaviest pen on our list at 31.2 grams (when empty). This multi pen also has a larger pattern than the others, making it possible for you to see the actual carbon fibers much more clearly. Its weight is authoritative and reassuring, which lends itself well to correcting papers, signing documents, and writing non-fiction.

Zebra Sharbo X CB8 Pen Body Component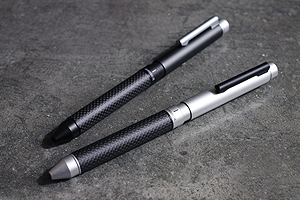 Half of the Sharbo X multi pen is made from carbon fiber, and the other half is made from aluminum. This pen, with its many detachable components and customizable parts, embodies the futuristic quality of carbon fiber perfectly. You can stock it with all sorts of refills, including a D1 stylus! The surface of the pen is equally sleek and high-tech, with its rakish clip, slender robot-like middle section, and rubber cap. It weighs in around the middle of the pack at 24.1 grams.
Staff picks are listed in this table. The model, the material the pen is made with, and the pen's weight in grams are all displayed.

Now that carbon fiber products are becoming more accessible, they've become quite popular among the EDC (Every Day Carry) set for their ultra-modern aesthetic. Items like knives, letter openers, and money clips are often finished in a stylish layer of carbon fiber. The unique material is perfect for anyone looking for a fresh approach to pen design -- architects, fountain pen collectors, science-fiction writers, lawyers, car lovers, and aviation enthusiasts alike can appreciate its construction quality and intricately layered texture. Peruse the Carbon Fiber Pens Selection Guide for the complete list of choices!
Do you own anything that's made with carbon fiber? What do you think of the material?
---
---
---
comments powered by Disqus