---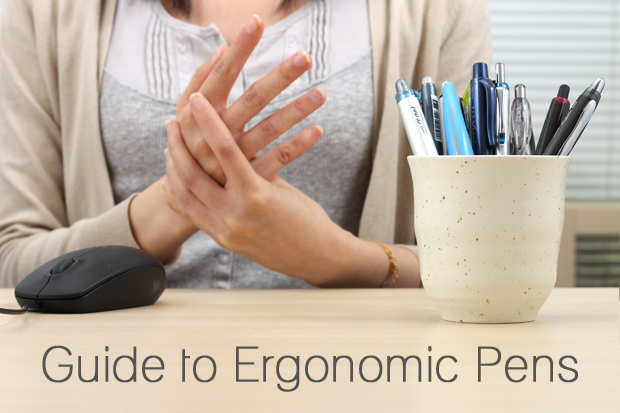 Pens are often advertised as being ergonomic, but the meaning of the words tends to get lost in a haze of marketing speak. What exactly makes a pen ergonomic? There is no such thing as a one-size-fits-all solution, since ergonomics vary from person to person, depending on the size and shape of their hands, as well as any pre-existing medical conditions, such as carpal tunnel or arthritis. With that in mind, this guide will help you parse through ergonomic pen options and also give some tips and tricks along the way.
Characteristics of Ergnomic Pens
Finding the right pen can go a long way towards relieving hand fatigue. There are quite a few considerations to keep in mind when selecting an ergonomic pen. Here is an overview of qualities that are conducive to comfortable writing.
Shape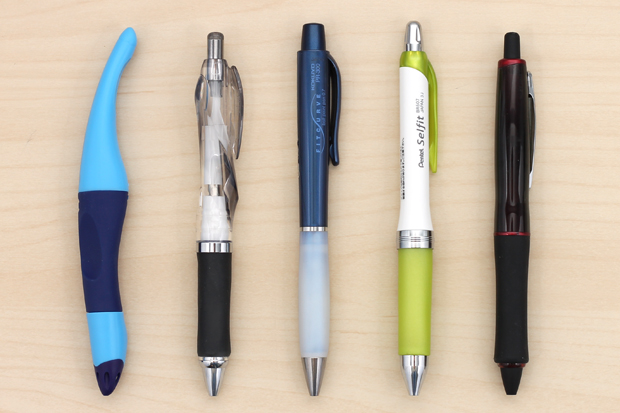 Generally, pens that are long, balanced, and thick are considered more ergonomic as they are more easily grasped by the hand. Manufacturers have also played with various designs, and as a result, you can find pens with hourglass figures, chiseled contour lines, and even pens that follow one smooth curve—all in the pursuit of the perfect ergonomic shape.
Weight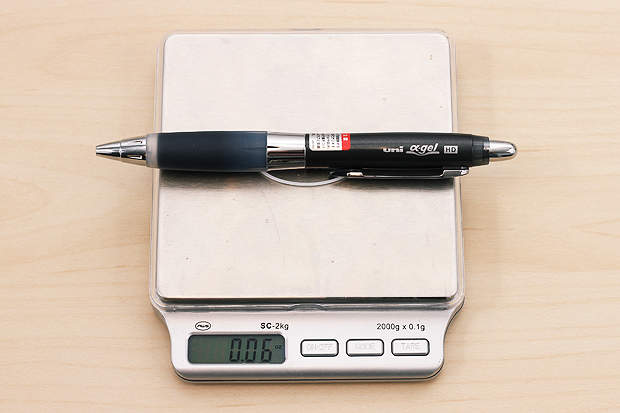 A pen should be light enough to hold comfortably, but heavy enough so that too much pressure doesn't have to be applied for it to write. Most ergonomic pens are tip heavy for this reason—the weight naturally pushes the tip down, whereas a top-heavy pen sways with each writing gesture, forcing the hand to grip harder to compensate. It's best to experiment and see what you prefer.
Grip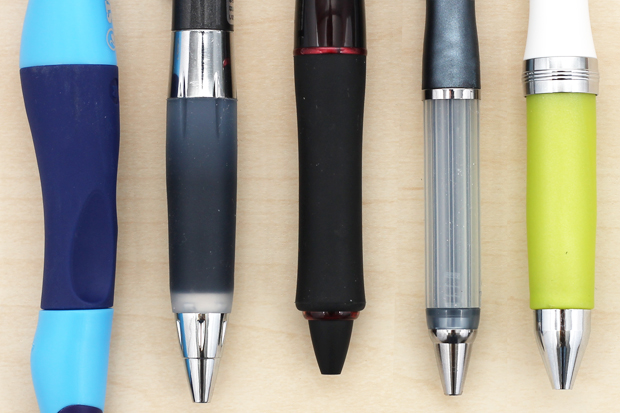 A good grip can help alleviate finger discomfort especially when writing for long periods of time. We recommend a rubber grip that is gentler and easier for your fingers to stick to as opposed to slippery metal or plastic surfaces. Grips range from extremely soft and cushioned to firm and grooved. Choosing the right grip depends on how firmly you grasp your pen. For example, someone with a death grip probably needs a squishier pen grip.
Ink Flow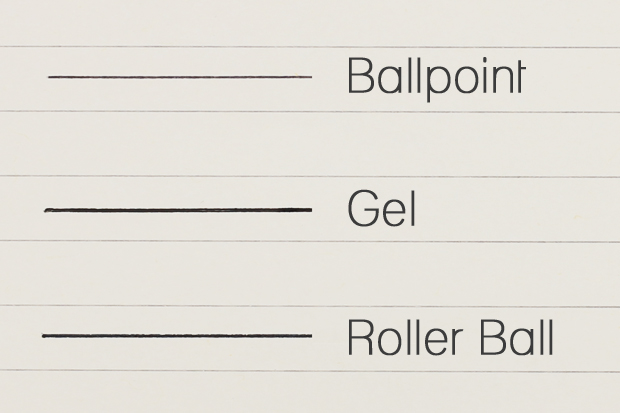 A pen with good ink flow reduces the amount of exerted force required when writing, minimizing fatigue over time. For this reason, some people prefer using gel or roller ball pens for their juicy flow. However ballpoint pens have come a long way—many brands now offer wonderfully smooth flowing inks in their ballpoint pens that allow for legible, attractive letters and characters.
Posture and Form
Posture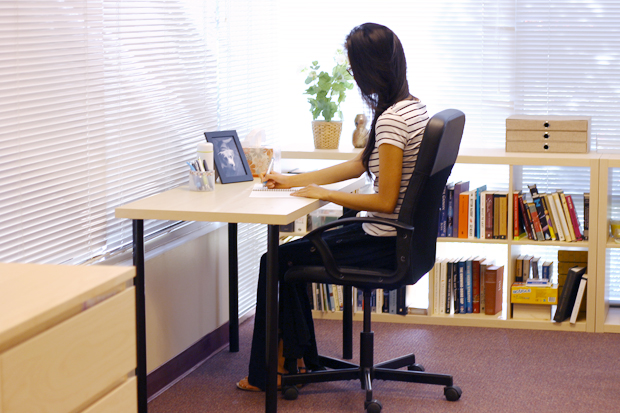 Comfortable, fatigue-free writing starts with good posture. No matter how ergonomic a pen is, if you don't practice good posture, you are susceptible to injuries including cramping, fatigue, and other serious pain. To reduce the chance of sustaining ergonomic injuries, here are some simple steps to follow:
Sit up straight and keep your feet planted firmly on the ground.
Rest your back against the chair for support.
Keep your shoulders and arms relaxed.
Don't sit for long periods of time. Take a stretch break every once in a while!
Form
The way you hold a pen is also important. Our hands and wrists are put through the wringer each day and are extremely prone to ergonomic injury. Here are our tips for optimal pen holding:
Have a relaxed grip. The lighter your grip, the less stress you put on your fingers.
Hold the pen in a tripod position, anchored by your thumb, forefinger and middle finger.
Try not to press too hard with your forefinger as it can lead to cramping, but instead keep it arched.
Prevent strain on your fingers and wrists by moving your whole arm as you write, rather than just your fingers.
Lefty Tips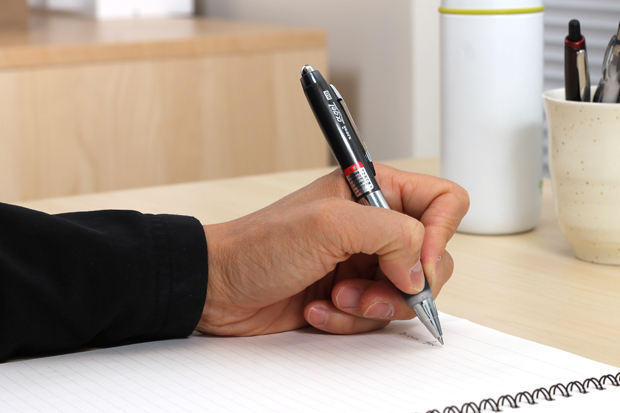 We know these guidelines may not work as well for lefties, and we're working on writing a guide just for you. In the meantime, here are some general tips to keep in mind:
Grip the pen about 1-1.5" away from the tip to see what is being written without having to adopt a "hooked" posture.
Use quick-dry pens or a SmudgeGuard to avoid smudges instead of contorting your hand.
Tilt the paper so your arm is at a right angle to the bottom of the paper to better see what you've written.
Keep your hand below the writing line rather than above, as that can be bad for your wrist.
Conclusion
It's never too late to fight against bad habits! We hope we've inspired you to consider not just the ergonomics of your pen, but your overall posture and habits in general. Are you a fan of ergonomic pens? Let us know your favorite in the comments below!
---
---
---
comments powered by Disqus