November 10, 2015 - Posted by Ryan to
Guides
,
Fountain Pens
,
Office
,
Gel Pens
,
Brush Pens
,
Multi Pens
,
Paper
,
Cases and Bags
,
Ballpoint Pens
,
Markers and Felt Tip Pens
,
Mechanical Pencils
,
Highlighters
---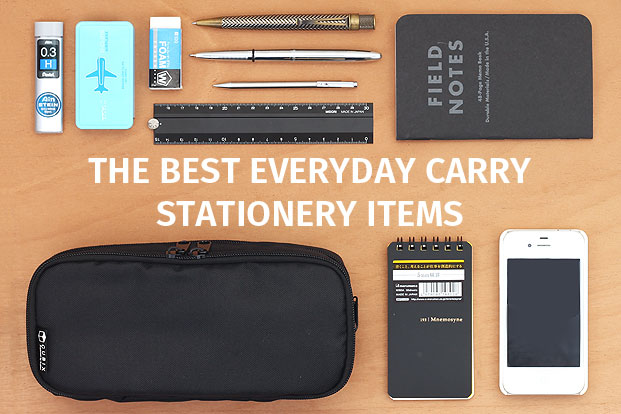 What have you got in your pocketses? Everyday carry (EDC) is all about taking time to deliberately consider the things we choose to carry with us on a daily basis. Whether they think about it or not, everyone has their own EDC kit, whether it's the basic triad of keys, wallet, and phone or a Ranger utility belt equipped for a quest to Mount Doom. Common choices for EDC gear include flashlights, utility knives, multi-tools, and (of course) pens and paper.
Benefits of EDC
There are several benefits to the everyday carry mindset:
(1) Preparedness
A well-selected set of EDC gear will keep you prepared and equipped for all the everyday tasks (and some not-so-everyday ones) you are likely to encounter. Whether it's a pen to write down an important idea or an elven cloak to keep you safe and dry, a small amount of preparation will save a lot of inconvenience and discomfort when it counts.
(2) Convenience
It's usually fine to coast through daily life without needing to carry your own supplies, but how many times have you had to use a restaurant's pen only to find that it won't write? Having your own EDC kit means always being able to use tools you like and are familiar with.
(3) Personal Satisfaction
Gathering your EDC can be deeply satisfying. Not only is it a way for you to express your personality and lifestyle, the peace of mind that comes from knowing you're prepared to deal with a variety of circumstances.
Inspired to give your everyday carry items a second thought? Let's take a look at what you should keep in mind when building your EDC, then explore some ideas and examples of things you might include.
Building Your EDC - Considerations
Usefulness
This is the most important consideration when selecting EDC gear, and each of the following considerations can be tied back to it. What are things you can add to your daily carry that would be useful in specific everyday or emergency situations?
Portability
Everyday carry means carrying things with you every day, so it only makes sense to pick things that are easily carried. This includes compactness as well as other things like how easy it is to slide in and out of a pouch or pocket, if it has any small parts that can come off and get lost, or if it has any sharp or pointy bits.
Durability
Your EDC kit doesn't need to survive a nuclear war, but it is important that you can count on it to work when you need it to. Something that gets carried every day—even just to the office and back—will accumulate a lot of wear and tear, and its build quality needs to be up to the challenge.
Core Components of a Pen User's EDC
If you're like us, you'll want to make sure that your EDC includes some great writing instruments and other basic stationery.
Example EDC Kits
Here are some examples of EDC kits to get you going. Start out with any of these and customize to your heart's content!
Staff EDC Kits
So what does a real-life EDC kit look like? Let's take a look at what what some our staff actually carry everyday.
Conclusion
Ready to get started on your
EDC
? Do you already have a collection of EDC gear that you love? Let us know in the comments below!
---
---
---
comments powered by Disqus