---

As they improve, guitarists gradually acquire pedals for reverb and gain and flange, PC gamers acquire expensive graphics cards, snowboarders become downright gleeful about jumping from lethal heights... and fountain pen owners start to hunt for demonstrator pens, 14k gold nibs, and piston fillers.
In our introductory Guide to Choosing a Fountain Pen article, we outlined the different kinds of filling mechanisms and nib sizes, and recommended a number of affordable Beginner's Fountain Pens for people just starting out.
Now we're ready to take a quick look at demonstrator (also known as "skeleton") pens, which were once used by dealers to "demonstrate" the features of upscale fountain pen models to potential customers. Skeleton pens are especially useful for intermediate-level fountain pen owners, since the transparent body allows you to observe the filling mechanism, nib feed, and other components that help the pen function.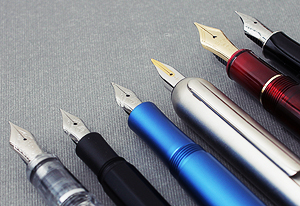 As we delve deeper into the world of fountain pens, you'll also notice that nibs vary in more than just size and shape. Now you can upgrade to gold, palladium, and titanium, or select pens with various types of plating on their nibs. Most fine fountain pens are already excellent writers with all the basic features, so these small details -- along with the overall aesthetic of the pen -- make all the difference.
We've chosen several outstanding fountain pens from the Fine Fountain Pens selection guide to feature in the "Staff Picks" section, so read on to find the perfect companion for your thoughts.

What Are Demonstrator Pens?
---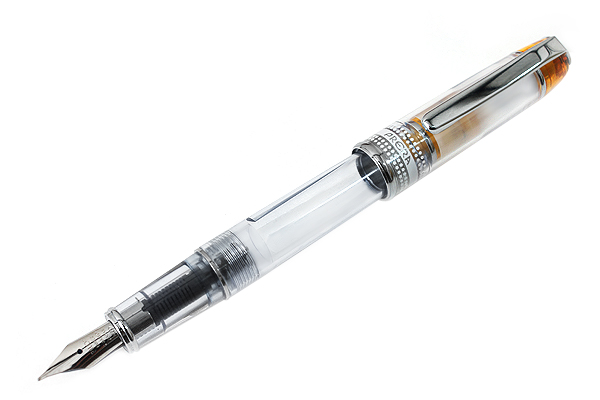 Empty Pilot Prera Clear Body Fountain Pen with a cartridge-converter filling mechanism.
Demonstrator pens (also known as "skeleton pens") are pens which are transparent. In the 1930s, they were used by manufacturers and dealers to show the features of the pen to potential buyers. Recently, the transparent aesthetic has become quite popular with regular consumers, and demonstrator pens are frequently sold alongside standard pens. Savvy fountain pen users like to see the inner workings of the pen, particularly the filling mechanism and ink supply. From a design perspective, piston-filling demonstrators tend to be superior to cartridge-converter demonstrators, since the ink isn't limited to a small and confining converter. With more space to flow freely, the ink spreads just under the surface of the pen, changes colors under different lights, and sloshes around with gusto. Needless to say, demonstrator pens have a special appeal for engineers, mechanics, and tinkerers of all professions.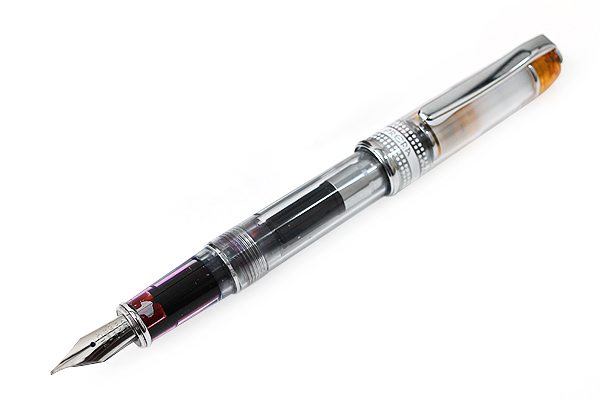 The same cartridge-converter Pilot Prera Clear Body Fountain Pen filled with J. Herbin's Rouge Hematite.
And, of course, filling a demonstrator pen with ink changes the whole character of the pen. J. Herbin's Rouge Hematite (blood red with a subtle golden sheen) gives the pen a completely different feel than Pilot's Deep Azure Blue. You can watch as the ink gets drawn into the barrel and colors the nib, creating a maelstrom of color in the body of the pen. Artists and photographers will appreciate the subtle changes in shading as the ink slides down the body of the pen and pools darkly at the bottom. You can also always keep an eye on the ink level, ensuring that you never run dry during crucial moments. View all of our demonstrator pens here.

Understanding Fountain Pen Nibs
---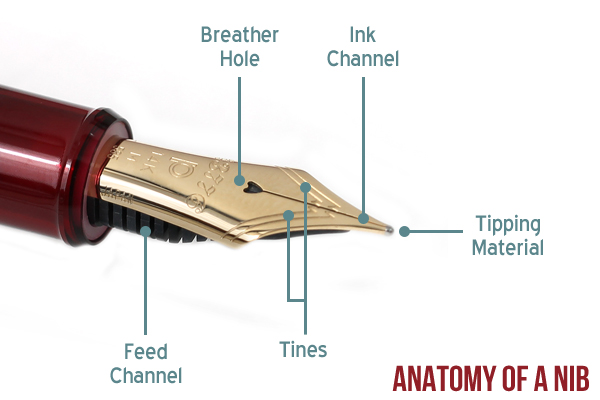 As we enter the upper echelons of fountain pen design, nibs start to progress from plain stainless steel to other materials, mainly gold. Although no material is clearly superior, with each bearing its share of pros and cons, fountain pen experts tend to prefer gold nibs. Keep in mind that nibs can also be tipped and plated with various materials.
NIB MATERIALS: GOLD & STAINLESS STEEL
Gold nibs are the most resistant to corrosion, which is important when dealing with acidic or alkaline inks, and tend to come in two flavors: 14k and 18k. Since pure 24k gold is actually quite soft, it stands to reason that 14k nibs (which have less gold content) are harder than 18k nibs (which have more gold content). Most fountain pens with gold nibs tend to use 14k gold, which has just the right balance of hardness and anti-corrosion properties.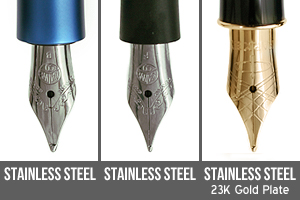 Stainless steel nibs don't resist corrosion as well as gold nibs, but are generally more affordable. They're widely reputed to be inflexible, although many fountain pen aficionados will argue that they can be just as flexible as gold nibs, depending on how they're crafted.
Palladium and titanium nibs also exist, though they're much less common than stainless steel and gold. Palladium nibs are silver like stainless steel, but resist corrosion like gold; titanium nibs are stunning and high-tech, but tend to have issues with ink flow.

NIB TIPPING MATERIALS: IRIDIUM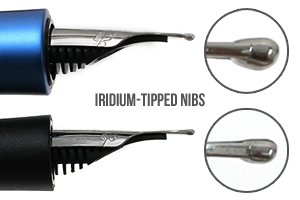 The part of the nib that actually touches the paper, the small "ball" under the nib, is actually made from a separate, harder, and more durable material than the rest of the nib. This is known as the "tipping material". Although older fountain pens may simply be tipped with steel, most modern fountain pens are tipped with iridium, which lasts longer than both steel or gold.
However, calling the tipping material "iridium" is a bit of a misnomer. In the past, nibs were tipped with iridium, but the material is exceptionally expensive and has since been replaced with various combinations of alloys -- such as ruthenium, tungsten and rhenium. Although they're just as, if not more effective than iridium, the term "iridium" continues to be used because it's recognizable, concise, and appealing.

NIB PLATING MATERIALS: GOLD, PALLADIUM, & RHODIUM
Often nibs are "plated" (coated) with an extremely thin layer of gold, palladium, or rhodium. Gold-plated nibs are considered especially desirable because of their anti-corrosion properties, while palladium and rhodium plating are typically used for aesthetic purposes. For an example, the Pilot Custom Heritage 94 Traditional Fountain Pen has a high-quality 14k gold nib that would undoubtedly look awkward and inconsistent against the transparent pen body. As a result, Pilot plated its gold nib with rhodium, a silvery-white metal that matches the pen's overall aesthetic.

Staff Picks
---
CLASSIC FOUNTAIN PENS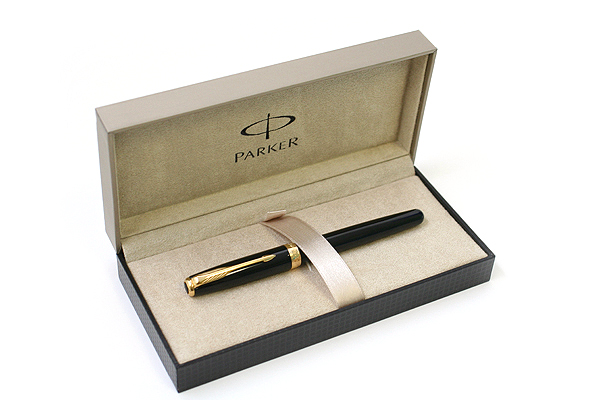 Parker Sonnet Fountain Pen
The Sonnet (Italian for "little song") is one of Parker's most popular offerings, and has subsequently become one of the most counterfeited pens in the world. It's known as a balanced, smooth writer, with a timeless design that wouldn't look out of place in ancient Greece -- perhaps in the gesticulating hands of Aristotle or Plato. The body of the pen is coated in many layers of lacquer, creating a tough and durable shell that can survive in hospitals, lecture halls, and courtrooms.
Both lacquer models bear stainless steel nibs, though the model with gold trim has 23k gold plating over its steel nib (to match the rest of the pen). The nib is etched with a lattice pattern that adds to its vintage aesthetic, and the pen's filling mechanism is a standard cartridge-converter. Most Sonnets lay down a nice, smooth line, but if yours tends towards the dry side, try a free-flowing ink like J. Herbin's Perle Noire or Parker Quink in blue.
Included: Gift box + converter (built-in) + one black ink cartridge
Similar to: Sailor Reglus Fountain Pen, Parker IM Fountain Pen

FUTURISTIC FOUNTAIN PENS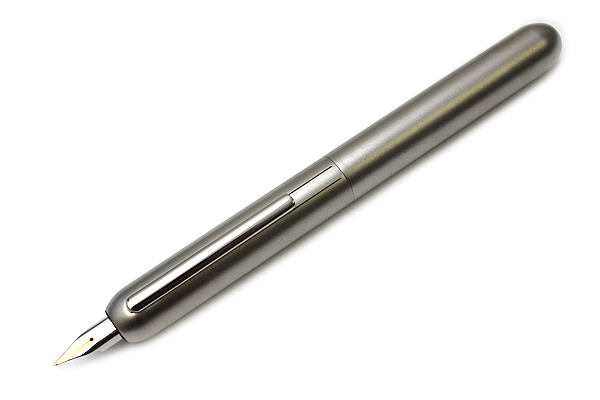 Lamy Dialog 3 Fountain Pen
The Dialog 3 uses a revolutionary twist-action mechanism, which allows the nib and clip to retract into the pen body. Once the nib is retracted, a ball valve protects the nib from outside elements by sealing off the opening. This creates an incredibly sleek, aerodynamic, and minimalist shape that resembles the shinkansen, or high-speed bullet trains, of Japan. The capless design means that there are no pieces to lose, making the pen a prime candidate for travel. Whether it's a business trip to Taiwan or a pleasure cruise to Jamaica, the pen's innovative design (courtesy of award-winning Swiss designer Franco Clivio) will be a definite conversation starter.
Physically, the Dialog 3 is a long and heavy pen, and feels quite solid in your hand. Both models are coated in a palladium finish, and are fitted with 14k gold nibs -- the standard for premium fountain pens. The filling mechanism is a cartridge-converter.
Included: Wooden case + gift box + one blue ink cartridge
Similar to: Lamy 2000 Fountain Pen, Pilot Vanishing Point Fountain Pen, Pilot Capless Fountain Pen

RETRO FOUNTAIN PENS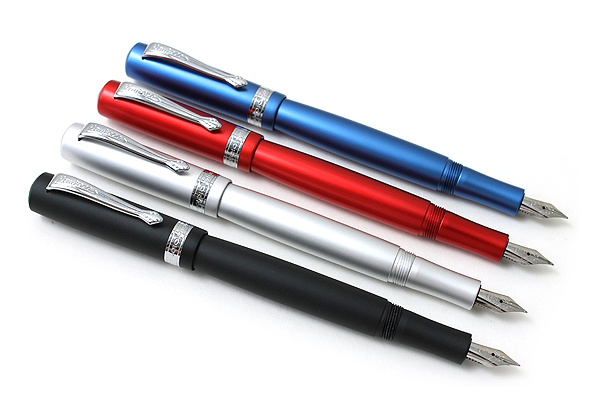 Kaweco Allrounder Fountain Pen
The candy bright colors and chrome-plated trim of this 1950s-inspired pen bring back memories of small-town America: plastic-covered picnic tables at Fourth of July block parties, milkshake shoppes with long counters and high-top stools, and huge gleaming automobiles lining the drive-in. The mantra of the time was "bigger is better", and the Allrounder pays tribute to this with an anodized aluminum body that feels quite solid. It's also as slippery as a showroom floor, which feels great, but may not be the best for grip.
The Allrounder is a standard cartridge-converter with a stainless steel nib and an iridium tip. Although the nib is projected to last for years, in the event that you drop your pen nib-first onto a block of concrete, there are a slew of excellent replacement nibs to choose from. The Allrounder's screw-on cap is also easier to operate than most, requiring only one quick twist to open and close.
Included: Gift box (tin) + converter + one blue international short ink cartridge
Similar to: Platinum Plaisir Fountain Pen, Kaweco Sport Student Fountain Pen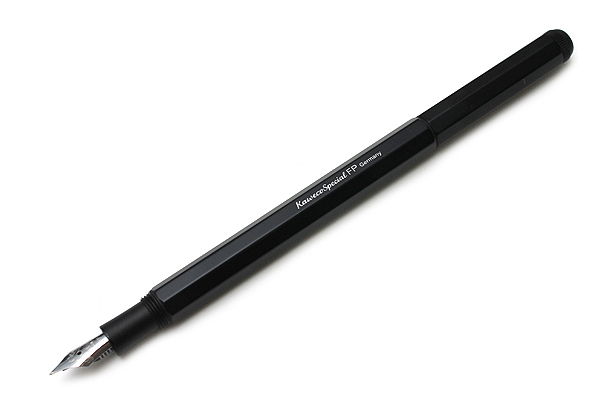 Kaweco Special AL Fountain Pen
The Kaweco Special AL Fountain Pen is long, octagonal, and incredibly unique. You won't find a single other pen that looks quite like it. Inspired by a pencil from the 1930s, the pen has excellent balance and can rest quite comfortably on things like: sloping binders, bottle caps, and window ledges.
Besides the advantages of staying put on uneven or otherwise perilous surfaces, the Kaweco Special AL also feels quite comfortable in your hand. It's made of anodized aluminum, with a cartridge-converter filling mechanism. The high-alloy steel nib is from Bock of Heidelberg, a prestigious nib manufacturer with a reputation for consistency, precision, and quality. Another unusual feature is that the cap threads onto both sides of the pen. It's tidy, secure, and somehow reassuring, although sometimes the threading process feels a bit scratchy. The one misgiving I have with this pen is that it's very easy to leave fingerprints on the anodized aluminum, so it's best to have a chamois cloth handy to keep it nice and clean looking.
Included: Gift box (tin) + converter + one blue international short ink cartridge
Similar to: Lamy CP1 Fountain Pen, Kaweco Liliput Fountain Pen


DEMONSTRATOR FOUNTAIN PENS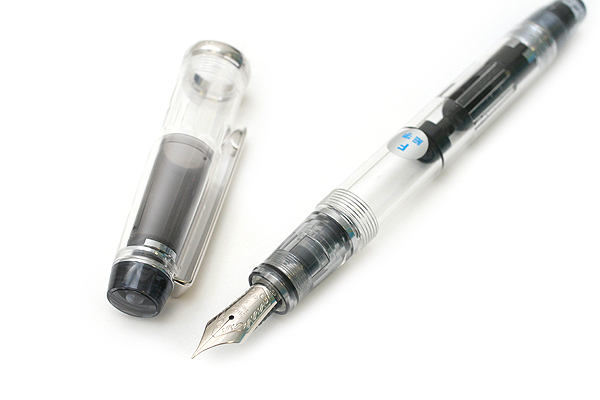 Pilot Custom Heritage 92 Traditional Fountain Pen
The Custom Heritage 92 is remarkable in several ways, one being the fact that it's a piston filler in a sea of cartridge-converters. The piston filling mechanism is basically just like a screw-in converter, the main difference being that it's built into the pen body so that the ink capacity is significantly increased (1.2 ml in this case). It can be more difficult to clean, but it's worth it for the peace of mind that comes with having a full tank. Let me put it this way: if you have a piston filler and a cartridge-converter in front of you, and you're a reporter looking to deliver the blow-by-blow of a 100 km ultramarathon.. take the piston filler. Compare all of the choices here for a serious endurance upgrade.
The pen itself has a very modern shape made from clear, high-quality plastic, through which the ink creates stunning and oftentimes surprising visuals. Although it looks great when brand new, it really comes alive when filled with ink for the first time.
Pro Tip: If you're too overwhelmed with glee to sit down and pick an ink, start off with something blue. They're generally regarded as "safe" when it comes to avoiding troublesome stains on the pen body. Avoid highly saturated and red-based inks if you want your Custom Heritage 92 (or any other demonstrator pen) to remain pristine. Personally, I like the way the inks gradually "colors in" the clear body. Chucks, leather jackets, and fine wine all improve with age -- why not demonstrator pens? Lastly, although the nib looks a lot like stainless steel, it's actually a 14k gold nib in disguise. The silvery-white rhodium plating maintains the pen's monochrome aesthetic quite nicely.
Included: None
Similar to: Pilot Prera Clear Body Fountain Pen, Monteverde Artista Crystal Fountain Pen, Lamy Vista Fountain Pen

WRAPPING UP
---
A quality fountain pen makes a statement about your style, mood, and outlook on life. Just as Mont Blanc and Parker convey traditional, old-school tastes, Lamy represents those that like a modern touch. If you're looking for the perfect gift for your family, friends, or professional associates, check out the Fine Fountain Pens Selection Guide, or consult the chart below to get a quick sense of the options.
Staff picks are listed in this table. The model, body material, nib material, filling mechanism, and style are all displayed.
Do you own any fine fountain pens? What's special about them?
---
---
---
comments powered by Disqus