January 29, 2013 - Posted by David to
Pen Perks
---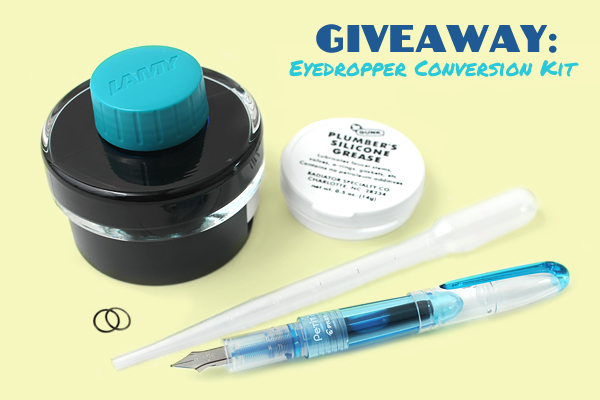 In our
eyedropper conversion article
, we converted a
Pilot Petit1 Mini Fountain Pen
into an eyedropper pen in six easy steps. With the ink capacity more than tripled, the Petit1 can meet the demands of even the most voracious daily writer. Here's your chance to do the same! We're giving away an eyedropper conversion kit, which consists of the following items:
-
Pilot Petit1 Mini Fountain Pen - Clear Blue
-
Lamy T52 Fountain Pen Bottled Ink - Turquoise Blue
- Eyedropper
- A few O-rings (not necessary for the Pilot Petit1 but useful for pens like the Platinum Preppy)
- Container of silicone grease
The kit contains enough material for several conversions, so you can definitely try converting other pens as well. The
Platinum Preppy
and
Pilot Prera
are all prime candidates.
You now have the option of entering either by leaving a comment below, or by signing up through
Facebook
. Please note this giveaway is limited to U.S. residents at least 18 years old.
Rules and instructions:
1. To enter, either comment below or go to our
Facebook page
.
2. For each friend who signs up from your Facebook referral, you receive an
additional
entry for the giveaway.
3. Entries will be accepted from now until Sunday, February 3, 2013 at Midnight Pacific.
4. Winner will be selected at random from all entries and announced here on the blog Monday, February 4, 2013.
5. Giveaway is limited to U.S. residents at least 18 years old.
---
---
comments powered by Disqus