January 24, 2012 - Posted by Lucy to
Fun Facts
---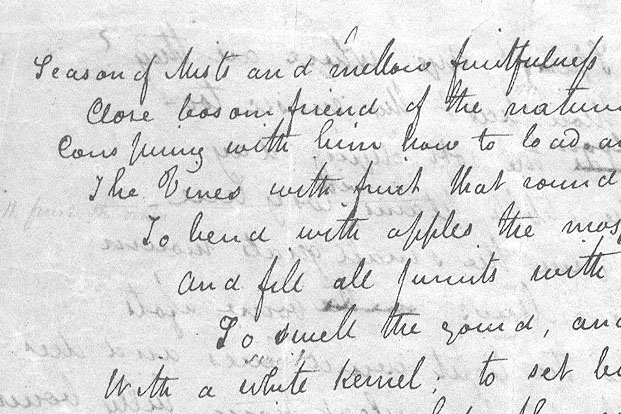 Love letters originated from necessity, from a time where whether by societal disapproval, war, or some other unfortunate circumstance, two lovers could not be together. The story of John Keats and Fanny Brawne is one such story.
"A thing of beauty is a joy forever; its loveliness increases; it will never pass into nothingness."
- John Keats

John Keats (1795-1821), the acclaimed English Romantic poet, is most famous for his six odes, as well as "Hyperion" and "Endymion". He is also known by his love letters, more than three dozen of which were preserved by the subject of his affections, Fanny Brawne. These letters were exchanged over the span of three years, from 1818 to 1820, and are now recognized as some of the greatest love letters ever written.
Year One: First Impressions

The two met in 1818, when Keats moved in next door to the Brawne family. He was fascinated by Fanny, who was charming and a bit of a flirt. His first love was bound to be extreme, given his intense nature, and he pursued her quite straightforwardly:
"I have had a thousand kisses, for which with my whole soul I thank love - but if you should deny me the thousand and first - 't would put me to the proof how great a misery I could live through."
But her flippant behavior often frustrated him:
"She is ignorant - monstrous in her behavior flying out in all directions, calling people such names that I was forced lately to make use of the term Minx - this I think not from any innate vice but from a penchant she has for acting stylishly. I am however tired of such style and shall decline any more of it."
Year Two: Engagement
Despite his criticism, Keats soon fell helplessly in love with her, and began to woo her with a series of passionate letters, writing,
"I almost wish we were butterflies and liv'd but three summer days--three such days with you I could fill with more delight than fifty common years could ever contain."
He wrote the love sonnet "
Bright Star
" for her. He wrote other poems, too, in a productive flurry that lasted through the summer of 1819. In the autumn, the two became engaged. However, marriage was not an option -- Keats was too poor to consider proposing to her.
Of their limited time together, Keats wrote,
"When you are in the room my thoughts never fly out of window: you always concentrate my whole senses."
Year Three: Tragedy
Unfortunately, in February of 1820, Keats had a lung hemorrhage indicative of tuberculosis. It began with a cough and a drop of blood on the sheets. Keats observed,
"I know the color of that blood; it is arterial blood. I cannot be deceived in that color. That drop of blood is my death warrant. I must die."
Keats was right to be concerned -- at the time, one in four deaths in England was caused by TB. Furthermore, he had been a medical student prior to becoming a poet, and he knew the reality of the situation. Initially he took long walks about the garden, writing,
"I have two luxuries to brood over in my walks, your Loveliness and the hour of my death. O that I could have possession of them both in the same minute."
Keats and Fanny were advised to limit their time together, since bouts of emotion were likely to weaken Keats's health. As visits dwindled, letters became increasingly more important. In one letter, Keats addressed their difficult situation:
"According to all appearances I am to be separated from you as much as possible. How I shall be able to bear it, or whether it will not be worse than your presence now and then, I cannot tell. I must be patient, and in the meantime you must think of it as little as possible... I am recommended not even to read poetry much less write it. I wish I had even a little hope. I cannot say forget me - but I would mention that there are impossibilities in the world. No more of this - I am not strong enough to be weaned - take no notice of it in your good night. Happen what may I shall ever be my dearest Love."
Letter Archive
More letters can be found in an archive
here
. They are alternately moving, melancholy, jealous, and lovely, the emotions granted permanence through the written word.
Permanence through the Written Word
This Valentine's Day, it's likely that you won't be using the post to communicate -- you'll be using instant messaging, Skype, FaceTime, or some other program for real-time chat. But if you decide that it's worthwhile to craft a concrete pen-and-paper letter, here are some materials that will do the job. Perhaps two hundred years from now, someone will find your correspondence and be inspired by it.






Sources:
Hanson, Marilee. "John Keats and Fanny Brawne." EnglishHistory.net. N.p., 2003. Web. 24 Jan 2012
Hanson, Marilee. "John Keats: Selected Letters." EnglishHistory.net. N.p., 2003. Web. 24 Jan 2012.
"John Keats." Wikipedia. Web. 24 Jan 2012.
---
---
---
comments powered by Disqus