---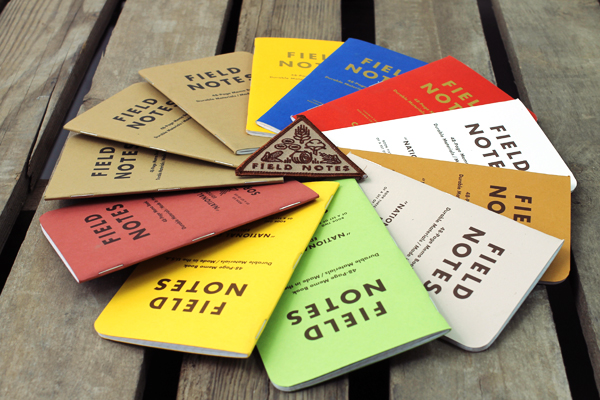 If Moleskine is a notebook with European aspirations, then
Field Notes
is its polar opposite -- a product with no pretensions and a quintessentially American appeal. Founded just five years ago, the company was born as a collaboration between Portland-based Draplin Design Co. and Chicago-native Coudal Partners. From the beginning, Field Notes saw their notebooks as
"a true authentic American brand"
, and
"equally as attractive to a coffee-swirling hipster in Brooklyn as it is to a beer-swilling mammal killer in the Upper Peninsula of Michigan."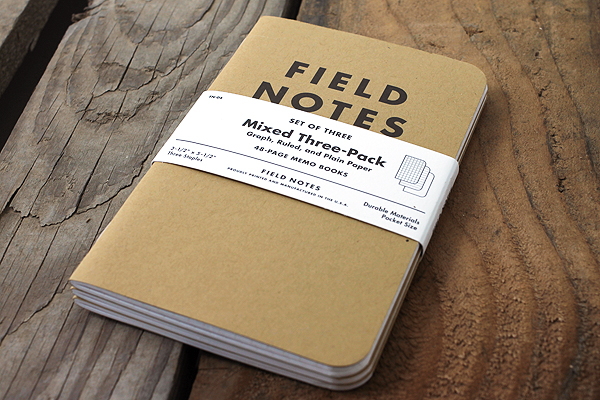 Everything, from the paper to the ink to the cover, is made in America, and Field Notes is refreshingly transparent about its pricing and process. The company also has a fondness for lists, as demonstrated by its tongue-in-cheek list of uses for the notebook, which include "shady transactions" and "treasure maps".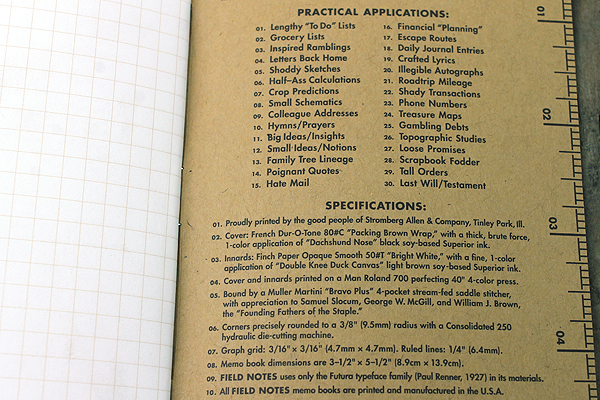 The heart of the Field Notes brand is its slogan:
"I'm not writing it down to remember it later, I'm writing it down to remember it now."
Above all, the notebooks aspire to be useful -- to be living, breathing documents of daily life. They're meant to be stored in your back pocket and retrieved for those fleeting ideas, catchy phrases, and urgent appointments that so often slip through the cracks.

Seasonal Editions

---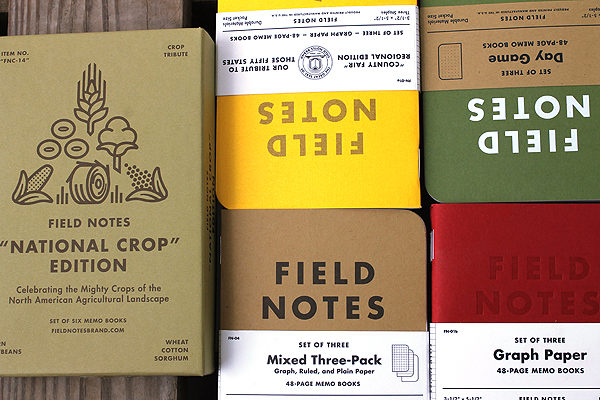 Besides the
basic brown notebooks
, Field Notes also releases seasonal collections. Each collection has a unique and fully developed theme that celebrates some aspect of American culture. The videos, narratives, and discussions that accompany the theme are rich, providing the context to make an abstract theme like "Red Blooded" come alive.
Below, we've highlighted the collections that are available at JetPens. We highly recommend watching the videos -- often nostalgic and always fascinating, they capture the spirit behind Field Notes.
COUNTY FAIR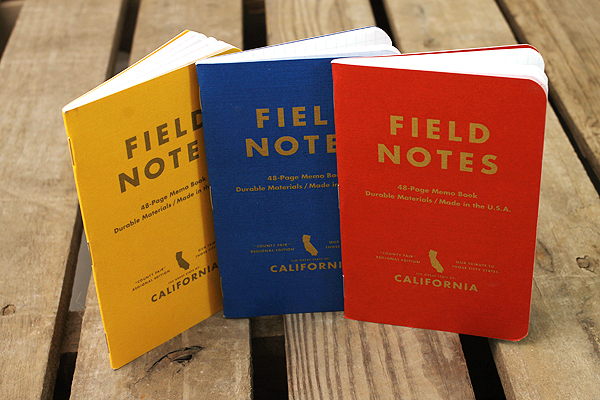 Released in 2010, this charming 3-pack features notebooks with red, blue, and yellow covers -- the same colors as the ribbons awarded at county fairs. I'm going to have to take the Internet's word on this one, having never actually been to a fair myself. Each set also features one of the fifty states, with meticulously researched facts and figures to match.


Field Notes: Monona County Fair | County Fair Edition

To celebrate this release, Field Notes took a trip to a fair in Monona, Iowa. After setting up shop in what appears to be a whitewashed barn, Field Notes filmed a full day's worth of amusements and carnival rides. There's a demolition derby, a ferris wheel, snow cones -- everything you need for a nostalgic trip down memory lane. There's also something immensely satisfying about watching those pristine shrink-wrapped County Fair collections being unpacked and crisply placed on rotating displays.
RED BLOODED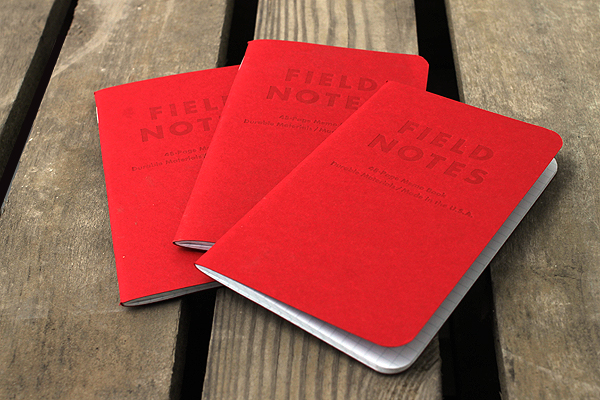 The Field Notes Red Blooded edition is striking, with hand printed "Electric Red" covers and 48 sheets of paper lined with light-blue graph. Released just in time for Valentine's Day, the collection is accompanied by a ridiculously heartwarming video:


Field Notes: Red Blooded Edition

Produced as a Valentine's Gift from Bryan to Tracie to celebrate 18 years of successful couplehood, the video features an intricate and creative pop-out book. There's a clock with moving hands, a (kind of) working odometer, and a pop-out Eiffel tower! As the pages turn, charmingly low-tech "special effects" spice up the somewhat predictable narrative. This type of video relies heavily on brand authenticity to work, but Field Notes has generated enough credibility with me that I believe the eventual disclaimer -- "And I swear I didn't just make this to sell Field Notes."
NATIONAL CROP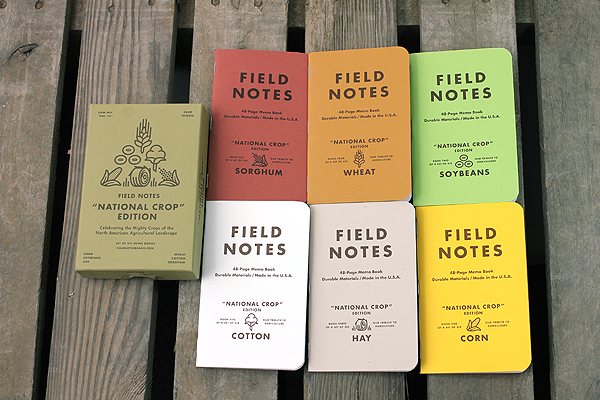 National Crop
began popping up in stores in Spring 2012. Each box set features six notebooks, an embroidered logo patch, and a large poster highlighting different agricultural regions. The six notebooks are based on America's top 6 crops: corn, soybeans, hay, wheat, cotton and sorghum.
Field Notes: From Seed | National Crop Edition
Watch this video. Seriously. Aaron Draplin's (of Draplin Design Co.) enthusiasm for old agricultural memo books is contagious. As he shows off drawer after drawer of these junk sale relics, I can't help but realize that I desperately need these in my life. Driven by the desire to accumulate and archive these historical items before they're lost to the landfills, Draplin extols the authenticity of their use and design. To him, they simply represent the lives of
"regular people working very hard".
See the archive of these notebooks
here
.
DAY GAME
The newest, upcoming Field Notes collection is the
Day Game
edition. Based on the story
A Drive Into the Gap
by Kevin Guilfoile, the Day Game edition includes three memo books with Outfield Green, Infield Brown, and Hardball White covers. Inside, the notebooks have a light tan dot grid pattern.
Field Notes: A Drive Into the Gap | Game Day Edition
Set to the third suite of the beautiful piece
Antiche Danze ed Arie
by Ottorino Respighi (which you may recognize from
The Tree of Life
), this video combines baseball and memory to remarkable effect. With beautiful shots of dusty baseball diamonds in the glow of sunset and grainy old baseball games projected on white side-paneled houses, this video conveys the magic of childhood memories.
A Drive Into the Gap
is the first book to be published under the Field Notes brand, and is printed on a larger-than-standard memo book. Although it serves as the inspiration behind the Day Game edition, it is not included in the Day Game 3-pack and must be purchased separately.
Look out for the Day Game summer release to show up at JetPens next week, and share your thoughts on Field Notes in the comments!
------------------------------JetPens Giveaway------------------------------
This contest has ended.
Like JetPens on Facebook
to find more giveaways every month!
------------------------------JetPens Giveaway------------------------------
Have a favorite line of Field Notes? Win your own set of
Red Blooded Field Notes
.
Rules:
1. Entries will be accepted from now until Friday, August 31st, 2012 at Midnight Pacific.
2. One winner will be selected from all entries and announced here on Saturday, September 1st, 2012 on our blog.
How to Enter:
1. Leave a comment on this post about your favorite edition of Field Notes.
2. Increase your chances of winning by helping us spread the word about this column. You can submit up to three additional entries by sharing this post through the social media buttons on the bottom of this post. You can Tweet about this post, post it to your Facebook wall, and/or share it on Google Plus.
3. For each additional entry, make sure to leave a separate comment on this post.
4. You can have a total of four entries in this contest provided that you leave additional comments after sharing this post through the aforementioned social media outlets.
Thanks for participating!
---
---
---
comments powered by Disqus