---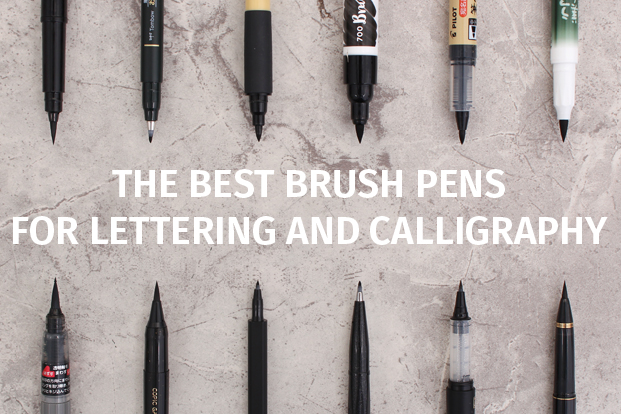 Brush pens are oftentimes the secret behind beautiful script. They're used for everything from writing calligraphy and Chinese characters to creating art. If you can find the right one, a brush pen is more than a tool—it's an extension of your writing hand.
Though it takes a certain amount of practice and control to use a brush pen, you don't have to be a serious artist or calligrapher to enjoy its virtues. But with more than 40 product lines on our website, we want to help you find the best brush pen for writing script. To see our brush pen recommendations for art, please read part two of this series.
Characteristics of a Brush Pen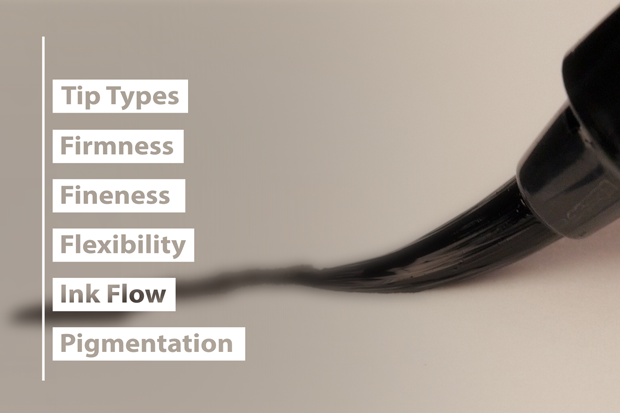 Tip Types
There are three main types of brush tips: natural hair, which is made from animal hair, usually weasel; synthetic hair, generally made from nylon; and felt. Felt tips are good for those just starting out, because their firmer tips are more marker-like, and offer more control, while synthetic and natural hair brushes require more practice to get used to.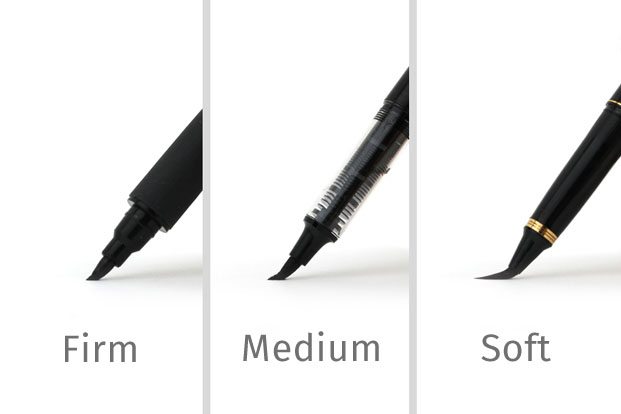 Firmness
Brush tips range from very soft to very firm, depending on the type of bristle, how densely they're packed, and size. The harder the tip, the more predictable the results. However, softer tips are able to achieve more effects and respond better to the movements of your hand. It takes more control to use a softer tip.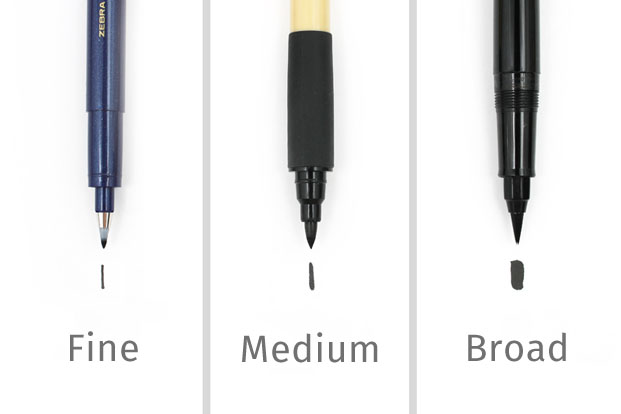 Fineness
Brush tips vary in thickness, to be used for different purposes. For bold strokes, the thicker the brush tip the better. For detailed work, a fine tip is ideal.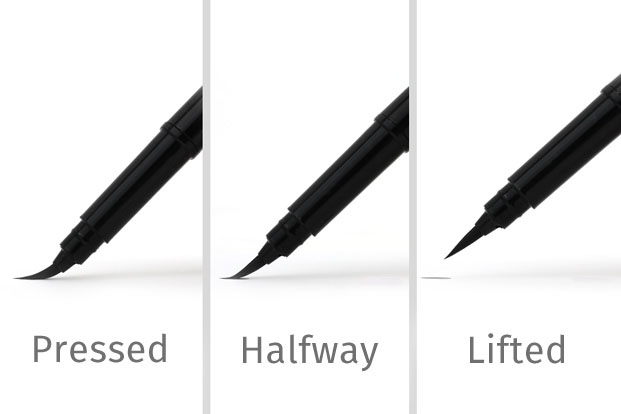 Elasticity
When a brush is elastic, it's flexible enough that you can apply pressure to it to get the desired effect, but still be able to bounce back to its original shape. It should have a certain spring to it that demonstrates its elasticity. A brush tip that's not elastic stays deformed when the pressure is relieved, whereas the an elastic brush tip will retain its shape even after multiple strokes.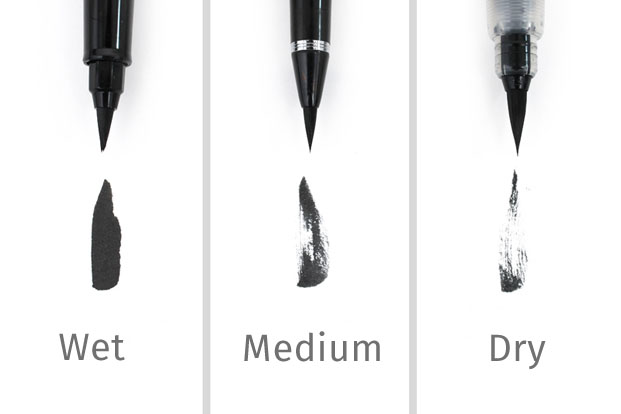 Ink Flow
It's paramount to find a brush pen that dispenses ink smoothly and evenly to prevent the much dreaded effect of streaking, unless that's the look you're going for. On the other hand, it can't be too juicy, or you'll have a huge blotchy mess on your hands.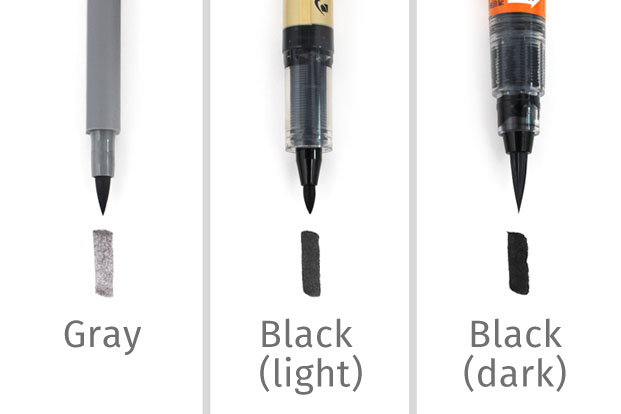 Pigmentation
If the color is supposed to be black, we don't want to see a dark gray. That's what gray brush pens are for after all.
Brush Pens for Calligraphy
Brush Pens for Chinese Characters
Brushes are the traditional and preferred tool for calligraphers who write Chinese characters, also known as kanji in Japanese. Unlike in English calligraphy, streaking can be considered artistic in Chinese character calligraphy, so ink flow is not as much of a concern, though consistency is important. If you're planning on holding the brush the traditional way, the body of the pen should be slightly longer to provide more balance.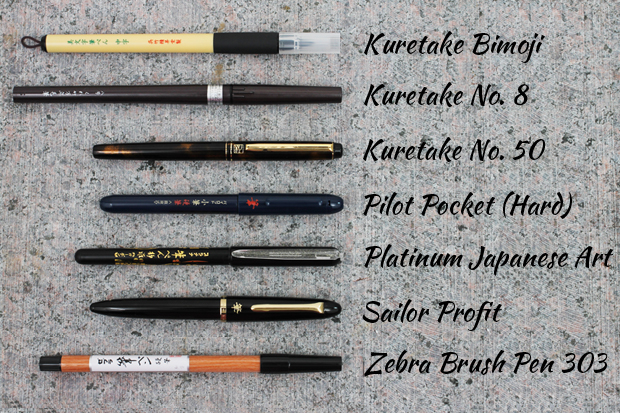 Kuretake Bimoji Felt Tip Brush Pen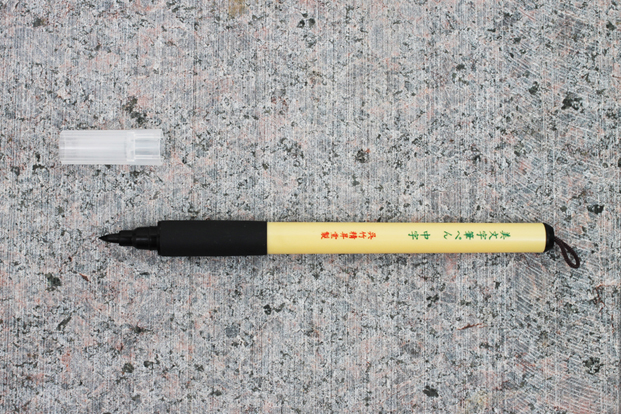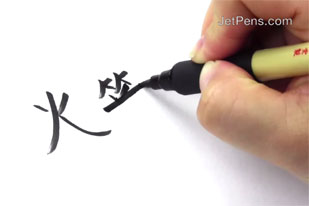 "Bimoji" means beautiful letters in Japanese, and this felt tipped brush pen is named that for good reason. Amazingly easy to control, it allows you to create those heavy to light strokes effortlessly, with just a slight change in pressure. It's not meant for artistic calligraphy, as its effects are limited, but for beginners, this pen is perfect.
Also consider: Zebra Brush Pen FD-303 - Hard - Fine.
Platinum Japanese Art Pocket Brush Pen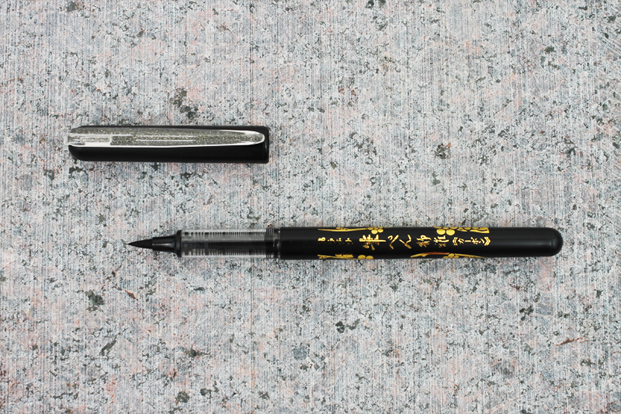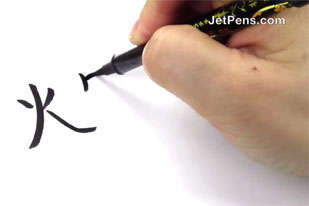 If you're ready to tackle a more responsive tip, the Platinum Japanese Art Pocket Brush Pen is our next choice. The felt tip on this brush is flexible, so you can make thick, weighted strokes. The tip bounces back quickly, letting you take advantage of its fineness to write those graceful hooks on the ends of the characters. The ink is a true, dark black, and flows even with the lightest pressure.
Kuretake No. 50 Fountain Hair Brush Pen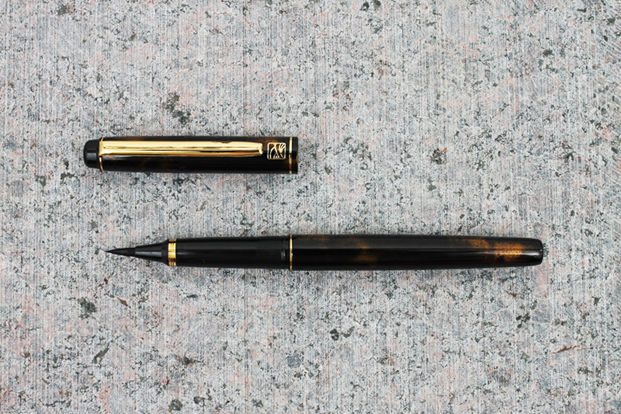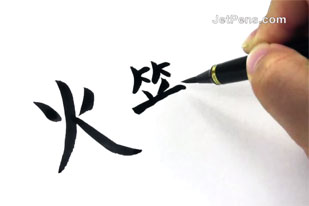 We've finally reached the realm of natural hair brushes. Using this sable hair brush pen is an entirely new level of flexibility, and it takes an incredible amount of control as every tiny little movement changes its course. It moves from the thinnest of lines to the thickest, from conservative to dramatic in seconds. This brush pen does take a good deal of practice, but once you've gotten the hang of it, the finished piece speaks for itself.
Also consider: Sailor Profit Brush Pen
Applications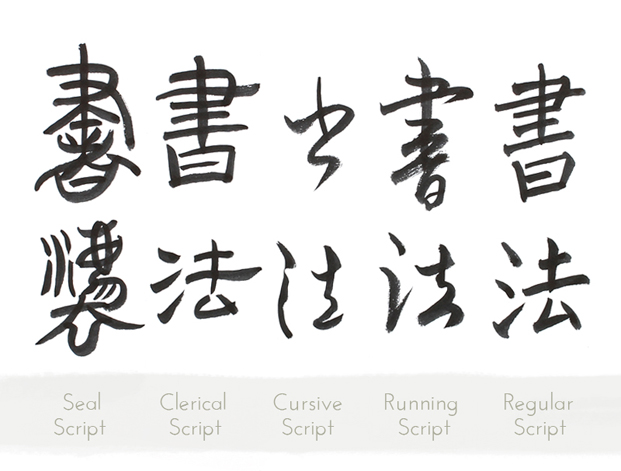 Different Styles of Chinese Calligraphy
Like the English alphabet, Chinese characters can be written in different styles and fonts. You can mimic the old style of ancient hieroglyphic-like characters, or do a more script-like writing that is reminiscent of cursive.
Product used: Kuretake No. 50 Fountain Hair Brush Pen.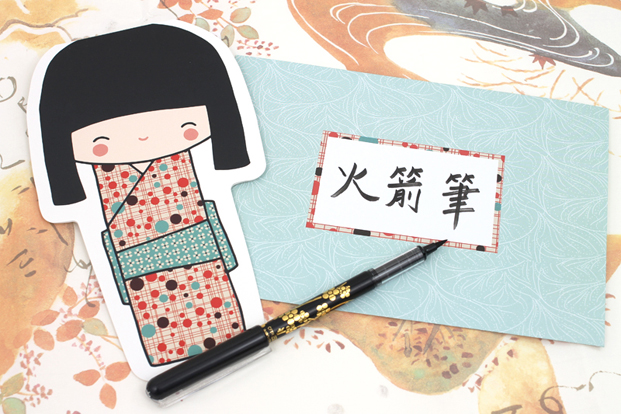 Cards
It's common practice in Japan for people to personally write New Year's postcards and showcase their calligraphy skills. You can do the same and surprise your family and friends with unique cards, be it holiday, birthday, or thank you cards.
Product used: Platinum Japanese Art Pocket Brush Pen.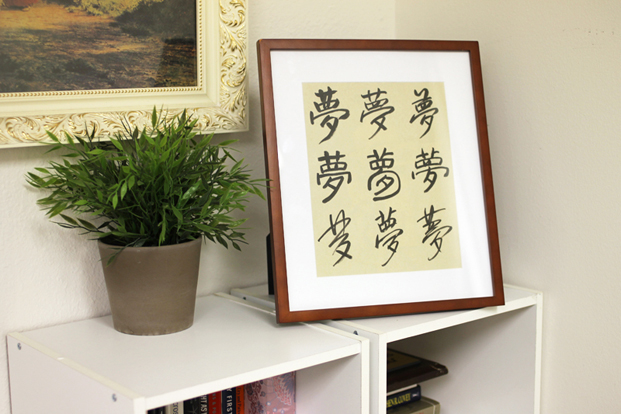 Decor
You can hang the fruit of your labor to transform the look of your home or your office. They make for great conversation starters and you can impress your friends and coworkers with your amazing Chinese calligraphy skills.
Product used: Kuretake No. 50 Fountain Hair Brush Pen.
Staff Favorites
Uni Brush Pen Set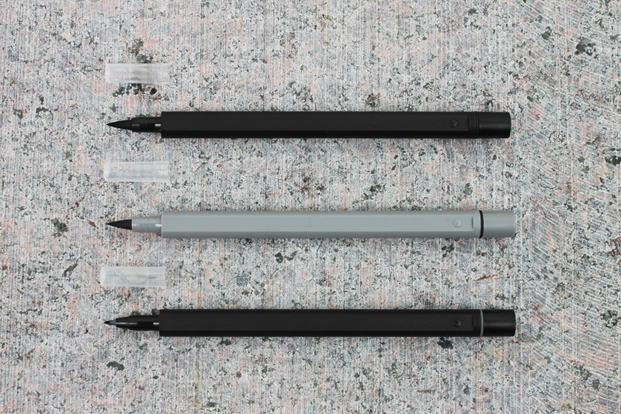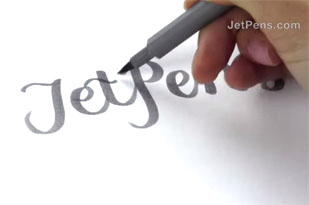 This felt tip brush pen set is perfect for those on-the-go. Slim and compact, you can whip the brush pens out anywhere and practice your calligraphy or Chinese characters in your downtime. You can also play with different effects using the different tip sizes and colors, or even do some quick sketches or doodles.
Kuretake No. 13 Fountain Brush Pen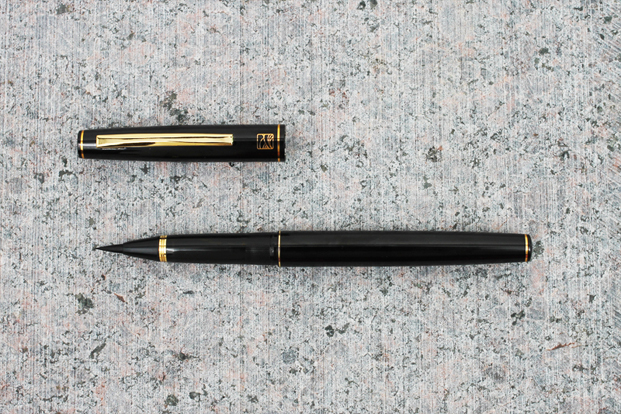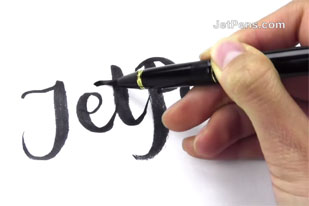 This synthetic hair brush pen is superbly pigmented with a rich black ink, but its flexibility is what we fell in love with. Extremely responsive, this brush pen creates thin to thick lines in a snap, so this is our go-to if we want to do any fancy calligraphy. The ink flow is steady, with little to no streaking.
Kuretake No. 8 Fountain Brush Pen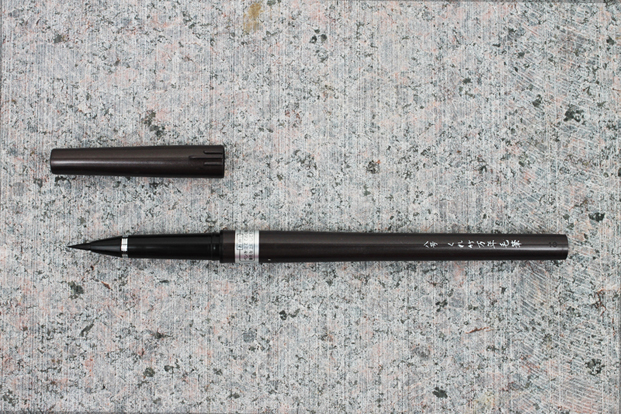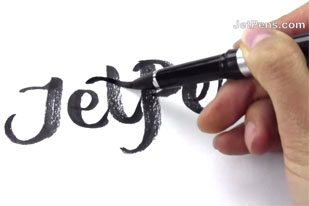 We like this synthetic hair brush pen for writing Chinese characters. The ink dispenses evenly, but can streak if you like that effect, and its tip is springy and responsive. The longer body of this pen means that you can hold it the traditional way if you choose and still have the same level of control.
Keep Calm and Brush On
There's something magical about the way ink flows from a brush pen. The expression it conveys with each beautifully placed stroke makes the brush pen an essential in our pen case. For brush pen picks for art and illustration purposes, keep your eyes peeled for part two of this brush pen series.
Check out the rest of our brush pens, including our two brush pen samplers here and here, and tell us below in the comments what you use your brush pens for. We'd love to see some examples of your work too!
---
---
---
comments powered by Disqus