---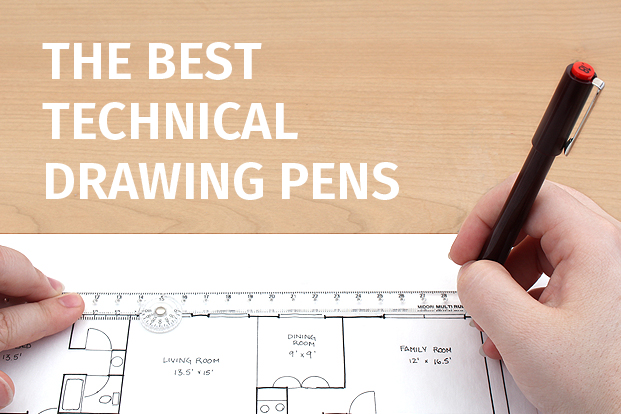 Technical drawing pens were originally designed for engineers and architects. However, their precision, quality, and reliability quickly made them a favorite among artists. The pens are ideal for anything from schematics to sketches: their needle-point tips deliver lines exactly along a ruler's edge and their richly pigmented inks last for many years.
Inside a Technical Drawing Pen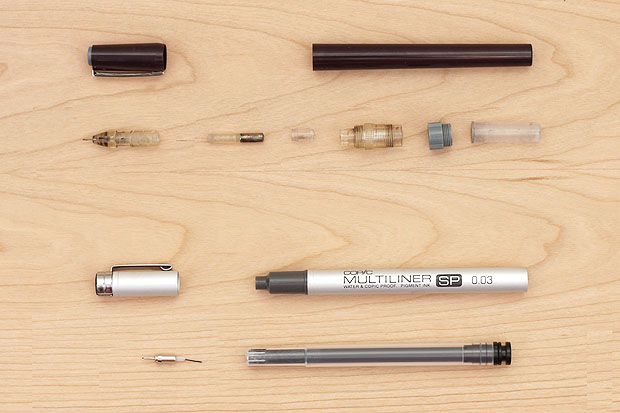 Technical drawing pens use a narrow metal or plastic tube, usually containing a very thin wire, to deliver ink to their tip. The circular tube design allows it to create extremely precise lines in any stroke direction. A word of caution - this ink delivery mechanism requires the pen be held perpendicular to the writing surface to function properly and the pen may not work at more acute angles.
Characteristics to Consider
Tip Size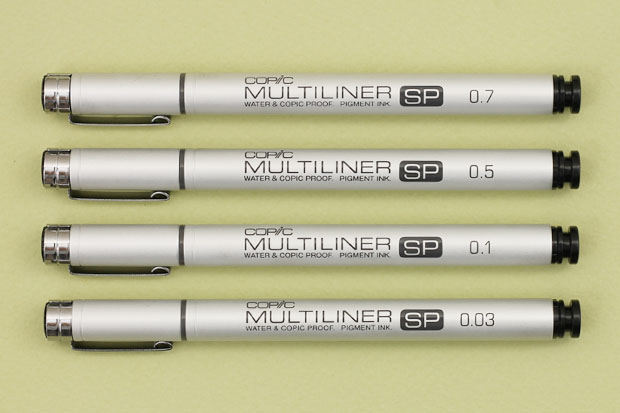 The tips of technical drawing pens range from a miniscule 0.03 mm to a bold 1.4 mm. Each tip produces a line of a single width, and different pens can be used in conjunction to accentuate each other. Small tips are excellent for producing tiny, precise details but must be treated delicately to avoid damage. Larger tips are more durable and allow for a richer ink flow, resulting in thick lines perfect for outlines or bold letters.
Note that some manufacturers measure the tip width, while others measure the line produced. This results in some inconsistency in the designated widths. Most metal tips are measured by line produced, and create a finer line than plastic tips of the same measurement.
Tip Material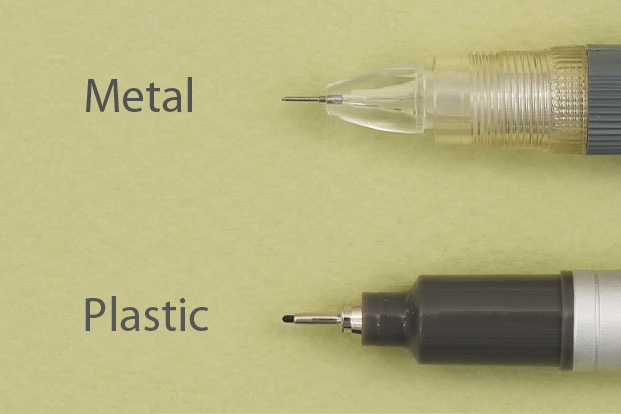 Technical drawing pens have either a solid metal tip or a plastic tip with a metal guide. Metal tips are durable and can be made into very fine tips. However, they are more expensive to replace and require regular cleaning. Plastic-tipped pens often feel smoother than their metal counterparts. They are more forgiving of acute drawing angles and can provide a small amount of line variation but tend to be less durable. Even careful use can lead to finer tips breaking or fraying. Regardless, their lower price and overall reliability make them a widely-chosen favorite among artists.
Disposable vs. Reusable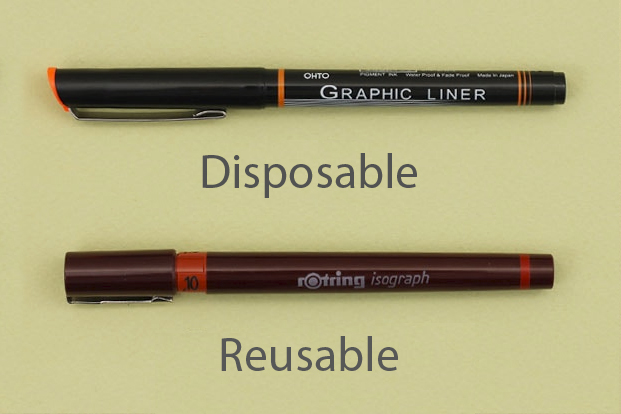 Technical drawing pens are available in either disposable or reusable bodies. Don't be misled by the word "disposable" though - the choice between the two is less about quality and more about personal preference. Disposable pens require little to no maintenance and are perfect for beginners or on-the-go draftspeople. Reusable technical drawing pens are built to last a lifetime. These pens can be disassembled to refill the ink, replace damaged parts, or clean the pen. They are better suited for more advanced users as regular cleaning and maintenance is required.
Ink Filling System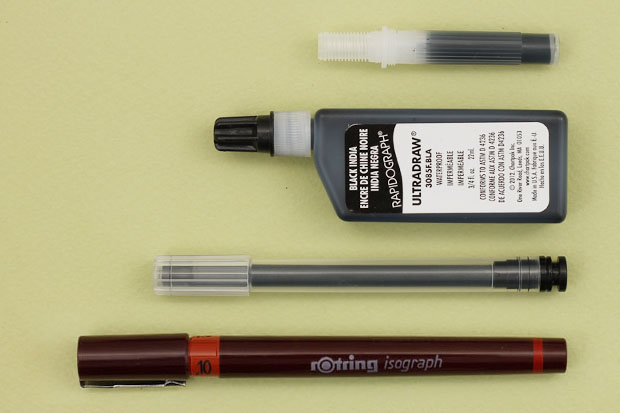 Among reusable pens, there are two types of ink filling systems - bottle and cartridge. Bottled inks are more economical, but can be messy to refill and difficult to transport. Cartridges are easy to change and more transportable but are more expensive and are unique to each brand of pen.
Uses for Technical Drawing Pens
Recommendations
Beginner
When first using technical drawing pens, a reliable, inexpensive pen is a good place to start. These pens offer a taste of the joy of technical drawing without the commitment of large price tags.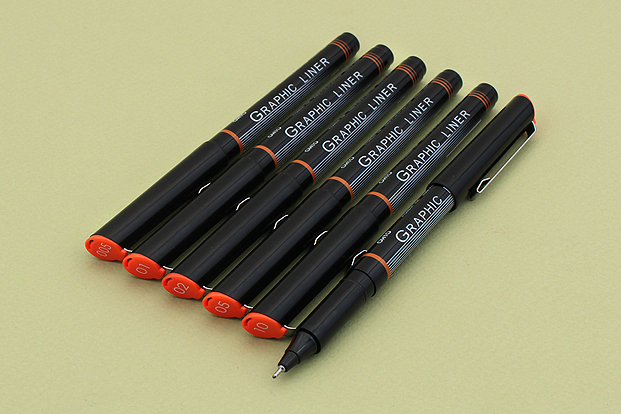 The
Ohto Graphic Liner pens
are unique in that they are the only disposable technical pen with a stainless steel tip. This gives them the reliability generally reserved for reusable pens without the added cost or maintenance. The Graphic Liners come in six different tip sizes and work well on a wide variety of papers and other materials.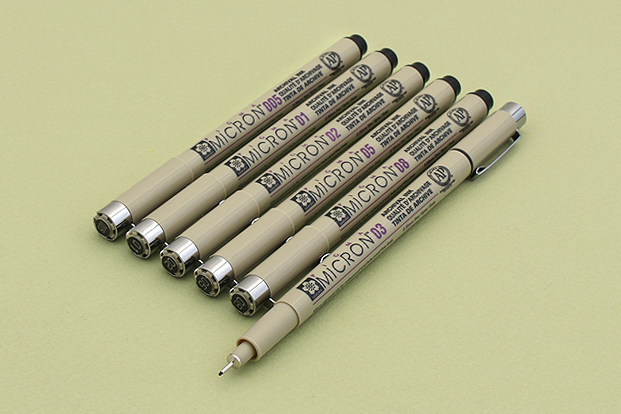 The
Sakura Pigma Micron
is one of the most widely used technical drawing pens. These inexpensive pens boast archival-quality ink in seven different tip sizes and fifteen colors. They are maintenance-free, portable, and reliable - perfect for all varieties of creative people.
Intermediate
These reusable pens are more durable and economical than their disposable counterparts. While they have a higher upfront cost, individual parts can be replaced or refilled, resulting in a more environmentally-friendly pen in the long term. Minor maintenance may be required from time to time.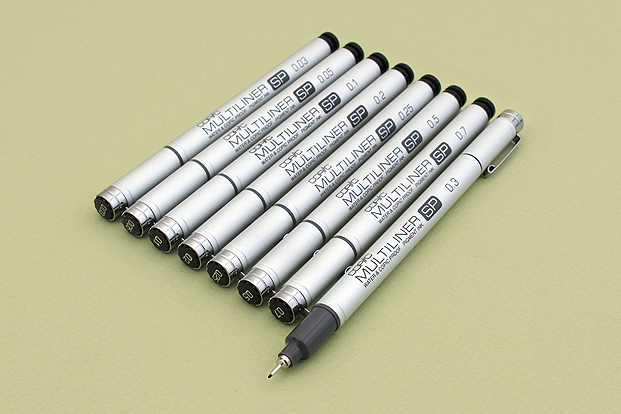 The
Copic Multiliner SP
is a favorite among artists for its reliable performance, durable metal body, replaceable and interchangeable components, and variety of colors. The 9 different sizes include a 0.03 mm pen, the smallest of all plastic tip pens. The 0.3 mm size body comes in 11 colors, and the colored refill cartridge can be customized with a replacement tip of any size over 0.2 mm.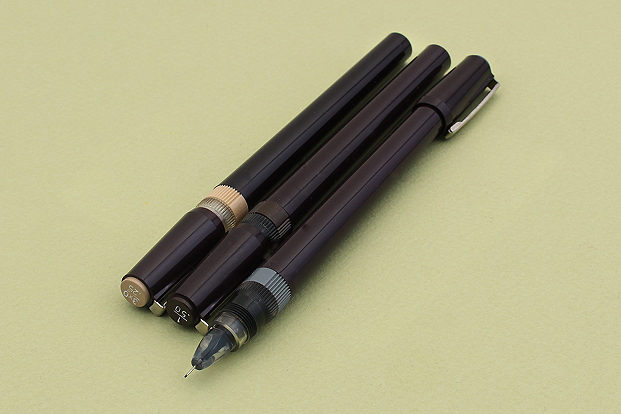 The
Koh-I-Noor Rapidosketch pens
are a reliable alternative to more expensive pens (such as the Rapidograph and Isograph, described below). These metal-tipped pens are available in 3 tip sizes and are each packaged in a durable plastic case. The included ink is especially dark and creates bold and consistent lines.
Advanced
For those who aren't afraid to put in some time and work maintaining a pen, these pens are designed to perform impeccably for many years. Their highly-pigmented inks, reliable quality, and manufacturer warranty make them a favorite among professionals.
When draftspeople complete an apprenticeship, they are often given a set of technical drawing pens to use for their career. The German-engineered
Rotring Rapidographs
are the defacto choice in such situations due to their quality, reliability, precision, and performance. Rapidographs are so ubiquitous as to have become synonymous with the phrase "technical drawing pen".
The Rapidograph pens come in 14 different tip sizes - more than any other technical drawing pen - allowing for a size for any circumstance. They are excellent for on-site work: durable plastic bodies and screw-on caps protect the tips from damage, while the tips themselves are chrome-plated for extra durability. Though these pens require regular maintenance, they are designed to last a lifetime.
Please note Rotring does not recommend taking apart the tip of the pen as this will void the warranty.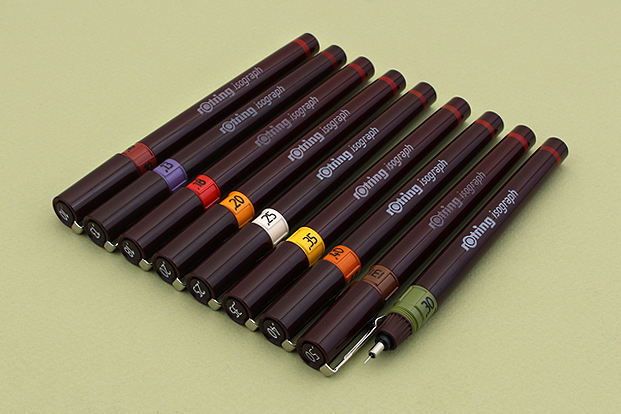 The
Rotring Isographs
share the same quality engineering as their Rapidograph siblings. While they do not have as many tip sizes as the Rapidograph, the Isograph pens still boast 9 tip sizes and a slightly lower price tag. Their archival inks come in bottle form and include a white ink unavailable in any other technical pen. Though less well-known than the Rapidograph pens, the Isograph pens are by no means inferior. With proper care these pens will deliver precision and quality for a lifetime.
Taking Care of Your Technical Drawing Pens
Technical drawing pens require some special care to ensure optimal performance. These simple guidelines will help keep your pens functioning well.
During Use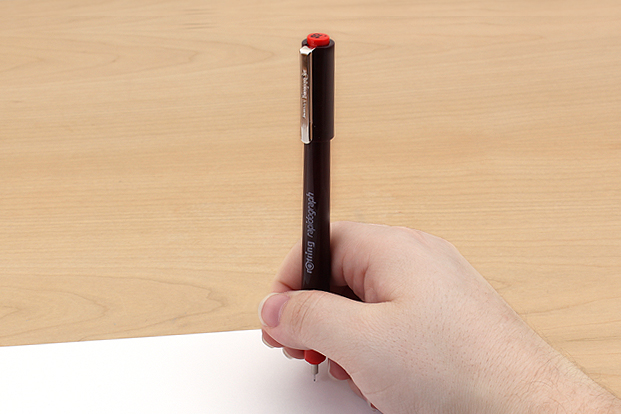 As mentioned previously, technical drawing pens are designed to be held perpendicular to the paper surface, and the pen may not work or become damaged when used at more acute angles. These pens should never be used at an angle less than 45 degrees away from the paper surface. Smooth papers such as vellum or tracing paper are best for the pens. Rough surfaces such as watercolor paper should be avoided as they may damage the tips.
Maintenance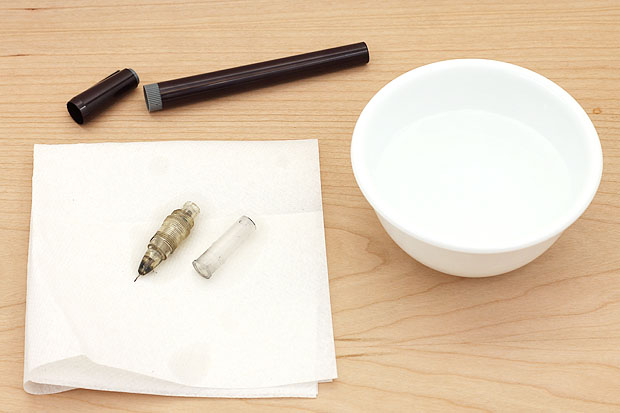 Reusable metal-tipped pens require some additional maintenance. They should be cleaned periodically according to the manufacturer's directions to prevent any buildup of dried ink. Also avoid storing these pens for long periods of time with ink inside as the ink may dry and clog the narrow pen tips.
Conclusion
Technical drawing pens are well-loved by artists, engineers, and draftspeople alike for their extreme precision and wide variety of tip sizes. Even with the advent of many computer tools they are still used in a variety of professions. How do you use your technical drawing pens? Tell us in the comments below.
For additional pens, please check out our Graphic Drawing Pens article!
Technical Drawing Pens at JetPens
---
---
---
comments powered by Disqus