---
Water brushes have changed when and where artists can paint. Whether it's hiking the Appalachian trail or piloting the Millennium Falcon, water brushes open a universe of possibilities for painting on the go.
What is a Water Brush?
A water brush is a reservoir of water attached to a brush. Water flow is controlled by a small plastic feed and can be increased by squeezing the barrel. Artists love their portability: water brushes can be filled from any source, remove the need for open water containers, and clean themselves through use.
Characteristics to Consider
Brush Size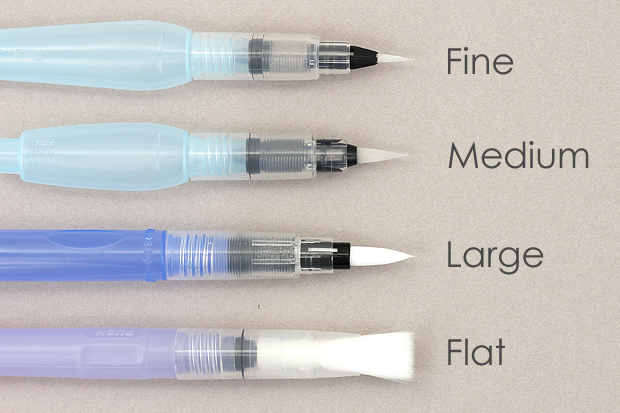 Water brushes come in a few basic sizes. Fine, medium, and large sizes have a round brush tapering to a fine point. Fine brushes release less water per stroke and are good for detail work, while large brushes are suited for covering larger areas. Flat brushes on the other hand are great for large washes of color.
Body Length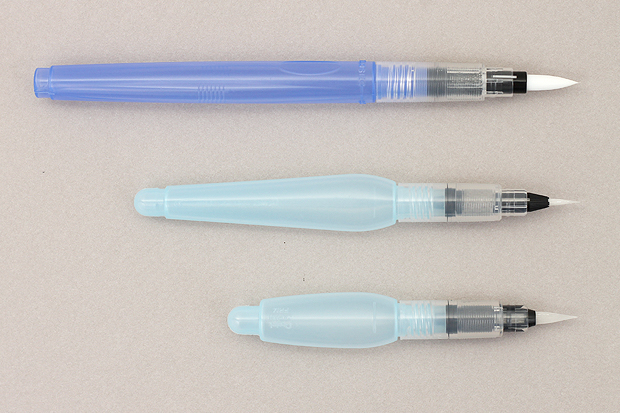 Water brush bodies come in several lengths. Shorter brushes fit easily inside pen cases or pockets, but hold less water. Long brushes need refilling less often, but are slightly heavier when filled.
Water-Filling Mechanism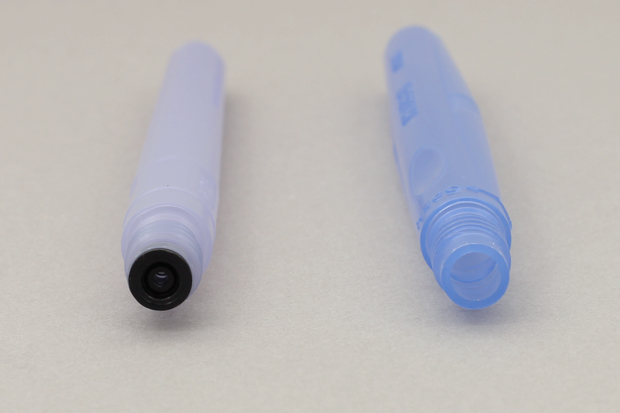 Water brushes have two filling styles. Some water brushes have an open top reservoir and can be submerged into water or filled with a faucet. Others have a small black cap to keep the water from escaping, and are filled by squeezing the body to suction water inside.
Staff Picks
Water brushes all function similarly, with slight differences between brands and sizes. The few differences they have make them great to use as a set. While they all performed admirably, we found these to be our favorites.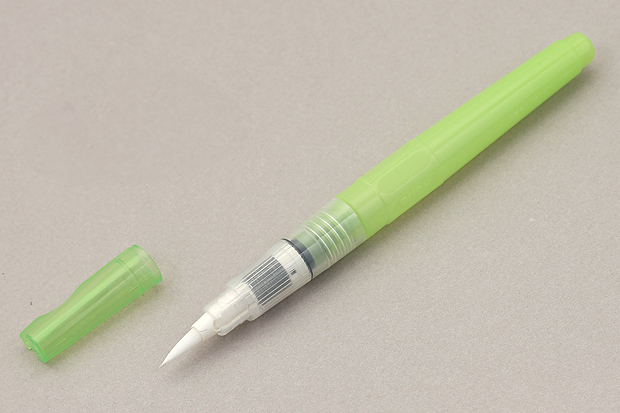 Kuretake
offers the largest selection of brush sizes, including
compact
,
flat
, and
petite
sizes. The
compact medium
offers a size good for both details and large areas, and is small enough to put in most pen cases or pockets. For those with smaller hands, the compact body is a good balanced length.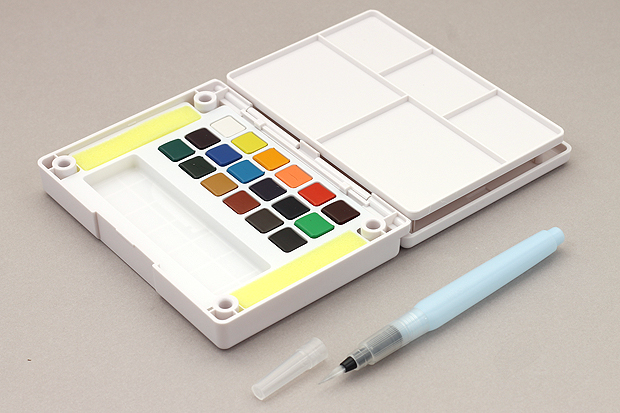 The
Sakura Koi Watercolor sets
come with a water brush, cleaning sponges, and a mixing tray (removable in the 18 and 24 color sets, built into the lid of the 12 color set). The lid of the 18 and 24 color sets can be used to hold a postcard-size piece of watercolor paper.
Traditional Water Brush Uses
Water Brushes and Other Mediums
Artists love experimenting and creating new ways to use materials. Water brushes are inexpensive and recyclable, making them perfect test subjects. We tested the most-requested materials in various water brushes.
What Can You Fill a Water Brush With?
Fountain Pen Inks
Drawing Inks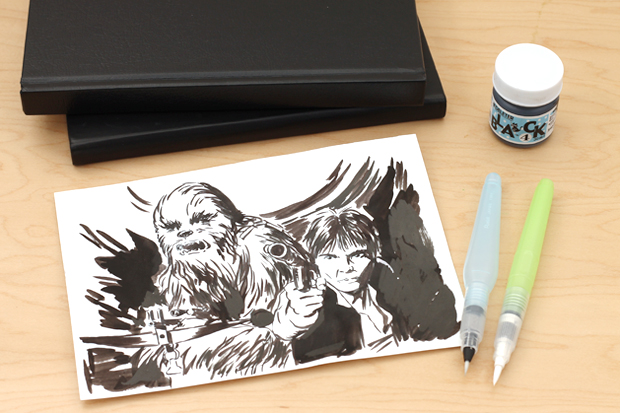 Copic Refills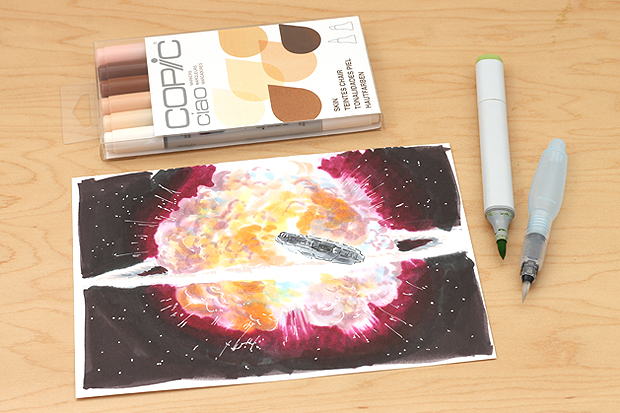 What Should You Not Fill a Water Brush With?
Most mediums contain large particles or are too thick to use in a water brush. Some of the materials we tested destroyed our water brushes completely. We do not recommend filling a water brush with acrylic inks, such as the Speedball Calligraphy ink, white inks, or metallic and other dip pen inks.
| Ink Type | Compatible with a Water Brush |
| --- | --- |
| Fountain Pen Inks | Yes |
| Drawing Inks | Yes |
| Copic Refills | Yes |
| Acrylic Inks | No |
| White and Opaque Inks | No |
| Dip Pen Inks | No |
| Glitter and Metallic Inks | No |
Conclusion
Water brushes have not only changed when and where artists can paint, they have changed how artists use many materials. People are coming up with new ways to use water brushes all the time, and new products are being created based on these experiments. How do you use water brushes? What would you like to see us try in one? Feel free to share in the comments below!
Water Brushes at JetPens
| Brand | Brush Sizes | Body Lengths | Filling Style | Paint Sets |
| --- | --- | --- | --- | --- |
| Holbein | Medium, Large | Long | Pour | No |
| Kuretake* | Fine, Medium, Large, Flat | Long, Compact, Mini | Squeeze | Yes |
| Pentel | Fine, Medium, Large | Long, Compact | Pour | No |
| Sakura | Fine #2, Medium #6, Large #8 | Compact | Pour | Yes |
| Yatsumoto* | Fine, Medium, Large, Flat | Long, Compact | Squeeze | No |
* The Yatsumoto and Kuretake brushes are identical.
---
---
---
comments powered by Disqus