---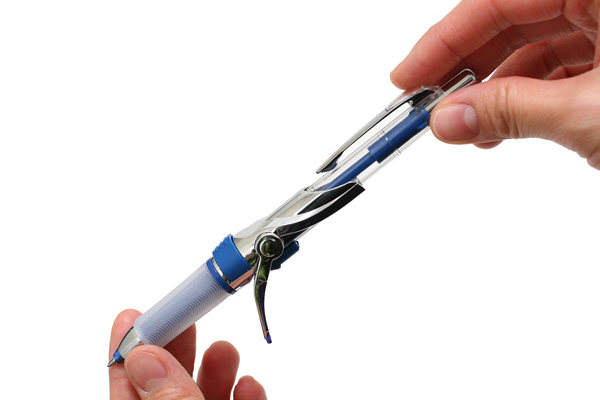 Relief for tired and arthritic hands comes in the form of a winged writing instrument. Through partnership with a research team at Chiba University, Pentel has produced a writing device that leverages four main points of contact in your hand: one each from your thumb, index and middle finger as it grasps the body shaft, and then a special fourth point near the palm of your hand via a wing grip.
The winged support can be flipped open so that the area near the palm of your hand can rest on the device. The result is a writing experience that requires less pressure, has more stability, and produces less writing fatigue.
There are two ways you can adjust the instrument to comfortably match the size of your hand and how you grip your pen. You can adjust the angle at which the wing rests against your palm, and you can adjust the length of the body (and thus the distance of the wing rest from the tip of the pen).
1. The winged grip has two heights, one low and one high.
Low wing grip:
High wing grip:
For a higher wing, push down the lever near the wing towards the grip. This will allow the wing to be positioned higher against your palm.
For a lower wing grip, push the lever away from the grip. This will allow the wing to be positioned lower against your palm.
2. You can extend or decrease the body length. To do this, push down on the rectangular button on the opposite side of the wing. Pull out to extend body length, push in to shorten. Larger hands will need a longer pen length for more support, smaller hands will feel comfortable with a shorter pen length.
ERGoNoMiX pen and pencils are available at JetPens
here.
---
---
comments powered by Disqus