---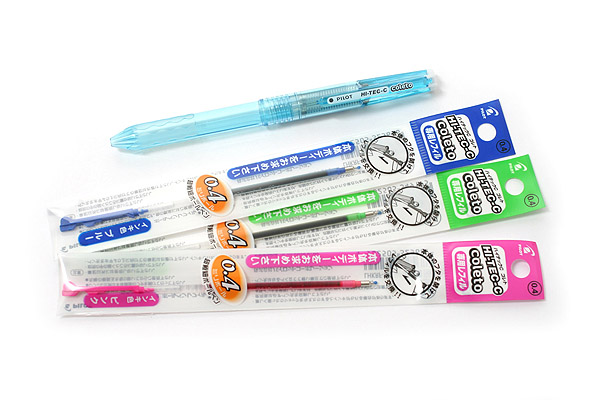 Three cheers for the Hi-Tec-C Coleto! This device takes the all-time favorite, the Pilot Hi-Tec-C, and makes it into a multi pen! The Pilot Hi-Tec-C is currently one of Japan's most popular gel ink pens. It is famous for its fine point tip and smooth writing. Now you can pop in any two or three Hi-Tec-C Coleto color cartridges of your choice and customize the colors of your multi-pen. Cartridges come in
0.3mm, .4mm and 0.5mm sizes and over 15 lush colors
. You can choose a
pen body
that fits either two or three ink cartridges.
What you need:
One
Pilot Coleto Body
and either
two or three ink color cartridges
, depending on what type of pen body you have.
What you get:
A fine point multi-pen with colors customized to your taste!
How:
Using your Hi-Tec-C Coleto is easy, just follow these three simple steps!
1. Open the cap of your pen body.
2. Insert the ink cartridge refills into its desired position.
3. Close the cap.
Voila! You're done! Now you have a multi pen that is as unique as you are.
Teachers who prefer not to use red ink love this pen as they can customize their grading with violet, pink or blue colors. Lawyers who need to color code facts and documents also love this pen. Remember, you can also use the Hi-Tec-C Coleto ink cartridges with the Zebra Clip-on Multi Pen to create a Hi-Tec-C Multi Pen that includes a pencil!
---
---
comments powered by Disqus