---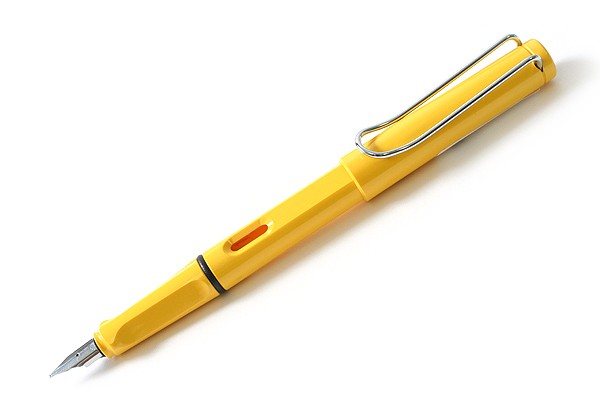 I often get asked the question "What is the best fountain pen for beginners"? When I answered it for the first time several years ago there was only one answer, and that answer hasn't changed to this date: the
Lamy Safari
.
It's not often that a pen is this universally loved, and with good reason. Released initially in 1980, the Safari was aimed at a younger demographic, especially students. The bright ABS plastic body, molded grip, and unique clip design made it a huge success, and the design has remained essentially unchanged to this day.
What made this fountain pen great for students in 1980 makes it great for those just starting with fountain pens today - it is so easy to use!
As seen in this video
, a simple twist of the barrel and the ink cartridge snaps in to place and you are ready to write. That is all there is to it, and for a beginning fountain pen user, that is all you need.
But what really makes this pen shine - and what makes it a JetPens Classic - is that it gives you options beyond the beginner level, all with the same fountain pen body. When you are ready to move past cartridge refills, all you need is the
Lamy Fountain Pen Z 24 Converter
and a bottle of
fountain pen ink
. We even have a
tutorial
to help you use your converter for the first time.
The choices are truly endless. From barrel colors, to nib widths, to a rainbow of available inks, this is what makes the Lamy Safari a JetPens Classic.
---
---
---
comments powered by Disqus