---
An updated article on the Hi-Tec-C is available here.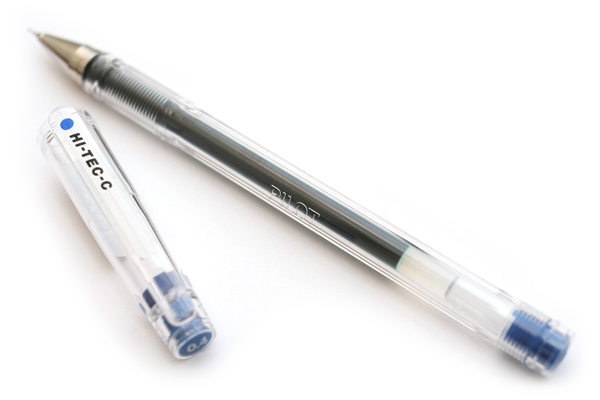 This is the pen that started it all.
Where were you when JetPens opened our virtual doors back in 2005? I don't know about you, but I was shopping at big box office supply stores, searching for that elusive "perfect pen". JetPens knew better though, and the
Pilot Hi-Tec-C
was the first pen imported and available at JetPens.com.
What makes this pen so special? First of all, the three-point tip design allows the ball to rotate in a natural, frictionless manner. Secondly, the biopolymer gel ink used is designed to prevent the ink from bleeding. Combine these two things and this is why the Hi-Tec-C gives you precise, clean, and legible lines every time you use one.
The variety of ink colors available is impressive. There are currently over 35 in stock, with such unique shades as
Pompadour Blue
and
Chestnut Bark Brown
. I love grabbing a few different colors to write, edit, and highlight notes or other documents with.
Pilot has also done a great job expanding the product line over the years with the introduction of the multi pen
Coleto
, and the executive styled
Cavalier
. There is even a compact version of the Hi-Tec-C with the
Slim Knock
.
Over the years I have come to realize that there is no such thing as a perfect pen. The Pilot Hi-Tec-C is about as close as it gets, making it a true JetPens Classic.
---
---
---
comments powered by Disqus