October 29, 2012 - Posted by David to
Pen Perks
---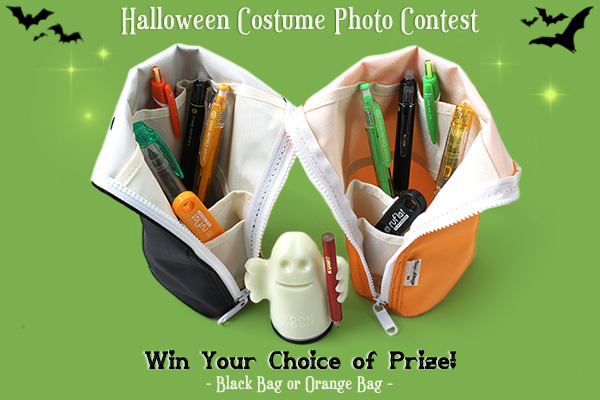 With Halloween right around the corner, we wanted to get in on the fun with a Halloween Costume Photo Contest. One special winner will get to choose either the black bag of goodies or the orange bag of goodies. And yes, the ghost (we call him Booh!) is included. Now before we reveal any more details on the treats inside each bag, we thought we'd take a closer look at the bewitching traditions of this haunted holiday!
Everyone is familiar with the costumes, pumpkins, and sweets associated with Halloween. However, the origins of our modern-day All Hallow's Eve remain somewhat shady.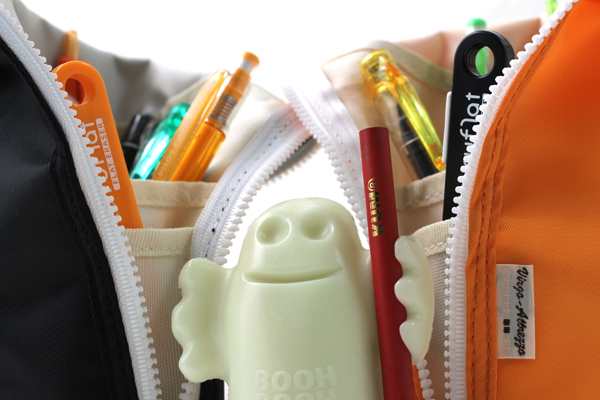 Originally called Samhain, the pagan festival fell on the night of October 31st during which the souls of the dead would come back and walk among the living. The tradition of wearing costumes was thought to disguise oneself from harmful ghosts and blend in among the spirits. Lanterns were used to light the way during the night. Instead of carving pumpkins, turnips used to be the vegetable of choice!
The custom of going door-to-door and receiving sweets was actually influenced by children collecting food and other offerings such as fuel for bonfires. By the 12th century, pastries called "soul cakes" were distributed under Christian influences. Used as a means for people to pray for the souls in purgatory, each cake that was eaten was thought to represent a soul being freed from this temporary punishment.
While JetPens doesn't have any soul cakes to offer, we would like to invite everyone over to trick-or-treat with us in our Halloween Costume Photo Contest! Simply snap a picture of yourself in your fabulous costume and upload it into the comments on this article. A winner will be randomly selected but you can increase your chances of winning by getting your friends to reply to your photo as votes!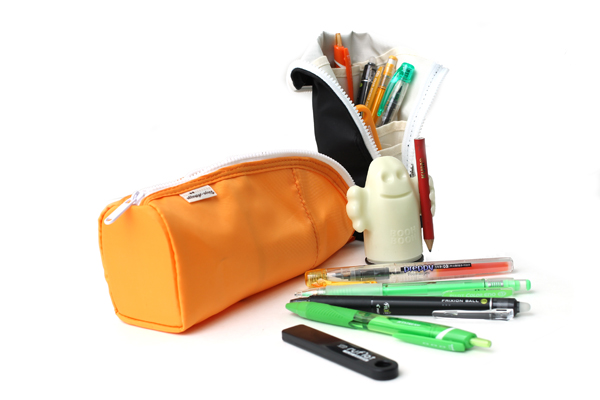 So what exactly are these special, non-cavity-inducing treats we're offering? One winner will get to choose between the black or orange
Nomadic VS-01 Virgo-Attrezzo Standing Pen Case
with its respective package of goodies inside:
-
Pilot FriXion Ball Knock Retractable Gel Ink Pen
-
Platinum Preppy Fountain Pen
-
Uni-ball Jetstream Color Series Ballpoint Pen
-
Pilot Color Eno Mechanical Pencil
-
Seed Ruflat Eraser
-
Kum Glowing in the Dark Booh! Wooden Pencil Sharpener
Please submit only one photo per contestant so pick your best photo! Entries will be accepted from now until Friday, November 2nd, 2012 at Midnight Pacific. One winner will be randomly selected from all entries and announced here on Saturday, November 3rd, 2012 on our blog.
Here's what you need to do:
1. Click on the comment box to find an "Upload Images" button on the bottom left corner of the box.
2. Upload your photo and leave a comment or description if you wish.
3. Increase your chances of winning by getting your friends to reply to your comment.
Note: Voting up (or down) will not affect one's chances, only replying to the comment.
Additional instructions:
1. Replies must be made through a Twitter, Facebook, or Google+ account to verify identity.
2. Replies must also be linked under the original picture to count as votes.
Rules:
1. You are the owner of the photo and have the legal right to post this photo and to enter into this contest
2. The photo does not infringe the privacy, celebrity, moral or other rights of any third party; and is not defamatory or obscene.
Have a safe and sweet Halloween! We look forward to seeing everyone dressed up!
---
---
comments powered by Disqus