---
An interview series featuring notable people within the pen, art, and design worlds. JetPens is pleased to invite Mark Frauenfelder into our segment. A jack of all trades, he is not only a highly esteemed editor and writer, but also a designer and illustrator, having designed Billy Idol's "Cyberpunk" CD cover. He lives in Los Angles with his wife, Carla Sinclair and his two DIY daughters, age 9 and 14.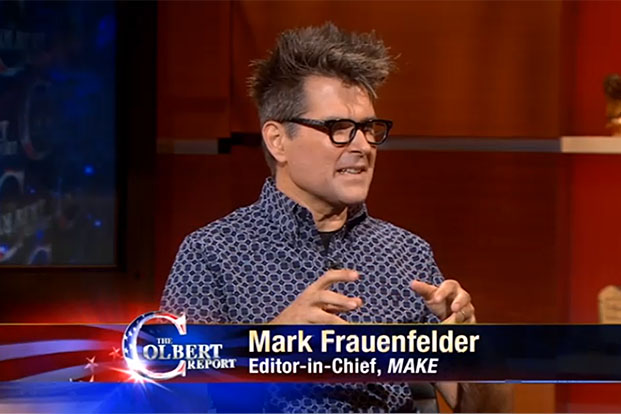 Tell us about yourself and what you do.
My name is Mark Frauenfelder. I am the founder of
Boing Boing
, and the editor-in-chief of
Make magazine
. I am also a part-time illustrator, and I write books and articles for magazines.
What is Boing Boing?
It's a pop-culture blog, with about 4 million unique visitors per month. It's hard to say what it's about exactly, because it's about whatever the editors of Boing Boing find interesting. I'm interested in mid-century illustration, do-it-yourself technology, graphic novels, civil liberties, health, psychology, video games, 1960s garage music and 1970s punk rock, vintage ephemera, science-fiction, and news of the weird, so I post a lot about those kinds of things.
Take us through your process of developing this weblog.
Boing Boing
started as a print zine in 1988. My wife Carla and I published the first issue in Boulder, Colorado, and we covered things like indie comics, brain machines, and cyberpunk. In 1995 when I was an editor at Wired magazine one of the people working on Hotwired offered to start a Boing Boing website. So we turned Boing Boing into a webzine, which gradually morphed into a blog in the year 2000.
Do you have any upcoming projects we should look out for?
I'm working on a book of projects that fathers and daughters can do together. It will have a range of low-tech and high-tech projects, like making a longboard skateboard, making a guitar out of a lunchbox, making soap that looks like your fingers, and some fun electronics projects. It's coming out in the fall of 2013. In the meantime, you can check out
Made By Hand: My Adventures in the World of Do It Yourself
.
What are your top favorite JetPens tools and why?
I like some of your brush pens very much:
Kuretake
has a tip that feels rubbery and springy, in a good way.
Have any advice for aspiring journalists and editors?
Follow your interests, and write what you are passionate about. That way, your work will be authentic. Also, read William Zinsser's book:
On Writing Well: The Classic Guide to Writing Nonfiction
.
---
---
comments powered by Disqus