---
An interview series featuring notable people whose lives intersect with the world of pens. Along with his work for premier apparel brands like Adidas and Nike, Allister Lee has been cataloging and documenting his black marker collection in his Black is Beautiful project.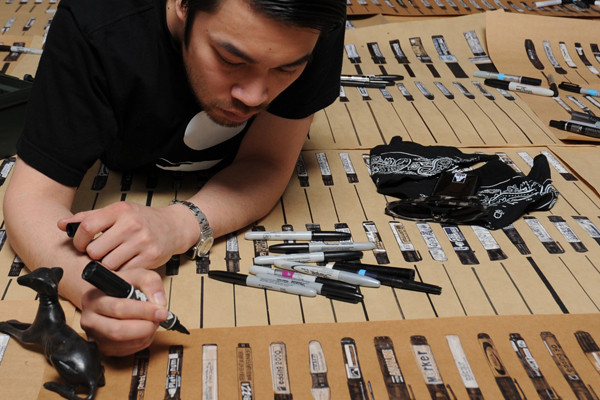 Please tell us about yourself and what you do.
Hello, my name is Allister Lee. I'm a Toronto-based graphic artist who specializes in creating work for apparel brands. I produce work for exhibitions and collaborative projects, and concurrently produce print and retail products of my own designs as well. I use a variety of marking tools in my studio practice, with a preference towards black markers and ink. I use these markers from the initial sketching and planning stages, to the development and rendering of the finished product.

How did the Black is Beautiful project come about?
I started collecting black markers in 2002, and over the years I've grown a shoebox-full of drawing supplies into a collection of over 750 unique pieces, and counting.
Around the same time, I started drawing my collection of black markers on a 1:1 scale for my own documentation purposes. I created zines, prints, and posters commemorating each marker milestone of 25 / 50 / 100 / 500 , which I would send out and share with friends and family.
These illustrated markers were featured on my old website in no particular order. I also maintained a blog linked to the site, which contained black-and-white photos of marker groupings with accompanying stream-of-conscious reviews.
Over the past couple years I've been paying attention to other marker blogs like Just Some Markers and Searching for El Marko, as well as curated brand blogs from Sharpie and Copic.
At first, I was displeased with the cluttered method I was using to present my black marker collection. I became inspired bygrowing sources of marker information, as well as the community of enthusiasts I was following. Finally, out of a desire to continue sharing my interests with other marker aficionados, I launched BlackIsBeautiful.ca at the end of 2012.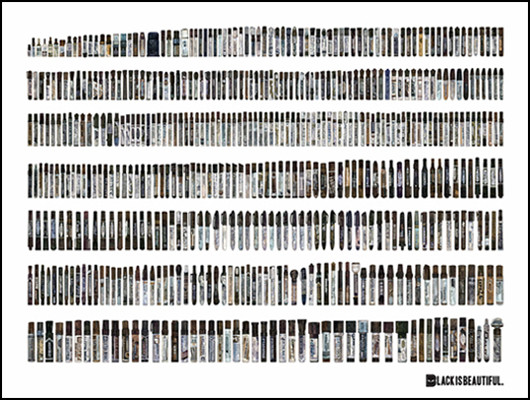 BlackIsBeautiful.ca is an online database of black markers, ranging from Artline to Zebra. Featuring clean photography and simple, descriptive text in each marker entry, the site is updated weekly with various "black-quisitions" that I have collected internationally over the past decade.
There is also a curated section of interviews on the site called "UNCAPPED", which connects the dots between people and these markers It's a great opportunity for me to reach out to people of various professions and backgrounds; to find out how they use black markers, their black marker preferences, and other marker- related memories and musings they may have to share.
There's also a "BRAND" section on the site which contains marker company information, and an online store called "B.I.BOUTIQUE" which features the Black Is Beautiful 500 Marker poster.

What are the top 3 most attractive qualities of a black marker?
Branding, label design, and overall design and construction properties.

Do you have any other projects or events we should look out for?
I started developing illustrated fabric prints using black marker and ink for the clothing brand Stussy last year. The first pattern I made features safari cats and was part of this summer's collection. Other items created from the pattern prints I designed will be released throughout the rest of 2013 and into the next year.
I've also designed two pairs of shoes as part of a capsule collaboration with global footwear brand Vans and Shanghai-based Vagabond Skateboards, and that project launched this past summer. I designed and created graphic collateral for product and retail installations, in order to accompany and promote the project.
Lastly, I also prepared an exhibition of works depicting Chinese coin-operated kids' rides for a space in Shanghai.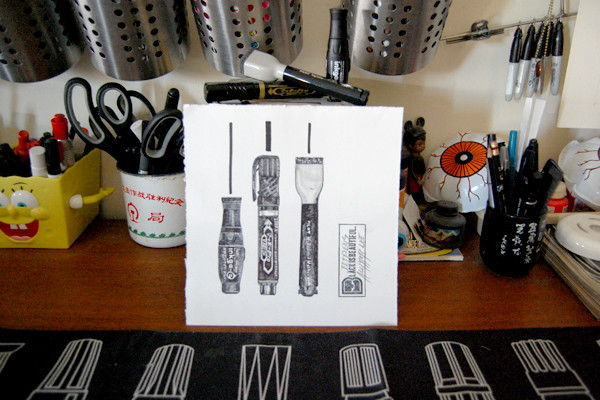 What are your favorite JetPens tools and why?
I just ordered and received a shipment of black markers from JetPens for my collection. I have never seen these black markers for sale online or in retail shops during any of my travels, so it's great that JetPens offers unique, hard-to-acquire items.

Kokuyo Inkga-e Marker
. Nice compact size, unique silhouette with ergonomic drops and contours. Refillable. Attractive branding. Nice faint alcohol odor. Bullet tip makes smooth, clean lines with a nice dark ink not often found in whiteboard markers. Most whiteboard markers actually have a brownish-black or dark grey ink. I have a sub-section of mini black markers in my collection, and this makes a great addition.

Pilot Wytebord Marker
is an understated gem. Solid plastic construction. Minimal metallic foil branding. Bit of a heavier alcohol odor on this one. Bullet tip. Bit of drag when making marks on paper stock, but gives off nice fade effects when drawing. Ink is on the darker-grey tonal spectrum. It's kind of like an updated design of an older model that I have... It has a similar body silhouette, but this version has a 2.5 cm x 1.5 cm felt-tip on the cap nib, to be used for erasing marks on whiteboard. The felt-tip actually works well as a marking device when used with loose ink. Just dip the top in and GO! Makes nice, wide drippy lines. There's a magnetic strip on the side of the cap as well, which makes this a pretty nice "grocery list" marker to stick on the fridge.

Zebra MacKee Pro-Dx Marker
. I love the quality and design of all Zebra products and this is another great example. Comes nicely packaged in a printed plastic sleeve. Solid plastic construction. A lot of markers made of plastic bend inward when you pinch the barrel, but this one is nice and sturdy.
Ergonomic drops on the cap allow for easier twist off. Diagonal grooves on the cap are a nice design feature that give a barber-pole effect when twisting the cap on and off. Nice wide plastic clip on the cap makes it stay clipped on a bit better, and harder to completely break off. Attractive gold labeling and branding on the side barrel. Nice sharp odor. 4.5 mm - 5 mm chisel tip. Durable nib features some interesting facets to make that chisel shape.
Most chisel-tip markers are straight cut with a top edge and two flat side edges. This nib actually starts as a cylinder, with angled facets on either side to create the chisel tip shape. Makes for cleaner lines and preserves the nib's lifespan by focusing pressure on key points. Straight cut chisel tip nibs tend to fold over themselves, fray out, or wear down unevenly. The Zebra MacKee Pro-Dx makes great, sharp lines and has a really nice dark black tone to the ink.

Why should everyone carry a black marker?
You never know when inspiration strikes. I hope everyone is able to take the free-floating ideas in their minds and express them through words and images onto a blank page. Putting ideas down in permanent ink is one step closer to having ideas realized in tactile form.
Ever wonder how artists use JetPens products? JetPens showcases artists every month and interviews them to see what their favorite JetPens tools are. Please send any suggestions for Artist Features to penpal(at)jetpens.com!
---
---
comments powered by Disqus