---
A new interview series featuring notable people within the pen, art, and design worlds. JetPens is pleased to introduce Caroline Lau of Maya Road. Walk with us as we delve into scrapbooking.
Tell us about yourself and what you do.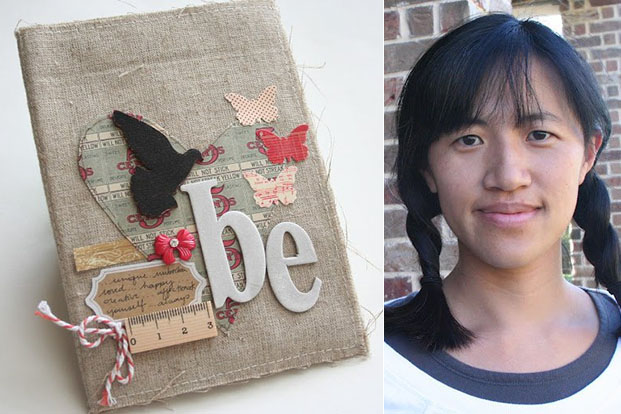 I am Caroline Lau, Managing Partner at
Maya Road
. Maya Road is a wholesale scrapbooking company which specializes in innovative basic products that allow for every day memory keeping for everyone. We strive to keep our products unique and our pricing competitive every day. My sister, Deb, and I started Maya Road 9 years ago. I run the day to day operations as well as plan and organize all of our releases. Maya Road is a family business; along with Deb and myself, our husbands are equal partners in the business.
How did you get involved in scrapbooking?
I have always dabbed in various types of crafts since I was small. Close to 12 years ago, I started scrapbooking for fun, just to document the trips my husband and I were taking before we had our kids. Deb started around the same time and from that point on, Deb and I were able to formulate a business that we turned into Maya Road. We were both selling scrapbooking supplies on eBay at that point.
Why is scrapbooking a valuable art?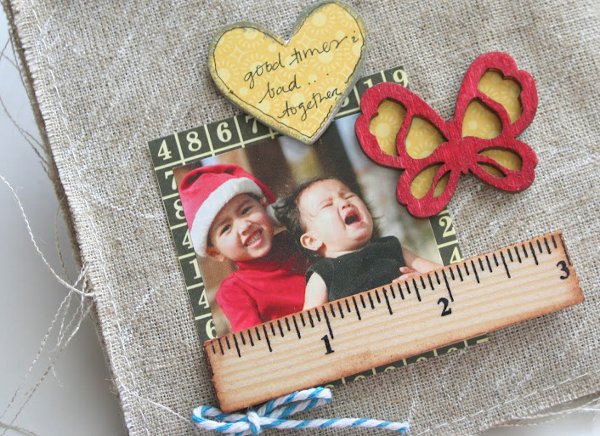 Scrapbooking is valuable because it documents all those tiny pieces of my journey through life that I want to remember. It brings me such joy to see my kids flip through a scrapbook I have made of when they were younger and they ask questions about the album. Scrapbooks can be passed down from generation to generation as a snippet to the past and the journey my family has taken. My mom even has a scrapbook from when I was born over 35 years ago. Even though the tools were not as sophisticated then, she still included the important parts - the journaling, the photos and snippets to my past. When we were visiting my parents' house in May, my kids loved looking at the scrapbook my mom made for me.
Please take us through the process of creating this special JetPens project.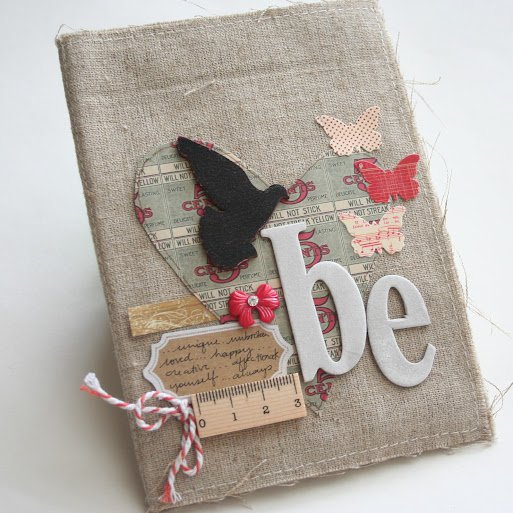 I created this Be Linen Album using some JetPens products. This 5" x 7" Linen Art Journal was the perfect base to layer on photos and more. I kept it simple to showcase the photos, and the JetPens products I used were perfect for this.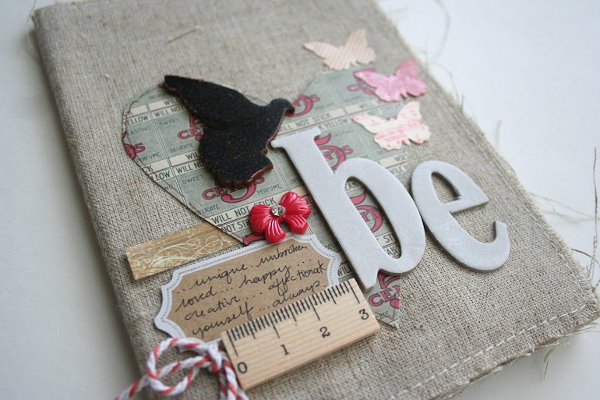 To start off on the cover, all of the butterfly stickers on the right side were covered with a clear glaze pen. I then used a MR Wooden Feathered Friend Bird which I first covered in a layer of red glaze with the pen. When that absorbed in and sealed the wood, I was able to use the black glaze pen over it to give it a nice shine finish. I finished up with some journaling using a Hi-Tec-C Pen.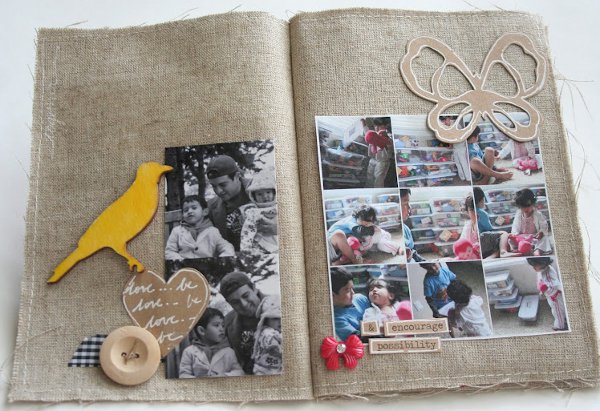 For the first and second pages, I also glazed a bird with the yellow glaze pen and followed it up with the clear glaze pen. I used the white gel pen to journal on one of our Kraft DIY Heart Stickers. I used the same pen to outline a MR Die Cut Kraft Butterfly and also the Kraft Stickers.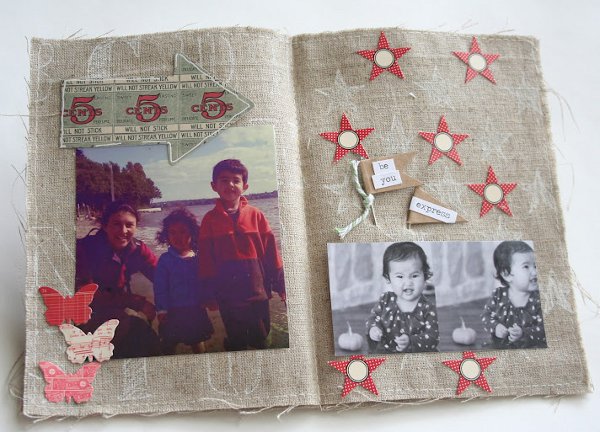 For the third and fourth pages, I used the white gel pen and the outline part of some old sticker sheets I had to create the background on the Linen Album. This turned out really neat as it made the Linen Album almost look like it was printed with white print.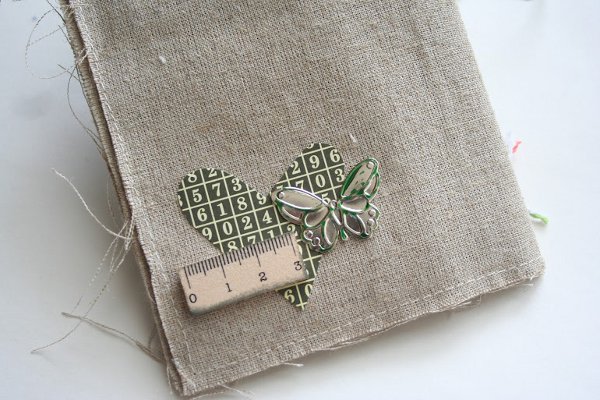 For the last pages, I used the white gel pen again to create another background. I then use a red glaze pen to color the Wood Butterfly Piece. On the back cover, I decided to experiment with some of the green glaze pen and see how a couple of drops would look on a MR Vintage Metal Butterfly. I loved how it looks like there are drips of colored water on the butterfly and how it dried like that.
Where do you find inspiration for the crafts you feature on your blog?
I find inspiration in a number of ways - reading and running are my top two. I have very diverse tastes when it comes to reading; I love magazines that dabble in Mixed Media, Cards, Scrapbooking, Sewing and even Cooking. I started using Pinterest about a year ago and that has done wonders for my sewing and cooking skills!
I pepper that in with some magazines that relate more to my more traditional training - engineering. You will catch me reading Wired, Popular Science and even some chemical engineering journals at times. A lot of times, you will find that Maya Road products and my projects are engineered together in unspoken ways to maximize use of space, etc.
I also have another hobby which is running. I find that there are times when I am thinking about designs that a calm solo run will allow me to work out the pieces in my mind for a project or our next release.
What are your top 5 favorite JetPens tools and why?
I can still remember my very first purchase from JetPens close to 5-6 years ago. I purchased about 10 of the White Signo Gel Pens because I couldn't find them anywhere in the US! So my very top favorite is the
Uni-ball White Signo Gel Pen
. Next comes the
Sakura Glaze Gel Pens
- they work wonderfully on our Maya Road Products.
Hi-Tec-C pens
come right after. These used to be really hard to find when I was in college. My sister and I would travel to Asia once a year and we would stuff our suitcases full of these. These pens make great note taking pens (especially in all the great colors) and now I love using them for journaling on our Maya Road products. I also love this
Kuretake Craft Glue Pen
as it has the tiniest tip for applying glue which makes it so much easier to scrapbook with! And finally, while this is not scrapbooking related, I cannot resist this
Hello Kitty Uni-Ball Pen
. I collect Hello Kitty items and my little girl who is almost three years old loves Hello Kitty too! I have been using Hello Kitty items to help her learn to write her name and she would totally adore this pen along with me.
Some of Caroline's favorite JetPens tools:




What are some exciting Maya Road products we should look out for?
What has been very popular and well received in the last year has been our twine cording. We are now up to 12 colors of
Twine Cording
and there is enough on the roll for many, many projects.
People also love our
wood spools
- we have created them in various shapes and sizes that are perfect for using in scrapbooks and altered art piece. Some people have even turned our wood items into jewelry!
The textured
burlap
is a beloved textile - we have created a series of burlap items which are easily altered or used as is.
Do you see any future trends in scrapbooking?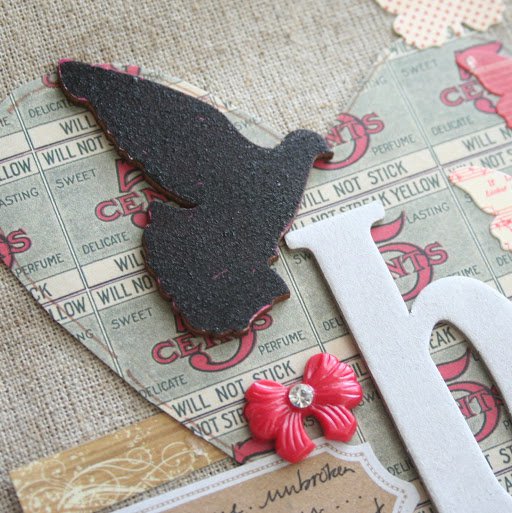 I think what we will see trending is more documenting of the everyday in scrapbooking. Rather than the super elaborate, what we will see are basics coming back. That is why we at Maya Road love to be the leader in basics. We find that lots of those who scrapbook will also use their supplies to make cards or pretty up gifts they are sending to friends. Products we started out with nine years ago are still some of our best sells and they are the basics.
------------------------------JetPens Giveaway------------------------------
This contest has ended.
Like JetPens on Facebook
to find more giveaways every month!
------------------------------JetPens Giveaway------------------------------
Caroline has generously provided us with
over 500 yards of twine cording and a bag of wooden spools
to give away so you can get started or continue on your journey of scrapbooking! In addition, the winner will also receive a $15 JetPens Gift Certificate to use towards trying some of Caroline's JetPens Favorites.
Rules:
1. Entries will be accepted from now until Friday, September 7th, 2012 at Midnight Pacific.
2. One winner will be selected from all entries and announced here on Saturday, September 8th, 2012 on our blog.
How to Enter:
1. Leave a comment on this post.
2. Increase your chances of winning by helping us spread the word about our blog giveaways. You can submit up to three additional entries by sharing this article through the social media buttons on the bottom of this post. You can Tweet about this post, post it to your Facebook wall, and/or share it on Google Plus.
3. For each additional entry, make sure to leave a separate comment on this post.
4. You can have a total of four entries in this contest provided that you leave additional comments after sharing this post through the aforementioned social media outlets.
Thanks for participating!
---
---
comments powered by Disqus