---
A new interview series featuring notable people within the pen, art, and design worlds. JetPens is pleased to introduce Mike Rohde. Welcome to the world of sketchnoting.
Mike Rohde: The Sketchnoter
from
size43, LLC
on
Vimeo
.
Tell us about yourself, who you are, and what you do.
My name is Mike Rohde. I'm a designer, illustrator and sketchnoter living and working in Milwaukee, Wisconsin. I'm a husband and father of two with a 3rd child on the way in September. I love to spend time with my family, and enjoy listening to music, reading and bicycling.
My day job is as a user interface designer at
Gomoll Research + Design
in Milwaukee. At GRD, I design user interfaces based on user-centered design principles — that is - design focused on making software easier for users to understand and use. We do extensive research and observation of users to help determine design direction and the structure of applications.
I also run a small firm called
Rohdesign Studios
, where I focus on illustration and sketchnoting work. I've done illustrations for several design agencies and for three books:
REWORK
,
The $100 Startup
and
Little Book of Talent
(released Aug 21). I also provide sketchnoting services for event organizers - attending events live or remotely and creating sketchnotes from the speakers. Finally, I'm writing my book,
The Sketchnote Handbook
, as a project through my small studio.
What is sketchnoting?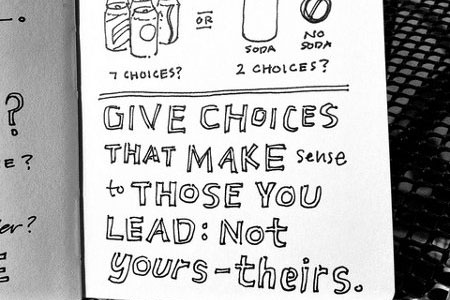 Sketchnoting is a way of taking notes that includes traditional handwritten text, but adds visual elements, like drawings, hand-drawn typography, icons, separators, arrows and more. The visual aspect of sketchnotes makes them more fun to create and more interesting to review later.
The other key trait of sketchnoting is a focus on the big ideas a speaker is presenting, rather than trying to capture every last detail of a presentation. By letting go of every detail and focusing on central themes, someone sketchnoting can take time to process ideas and convert them into visual concepts.
How does sketchnoting compare with regular note taking?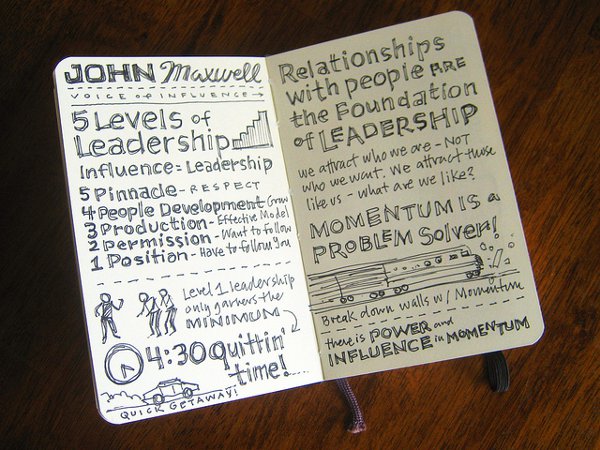 Regular note taking is great. I still do it when it's appropriate - like in a board meeting where I have to capture lots of detail.
Sketchnoting is different in that your goal is to end up with a more visual representation - a map of the ideas you are hearing and thinking about as someone is presenting ideas, rather than every last word.
Who can utilize sketchnoting?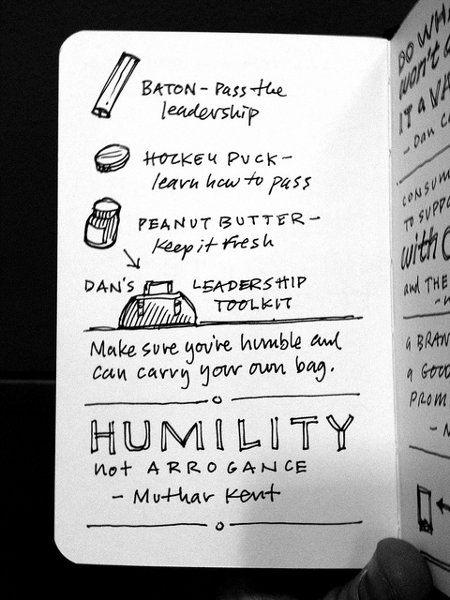 I believe anyone can create and make use of sketchnoting. Because sketchnoting is about ideas and not art quality, even non-artists can use simple drawings and elements made up of squares, circles, triangles, lines and dots to capture ideas visually.
Take us through your process of sketchnoting from start to finish.
Here's my process:
1. I arrive a bit early, so I can find a good spot in the room and do a little advanced work before the speaker begins their presentation.
2. Sometimes I begin with a little research, or I'll use the time to find out more about a speaker and learn to spell their name correctly.
3. I like to prepare sketchnote title pages ahead of time - those typically include the speaker's name, the topic of the talk in nice typography and maybe a drawing of the person from a photo. That way I'm not scrambling to do it when the talk begins.
4. I sketchnote the talk - listening for big ideas that resonate with me and the ideas sparked in my head, turning them into drawings, text, lettering and other shapes on the page as I listen.
5. I take photos of my sketchnotes, sharing them on Twitter, Instagram and Flickr for those who can't be there (as a backup strategy).
6. When I get back home, I scan my sketchnotes at high resolution, post them to Flickr and often feature them on my own blog with insights about the event.
Your work has inspired somewhat of a revolution in sketchnoting. Tell us more about your current projects such as The Sketchnote Handbook.
The biggest project I'm working on right now is
The Sketchnote Handbook
, a book and companion video I'm writing, illustrating and producing with
Peachpit Press
, scheduled for release in Fall 2012.
It's a book and video aimed at people interested in a practical guide to learning what sketchnotes are and creating them. The
book
is a bit different in that it will be completely illustrated. The
video companion
is being created to show the same concepts, but illustrated on camera.
The other project is
Sketchnote Army
, which showcases the work of sketchnoters from around the world. I've been running the site since 2009, and now have the help of Binaebi Akah to help keep posts a bit more regular.
What are your top favorite JetPens tools and why?
1.
Nomadic CB-01 Wise-Walker Daypack
- I'm a big fan of this pack in gray with orange interior. I've used it for day trips, weekend and business trips and especially sketchnoting gigs. It's flexible, has a ton of space and is my favorite backpack for carrying the iPad and all of the things I need for traveling and working. It's awesome.
2.
Pentel EnerGel Needle-Point Liquid Ink Pen - 0.5 mm - Black
- these are my preferred pens for sketchnoting. They flow well, dry fast and feel good to use. I prefer the 0.7 for more ink flow, but also like the 0.5.
3.
Ohto Fine Ceramic Roller Ball Pen
in silver is a favorite of mine - the angled cap is very unique, and I was able to hack a few other gel inserts into the body. However, I need to reorder because I've lost this pen and miss it dearly!
4.
Maruman Mnemosyne Imagination A4 Notebook
is a favorite for creating wireframes in pencil or pen and marker. The paper is smooth and takes both pencil and ink/marker well, and I love the subtle grid lines on the pages.
Some of Mike Rohdes's favorite JetPens tools:



Have any advice for aspiring designers/sketchnoters?
For designers, illustrators and sketchnoters, my best advice is to invest the time in doing the work you love and getting better. Never be satisfied with where you might be - there is always another level you can aspire to and move to.
Fortunately, design, illustration and sketchnoting are all active practices you must continually do. My challenge is to push and try new things out, experiment. Your own side projects are great for this research and development.
Sketchnoting came about because I experimented with visual notes because plain notes had become boring for me. That experiment has spoken to many people around the world, has led to them trying it and now, a book and video to teach others the process.
---
---
comments powered by Disqus