February 5, 2013 - Posted by David to
Pen Perks
---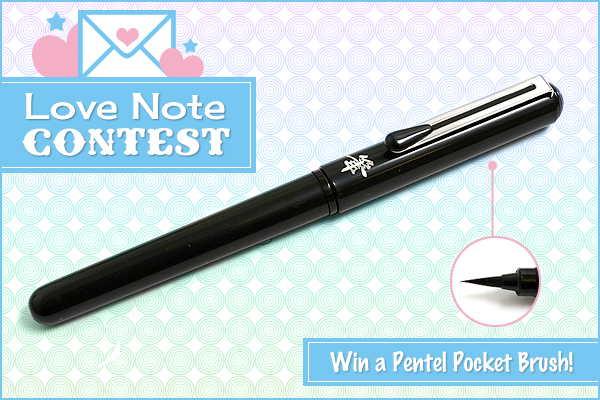 In 140 characters or less, write a love note with a metaphor/simile that's hilariously awkward, clumsy, or just plain bad. Our favorite entry will be rewarded with a Pentel Pocket Brush! Use this letter counter to make sure you stay under the 140 character limit.
Here are some examples to get you started:
"When we kiss, your braces joust with mine like armored knights that haven't bathed in days."
"Her hair glistened in the rain like a nose hair after a sneeze."
You now have the option of entering either by leaving a comment below, or by signing up through Facebook. Please note this contest is limited to U.S. residents at least 18 years old.
Rules and instructions:
1. To enter, either comment below or go to our Facebook page.
2. For each friend who signs up from your Facebook referral, you receive an additional entry for the contest.
3. Entries will be accepted from now until Sunday, February 10, 2013 at Midnight Pacific.
4. Winner will be selected at random from all entries and announced here on the blog Monday, February 11, 2013.
5. Contest is limited to U.S. residents at least 18 years old.
Official Contest Rules
Official Contest Rules
---
---
comments powered by Disqus