---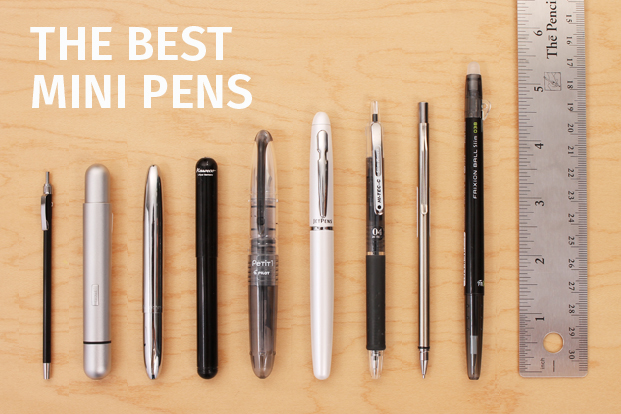 "Do you have a pen?"
If you've ever been forced to rely on the pen charity of strangers around you, you'll know the frantic nature of such a request. It's usually accompanied by a flurry of activity as you rummage through various compartments and bags, fruitlessly pushing the contents around. As the professor starts writing the essay prompt on the board and you see the whole lecture hall bend studiously over their desks, it soon becomes apparent that you are doomed. No pen is going to materialize. Or worse, someone lends you a dried-out husk of a Bic.
For your sake, we've compiled this neat guide on portable miniature pens. Use them as stocking stuffers, or keep them all to yourself -- they're perfect for jotting on business cards, signing checks, recording directions, or writing quick notes.

EXTENSION MECHANISMS
---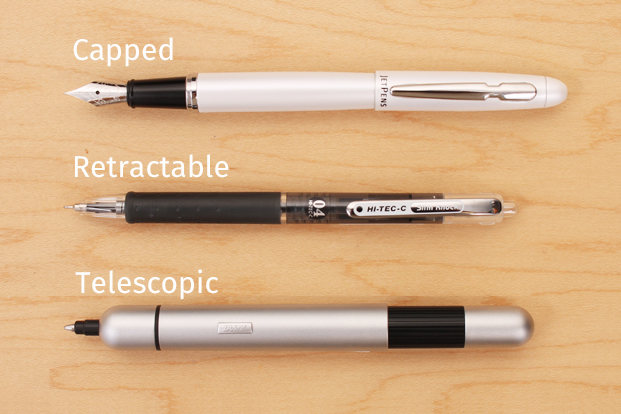 Most mini pens are either retractable, capped, or telescopic.
1. Retractable pens have a button on top, which you can click to extend or retract the pen tip. If you tend to misplace things, you might want to stick with a retractable pen -- there's nothing to drop or lose, for the most part.
2. Capped pens have a detachable cap, which can usually be posted on the back of the pen for a more comfortable writing experience. People with bigger hands will appreciate this feature. These pens can either be capped (closed) or posted (open, with the cap "posted" on the back on the pen).
3. Telescopic pens start out small, but can be extended by pulling at one end of the pen.
There are many other factors to consider when choosing a mini pen, including shape, length, durability, ink flow, and ink capacity. Don't worry; we'll get into those soon.

STAFF PICKS
---

Wallet Pens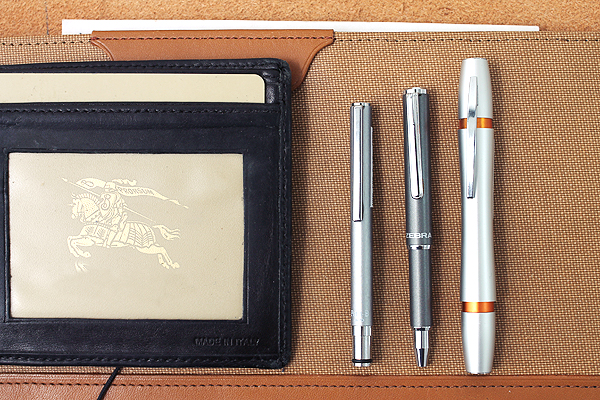 A typical single fold wallet measures about 4.5" x 3.75" when closed. Any pen venturing into its depths must measure less than 3.75" long in order to fit inside. It should also be quite slim, uniformly thick (so it doesn't mess up the alignment of your wallet), and durable enough to withstand being crushed in your back pocket. We found a few pens that were up to the task: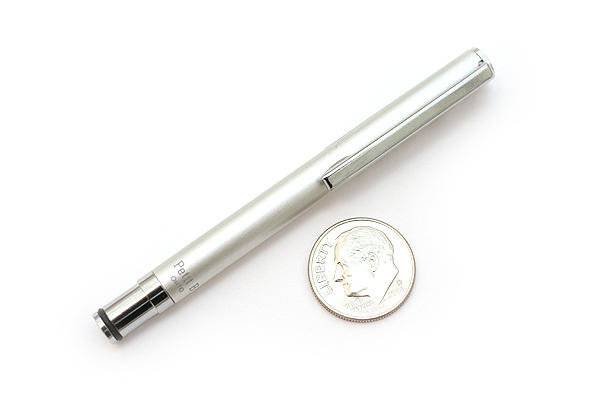 Ohto Petit-B Ballpoint Pen - 0.5 mm
This is the shortest pen on our list, measuring in at a svelte 3.1" when capped. The cap is unusually long and brings the pen to a respectable 5.1" when posted, which is comparable to the length of most standard size pens. The cap is held in place by a black o-ring, which feels reasonably secure. Since the pen is very slim, it should settle perfectly into the fold in your wallet. Ink flow is nothing special, but works fine for signing checks and writing quick notes.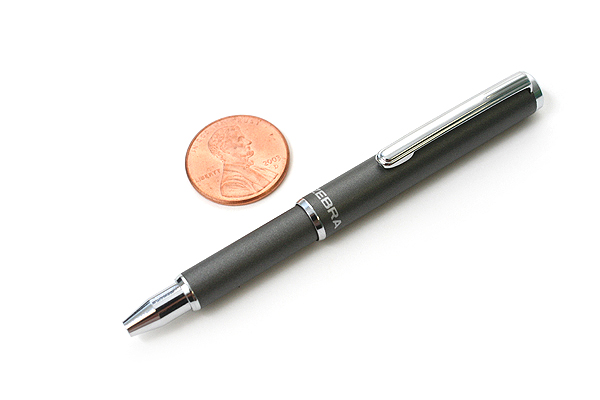 Zebra SL-F1 Mini Ballpoint Pen - 0.7 mm
The SL-F1 is 3.3" in its compact state, and 4" when fully extended. Although this may seem a bit short at first, the width of the pen helps a lot -- it's easier to get a grip on it. The product is telescopic, meaning that you have to pull the pen to slide it open to full size. Once you close the pen, you'll notice that a metal sheath comes down to protect the pen tip, keeping it from leaking and warping. The pen also has a durable metal barrel that'll stand up to unexpected falls, reliable ink flow, and a clip to keep it from roaming around in your pockets. And for $5, it's not too heartbreaking to replace.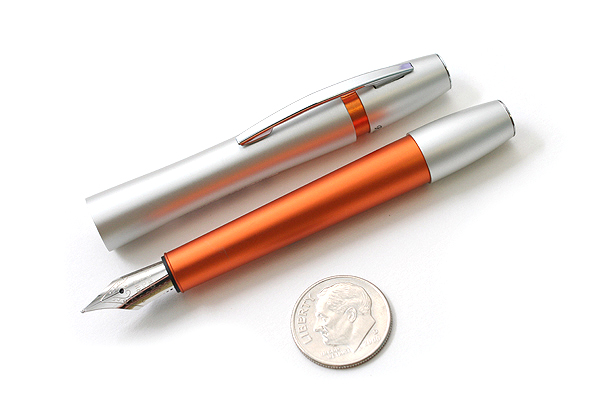 Ohto Rook Fountain Pen - Fine Nib
The Rook is the smallest fountain pen we offer, starting at a humble 3.7" and posting to a respectable 5.6". In fact, the posted Rook is only half an inch shorter than standard pens! It's also wider than the other listed wallet pens, making it an excellent choice for anyone with bigger hands. Working professionals will discover that it's a stylish conversation starter, as well as an excellent daily writer. A ballpoint version is also available.

Pocket Pens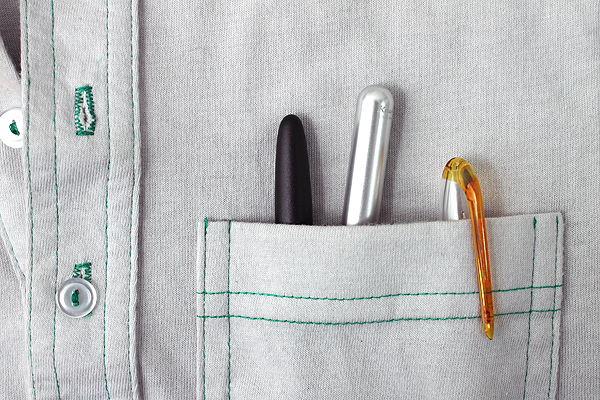 Rounded, smooth, and slim pens are a lot easier on the pockets. They won't snag on loose threads, or poke you with strangely protruding pieces. Also, try to pick a pen with a secure cap, so you don't end up looking like a walking rorschach test. Pro Tip: If you're keeping the pen in your back pocket, you should definitely at least clip it -- it's apt to slip out when you're not paying attention.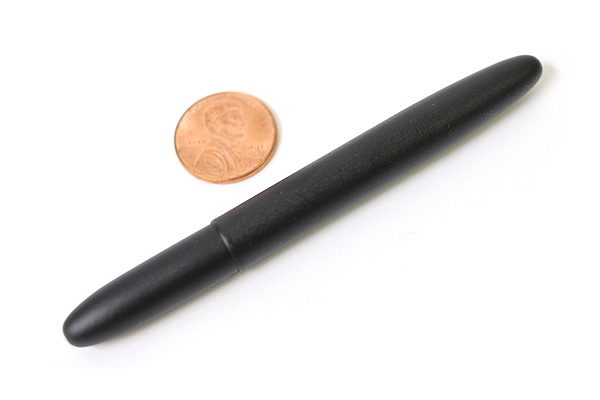 Fisher Space Pen Bullet Ballpoint Pen
At 3.8" capped and 5.3" posted, this Fisher Space Pen has long been a favorite for backpackers, travelers, and wanderers. Unlike most other pens, it won't leak or malfunction at high altitudes, and the brass body is reassuringly heavy (compared to most other mini pens). Its featureless exterior resembles a smooth and streamlined capsule, provides no obvious weak points for breakage, and slides comfortably into any pocket. And if you're worried about the cap, don't -- its gasket sealed and plenty tight. Pro Tip: Since the Fisher Space Pen is quite tolerant of extreme temperatures, it'll be right at home in your glove compartment.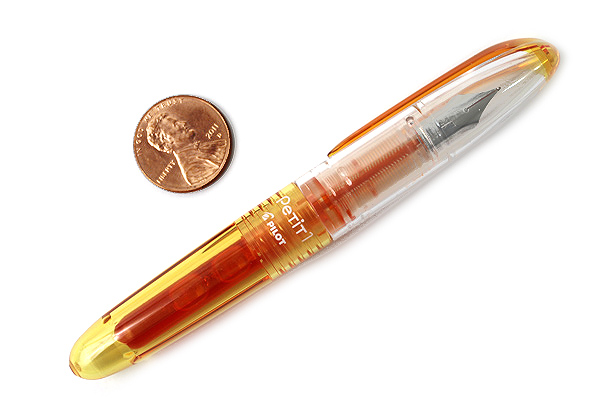 Pilot Petit1 Mini Fountain Pen - Fine Nib
The Petit1 is similar in length to the Fisher Space Pen, but has a wider barrel, which provides a solid area for writers to grip. At the same time, it's also lighter because it's made from plastic. Note that you should be careful when clipping it, since plastic clips tend to be less durable than metal ones. Otherwise, the Petit1 is a solid pen with a little bit of something for everyone. As a bonus, it can be converted into an eyedropper pen, which increases ink capacity quite a bit. At less than $4, it makes for a great stocking stuffer. Felt tip marker and brush pen versions are also available.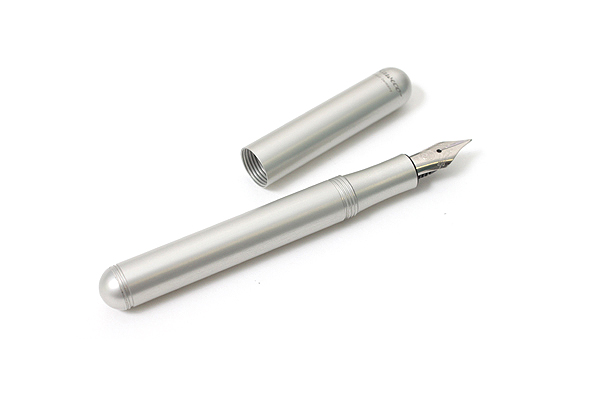 Kaweco Liliput Fountain Pen - Extra Fine / Fine / Medium / Broad Nibs
The design of the Liliput is subtle, yet striking. When closed, the smooth aluminum body is a perfect, rounded, 3.8" capsule that's about the size of a cigarette and almost as light. A unique feature of this pen is that the cap screws on for both ends -- although it might take a few extra seconds to spring into action, in the long run it's worth the extra security. The cap fits like a glove against the pen body, eliminating wobbling and any chance of ink leakage. The nib is a quick starter and smooth as butter, but be warned -- you might need to carry a few extra ink cartridges with this pen. It's too small for converters, and can only hold one international short cartridge. The plus side? Whip it out in a coffee shop, and you'll feel like Daniel Craig in Skyfall... suave, eloquent, and a little sneaky. A ballpoint version is also available.

Notebook/Planner Pens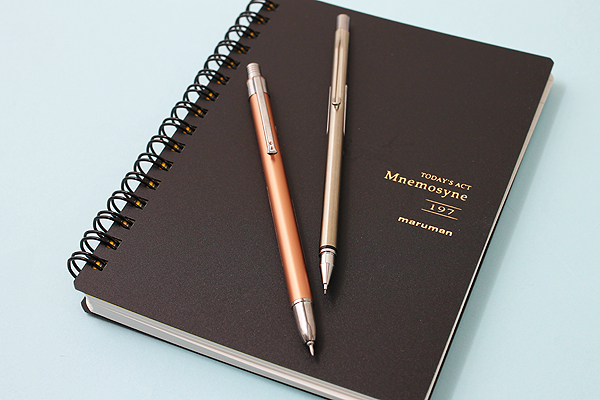 Keep track of your holiday shopping list with a pen neatly clipped inside of your pocket planner. Since capped pens are typically a two-handed operation, we've decided to list retractable pens here instead -- so you can walk and scribble in your notebook without having to juggle any detachable parts.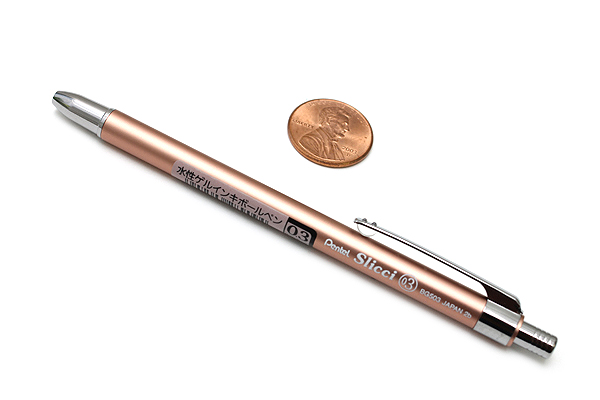 Pentel Slicci Techo Mini Gel Ink Pen - 0.3 mm
At 4.4" long, the Techo is like a slimmer, more portable version of the classic Pentel Slicci Gel Ink Pen. A bit more substantial than the Pilot Birdy, it nonetheless fits into most notebooks, as well as long wallets. It writes well, comes in a variety of snazzy colors, and has a metal exterior that feel quite sturdy. The 0.3 mm tip is thin and precise -- a perfect match for your pocket-sized notebook!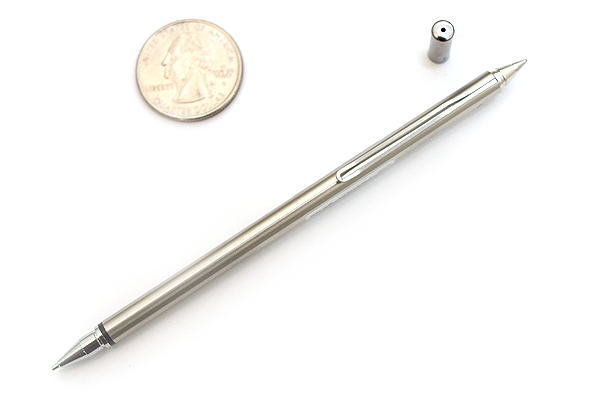 Pilot Birdy Switch Multi Pen + 0.5 mm Pencil
This slim pen and pencil combo is made of sturdy stainless steel, and fits unobtrusively into small notebooks, planners, and PDAs. It's the thinnest pen on the list, with a solid minimalist aesthetic that appeals to engineers and designers alike. When you want to use the ballpoint pen, simply remove the cap and switch it to the other side of the pen. Note that there are better choices for your pocket, since the Birdy has a pointy tip that doesn't retract. A ballpoint version is also available.

WRAPPING UP
---

If you're looking for a good candidate for your EDC (Every Day Carry) kit, look no further. Throw any of these portable pens into your purse or murse, pair them with a rugged pocket notebook, and start recording your adventures. There are way more portable products listed in our Mini Size Selection Guide, so head over there for the full scoop!


Staff picks are listed in this table. The model, capped length, posted length, weight, and recommended use are all displayed.

Where do you keep your pens when you're on the move? Have you taken your pens on any crazy adventures?
------------------------------JetPens Giveaway------------------------------
Have we whetted your appetites? Are your pockets and wallets feeling lonely now without these pens? Here's the good news: with your help in unlocking the coupon codes, you have the opportunity to win one of
nine prizes
. Go ahead and "like" the Mini Pen Giveaway post on Facebook then enter the giveaway
HERE
.
100 "likes" unlocks
6 coupon codes
: 3 codes for a free
Zebra SL-F1 Mini Ballpoint Pen
(not including the Limited Edition pens) and 3 codes for a free
Pilot Petit1 Mini Fountain Pen
.
300 "likes" unlocks
2 coupon codes
for a free
Fisher Space Pen Bullet Ballpoint Pen - Classic Finish
.
500 "likes" unlocks
1 coupon code
for a free
Kaweco Liliput Al Fountain Pen
.
That's a total of 9 prizes available to unlock!
All "likes" must go to the Mini Pen Giveaway post on Facebook.
Winners will be randomly selected and receive an email with the coupon code and instructions. Coupons will be redeemable for one year from date of receipt.
Entries will be accepted from now until Friday, December 21, 2012 at Midnight Pacific. Winners will be selected at random from all entries and announced here on the blog Saturday, December 22, 2012.
Please make sure to visit our
Facebook page
to enter!
---
---
---
comments powered by Disqus