---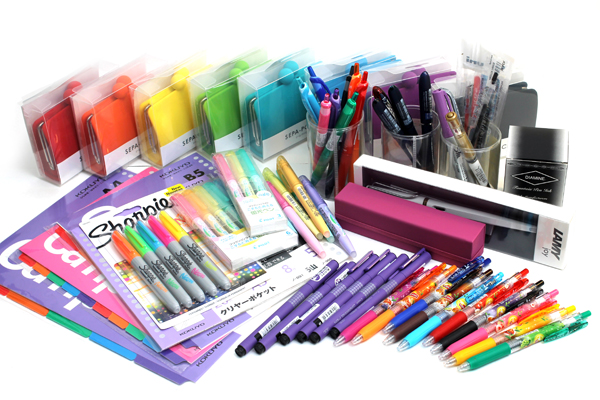 New products are in!
This week's new products include pens, highlighters, pouches, and dividers in all colors of the rainbow! From the eye-catching P+G Sepa-Pochi silicone pouches, to the sweetly scented Zebra Sarasa Lipton collection, these brightly colored products are eye candy for all.
P+G Sepa-Pochi Card and Coin Case
The Sepa-Pochi is a unique, one-of-a-kind pouch that is sure to make shopping fun! The soft silicone case is partitioned into two sections on the inside, making it easy to store many different things in an organized manner. The large capacity of the case can hold over 30 business cards, and can also be used for coins, cosmetics, flash drives, and other small items.
Pilot Drawing Pens
These lovely Pilot Drawing pens are not just for artists and designers, but also for students and anyone looking for a solid, reliable marker pen! The oil-based ink produces rich line variation that is great for illustration, cartooning, and design. They are also great as fine-point markers for everyday use, like taking notes or updating your calendar.
Pilot FriXion Light Erasable Highlighters
The FriXion Light Erasable Highlighters are great for students! In case you accidentally highlight the wrong word or over-highlight a chapter, simply use the rubber tip as an eraser and the ink disappears cleanly. The new "Soft Color" series features gentle, pastel colors that are great for emphasizing text in a way that is pleasant and easy on the eyes.
Sharpie Neon Permanent Markers
These Neon Sharpies will certainly grab your attention! Each ink is a bright, fluorescent shade that pops off the paper and even glows under a black light. Like all other Sharpie markers, these have durable tips and bold ink that is certified non-toxic. They can write on many surfaces, including paper, plastic, wood, and metal, which creates endless possibilities for projects!
Limited Edition Zebra Sarasa Clip Gel Ink Pens - Lipton Tea Scents
Like a glass of refreshing iced tea, these sweetly scented Zebra Sarasa Lipton gel ink pens will perk up your day! In this limited edition collection, the popular Sarasa Clip pens come with colorful, scented ink inspired by iced tea flavors. You can sample a delicious peach tea (pink), lemon tea (yellow), straight tea (black), or collect all of them to turn your writing session into a rejuvenating tea time!
For more, be sure to check out the rest of our new products on our website's New Arrivals page!
---
---
comments powered by Disqus