---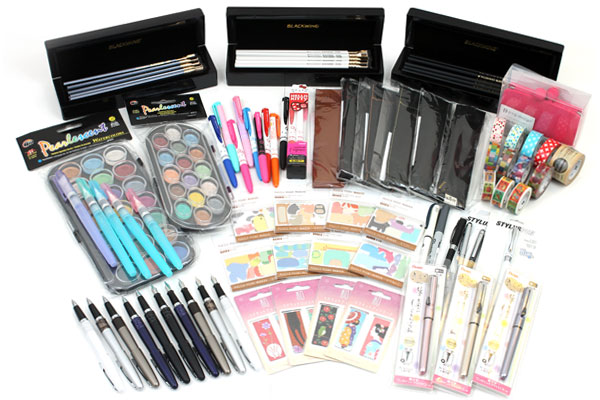 New products are in!
JetPens is getting a little wild this week with the arrival of some awesome animal-themed new products! Our new additions include colorful sticky notes, sophisticated animal print pens, and cute Hello Kitty gel pens. Read on to check out some of our top picks!
Midori Puzzle Point Marker Adhesive Notes
Open up the matchbook-style packaging of these Midori Puzzle Point Marker Adhesive Notes, and you'll find adorably tiny animal friends nestled together like a puzzle. These adorable sticky notes have light adhesive, making them great for a variety of creative applications. For example, you can use them for marking your spot in a book, adding a tiny note in your notebook, or decorating your calendars and personal planners! With so many sets to choose from, like cats and forest animals, you're sure to find a favorite.
Palomino Blackwing Grand Piano Box Sets
These gorgeous Grand Piano Box Sets of 10 Palomino Blackwing pencils would be a beautiful gift for any artist or musician! Each set comes in a luxurious velvet-lined box that is painted glossy black, just like a beautiful grand piano that you'd find in the finest concert hall. Music inspires creativity, and these classic pencils certainly will too!
Pilot Metropolitan Fountain and Roller Ball Pens - Animal Print
The new Pilot Metropolitan fountain and roller ball pen designs are a walk on the wild side! Each pen features a different animal printed band near the cap, adding a touch of flair to the pen's sleek appearance. Choose from tiger, python, lizard, leopard, and crocodile print on these classy, sophisticated pens.
Named for the traditional archery quiver that holds an archer's arrows, the Quiver Double-Pen holder is designed to securely hold your writing instruments. It wraps around the front cover of your hardcover notebook, thus offering a simple carrying solution for your everyday essentials. The carrying space fits two pens of varying size, or depending on your go-to item preferences, it can also fit one pen plus a pencil or stylus.
Limited Edition Hello Kitty Uni-ball Signo RT1
In this adorable collaboration with everyone's favorite Sanrio character, Uni-ball has released these limited-edition Signo RT1 Hello Kitty pens! The incredibly cute design features a minimalistic version of the iconic Hello Kitty face. You can choose from a variety of pen bodies and ink colors.
For more, be sure to check out the rest of our new products on our website's New Arrivals page!
---
---
comments powered by Disqus