---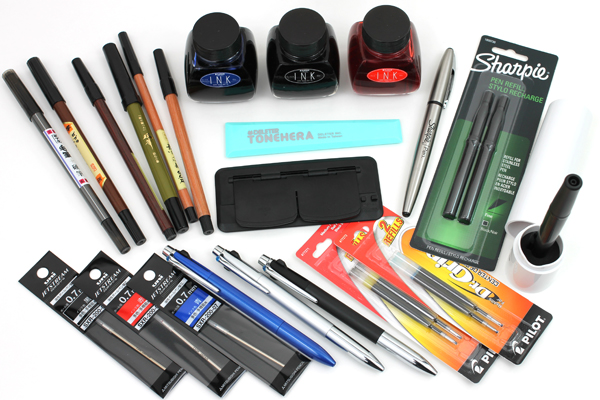 New products are in!
There's something for everyone in this batch of new arrivals. We hope you're as excited as we are for the newest addition to the Uni Jetstream family, the Prime 3 multi pen! For the manga artists out there, we have a spatula for you to press your screen tones. For the calligrapher and crafter, our new brush pens are sure to please. Fountain pen lovers, you'll love this innovative bottled ink. Last but not least, we have the perfect companion for Lihit Lab notebooks!
Uni Jetstream Prime 3 Color Ballpoint Multi Pen
With a sleek design that conveys the smoothness of the ink, this Jetstream Prime multi pen combines a streamlined body and ease of use. The innvoative retractable tabs for each color don't sink into the pen body when you push them down, resulting in a smooth operation and feel when choosing a color.
This spatula is every manga artist's dream tool! This spatula helps you smoothly rub and press screen tones onto your manga artwork to make them stay on. It's highly functional and easy to use!
Platinum Souhitsu Hanekofude Brush Pen
Create the beautiful sweeping strokes and tapers that characterize Asian writing with the Platinum Souhitsu Hanekofude Brush Pen! It's easier to use than traditional brush pens, because the portion at the very tip is soft while the section behind it is hard. This allows users of all skill levels to stay in control of the tip and write lovely characters.
It may look like an ordinary bottle, but don't be fooled by its appearance! Inside is an innovative reservoir, which results in an ink level that's high enough for you to refill your fountain pen. Simply flip the bottle upside-down and back to fill the reservoir, and you're ready to refill!
Lihit Lab Hole Punch for Twist Ring Notebook
This hole punch is the perfect companion for your Lihit Lab Aqua Drops Twist Ring notebooks and memo pads! Hole-punch any of your papers, and they'll fit right into the notebook and memo pad rings. You can neatly organize and store your notes, receipts, magazine clippings, all in your Aqua Drops Twist Rings!
See the rest of our new products on our New Arrivals page!
---
---
comments powered by Disqus