---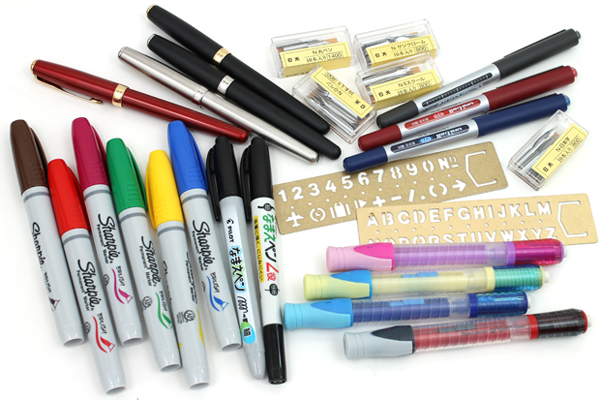 New products are in!
Whether you're into classic, timeless design or funky, punchy colors, our newest products are sure to please. Our inner vintage lover is swooning over the lovely brass bookmarks and new Parker Sonnet fountain pens, but our inner color lover is all about the Uni-ball roller ball pens and Sonic Gripen Pencil Holders. We also like the practicality of the Pilot Name Marker--never worry about people stealing your lunch again!
Midori Brass Template Bookmark
There's something wonderfully nostalgic about brass. We're smitten with the way it ages, how as it oxidizes over time, its color turns deeper and richer. That's why this is our new favorite go-to bookmark. This Brass Template Bookmark can be used not only as a bookmark, but as a stencil template for alphabet letters, numbers, and other fun shapes. It's the perfect pairing for your journal or notebook!
Parker pens are classic and historical with their characteristic arrow clips, and we're always giving them out as gifts! Timeless beauty is combined with a contemporary design, making the Sonnet fountain pen perfect for the office. We've added even more designs to the wonderful selection of body finishes and nib sizes available in our inventory.
With just a light touch, deliver clean and crisp lines with the Uni-ball Eye Roller Ball Pen. Its stainless steel tip and consistent ink flow lets you write smoothly. There is also a window built into the pen so you know exactly how much ink you have left! Until that last drop of ink, you can be confident that your lines stay solid with the vivid color you expect from Uni-ball.
If your favorite wooden pencil been reduced to a small, sad stub, you can easily revive it with the easy-to-use Sonic Gripen Pencil Holder! Once it's in, it stays securely in place—-no need to twist or screw any parts to keep it there! As your pencil wears down, simply twist the grip area to extend the pencil. It also comes with a long twist eraser.
The tasty home-made meal you brought for lunch will never again be "accidentally eaten" by coworkers once you label the container with your name. Designed especially to label your belongings, this pen writes on anything from plastic containers and reusable bags to sports equipment and children's clothing. You can even use it on cloth, plastic, metallic surfaces, rubber, glass, and so on.
What's your favorite item so far? Check out the rest of the products on our website's New Arrivals page!
---
---
comments powered by Disqus