---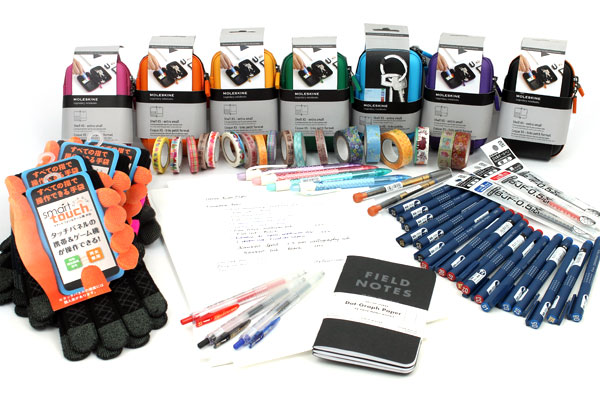 New products are in!
There's something for everyone in this week's round of new products! Whether you're a creative crafter, a gadget-savvy geek, or an amazing artist, there is something unique for you. Read on to check out some of our favorites, including colorful cases, cute tapes, bold pens, and special gloves!
Moleskine Travelling Collection Shell Case
Whether you're commuting to work or travelling on an exotic vacation, it's important to consolidate all your important small items in one handy location. These small, clamshell-style Moleskine cases are the perfect solution! Not only are they compact, lightweight, and portable -- they also come in bold colors and can be attached to backpack or purse straps with a strong velcro closure.
Pilot Drawing Pens - Water-Based Ink
These Pilot Drawing pens are great for drafting, sketching, illustration, and design work due to their strong, water-based pigment ink and variety of sizes. From the tiny 0.005 mm to the bold 1.0 mm, you are sure to find a line width that fits your writing or sketching needs. A unique aspect of these pens is the cap design system, which keeps ink circulating even when the pen is capped. This prevents the pen from drying out, so it is always inked and ready each time you use it.
Also known as washi tape, decorative Japanese masking tape has become popular in the crafting community due to its wealth of adorable designs and patterns. These Nami Nami tapes have light adhesive backs and are great for a variety of applications. You can use them to add whimsical accents to your scrapbooks, customize your journal, or mark important dates in your personal planner!
Platinum Touch Screen Gloves for Smartphones and Touchscreens
Platinum is generally known for their pens and pencils, but they also have innovative capacitive touch gloves for the more digitally savvy! These soft Touch Screen gloves are specially designed for use with smartphones and touch screen devices, containing special Metax 2 fibers developed by Japanese textile manufacturer Daiwebo. The capacitive fibers are interwoven into all five fingers, so your touch is transmitted to your device whether you're tapping, swiping, answering, or taking a call.
Zebra Sarasa Study Gel Ink Pens
The Zebra Sarasa Study gel ink pen is designed to motivate good studying, and is actually endorsed by many reputable prep and tutoring schools in Japan! Markings on the ink cartridge reveal how studious you were, and can be seen through the pen's clear body. The marks show the percentage of ink used, so as the ink level drops and the percentage used increases, you will certainly feel a sense of achievement. Next time you've got a major project due and need some motivation, give one of these pens a try!
For more, be sure to check out the rest of our new products on our website's New Arrivals page!
---
---
comments powered by Disqus