---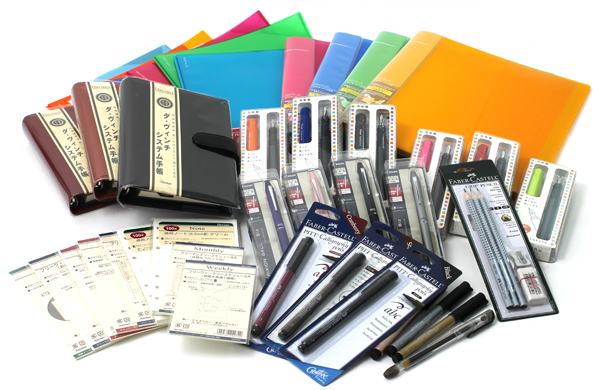 New products are in!
It's all about color coordination and everyday organizing this week! New products include a vibrant filing system, an all-in-one planner, a kaleidescope of pens, and more! Read on to see our current favorites.
Life is more fun when you're organized! Kokuyo's innovative Novita Alpha series is an amazing filing system that lets you create your own file book that is customized to your needs. From book covers to holders to pocket files, you have everything you need to organize documents for meetings and classes. Flexible, yet thick and sturdy, this filing system are easy to carry around and durable enough to protect your files.
Your first encounter with a fountain pen is important. That's why Pilot designed the Kakuno pen, a simple fountain pen that is great for beginners. Thanks to its many features that help ease beginners into the world of fountain pens, including the cute smiley face on the nib that always faces up when writing, kids and adults can experience the joy of writing with these delightful instruments. You will soon be on your way to becoming a seasoned fountain pen user!
Faber-Castell Pitt Metallic Artist Pen
Add a touch of shine with this metallic pen! Ideal for sketching, drawing, design, and illustration, this artist pen looks great on dark and light-colored papers. Its permanent pigment India ink has high lightfastness, and is acid-free and odorless. Pick from copper, gold, or silver and let your ideas sparkle!
The Raymay Davinci System Binder is designed to keep everything that is important to you in one place! It contains 20 sheets of monthly calendar pages, 20 sheets of weekly calendar pages, 20 sheets of 5 mm lined pages, 10 sheets of checklists, and 10 sheets of address pages. Refill sheets are available. The binder also includes flexible tab dividers labeled "Monthly", "Weekly", "Notes", and "Addresses", plus two dividers with blank tabs.
Pilot FriXion Ball 2 Biz 2 Color Gel Ink Multi Pen
The FriXion Ball 2 Biz features a sleek business look, with a matte body and glossy silver accents. This multi pen contains Pilot's popular FriXion ink in two colors, red and black, which you can erase cleanly using the rubber "eraser" at the top of the pen. You can use this sophisticated pen for taking notes and scheduling, with the reassurance that you can easily correct any mistake.
For more, be sure to check out the rest of our new products on our website's New Arrivals page!
---
---
comments powered by Disqus