---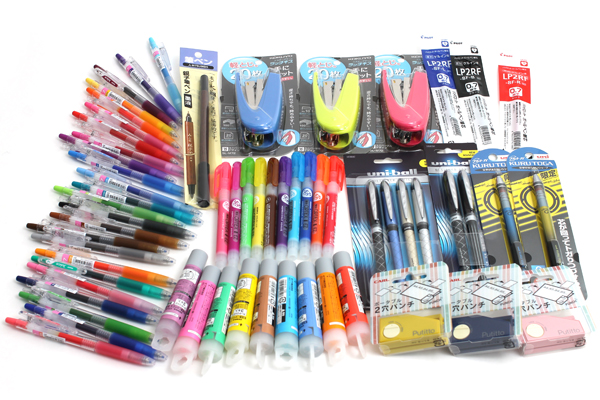 New products are in!
Happy New Year everybody! For our first product release of the year, we're bringing you some familiar and some new products in a variety of hues! From the popular Juice Gel Ink Pens to vivid highlighters to ergonomic staplers, there is something for you to add a little color to your office space.
Incredibly easy to uncap, Zebra's Optex 1 EZ highlighter has an "EZ cap" that you can pop right off by squeezing it at the special squeeze points. The highlighter ink has good lightfastness, producing bright, vivid color that doesn't fade. Zebra also designed it to last longer than others before the ink runs out. And even when it does, refilling is simple and easy with Zebra's ink cartridges!
With the ability to staple up to 20 sheets of paper effortlessly, this powerful but small stapler is great for any office space. This convenient feature inspired the name "Racchikisu," which is a combination of "raku" ("easy" in Japanese) and "hocchikisu" ("stapler"). This stapler is designed to be able to stand vertically for maximum space efficiency. The perfect size for you to grasp in your hand, it also features indentations at the front of the stapler so that your fingers can fit comfortably when you are using the stapler.
Carl Putitto Portable 2-Hole Punch
This extremely compact 2-hole punch is easy to carry around in your pen case or bag without adding extra bulk or weight. To punch holes, fold the paper in two, insert the folded corner into the hole puncher, and punch away! When you unfold the paper, there will be two perfectly punched holes. It's convenient and easy to use!
Uni Kuru Toga Auto Lead Rotation Mechanical Pencil
When using standard mechanical pencils, the lead wears down on one side, forming a slanted surface. Each time you write you end up using a different lead surface (pointy, flat, wide, thin, etc.) depending on how you hold the pencil. The Kuru Toga, on the other hand, has a core rotation mechanism that continually rotates the pencil lead as you write. This allows a uniform wearing of the lead so that it always remains pointed. We're now carrying this pencil in the Limited Edition Gradation Body! With their appealing sporty designs, the Gradation body pencils feature a bright, vivid color that melts into a deep black, just like cool sporting gear.
Uni Mitsubishi Double-Sided Brush Pen
With a broad tip on one end and a fine tip on the other, you get two in one with this brush pen, making it convenient and economical. This brush pen features easy-to-use hard brush tips as well as the feel of a regular felt tip pen, so you can confidently create beautiful brush-style lettering. The pen's carbon black ink is water-resistant once dry and has high lightfastness, so you never have to worry about fading.
For more, check out the rest of our new products on our website's New Arrivals page!
---
---
comments powered by Disqus