---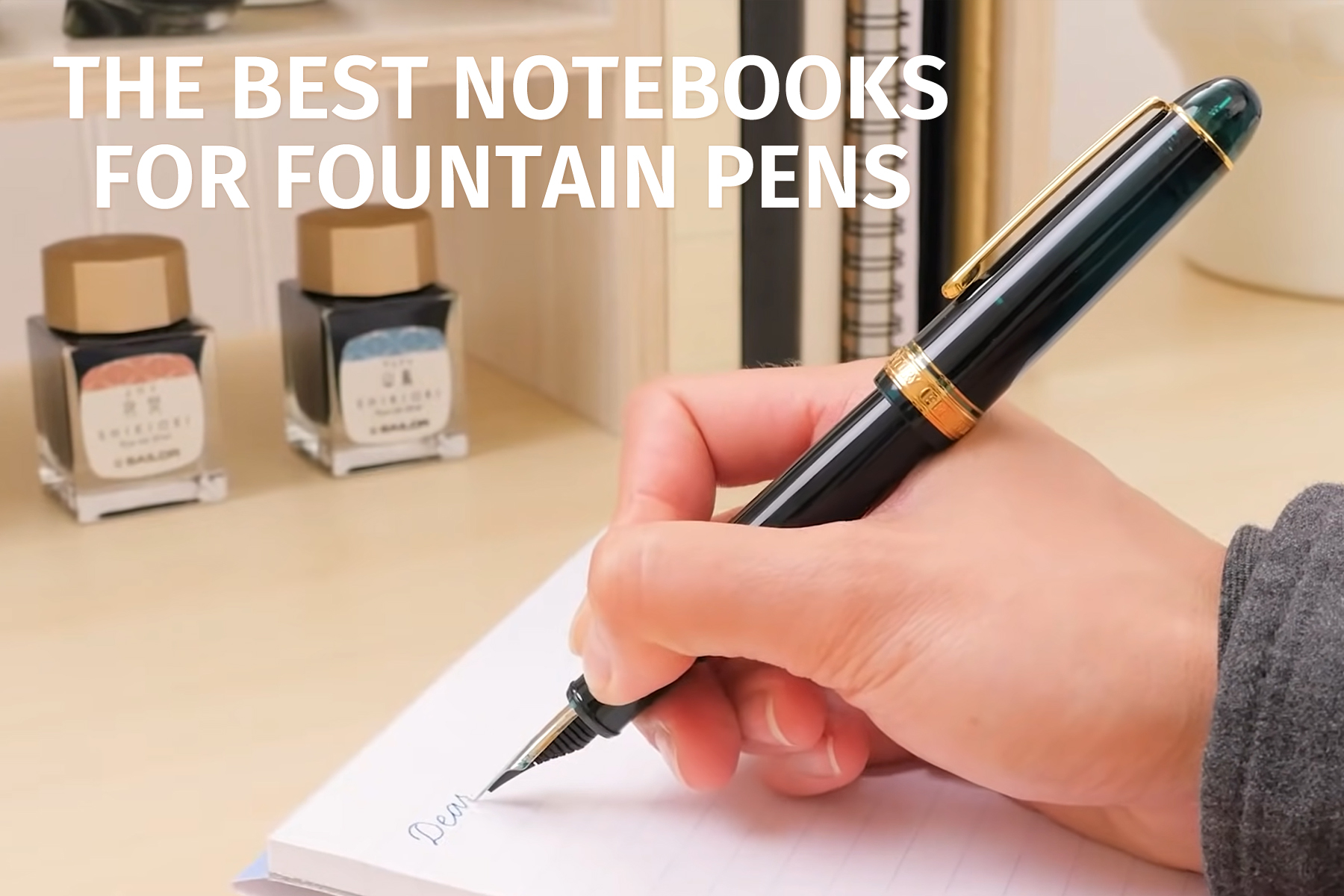 A world class dancer needs a partner of equal measure to perform at the highest level, and a fountain pen deserves no less in the notebook it is paired with. In this post, we'll cover the things to consider when choosing a notebook for use with your fountain pen and provide some specific recommendations that will bring out its very best.
(For a more in-depth guide to what makes paper good or bad for fountain pen use, check out our Fountain Pen Paper Recommendations.)
Characteristics to Consider
Notebook Type
Notebooks come in all shapes and sizes, but most fit into one of these five types.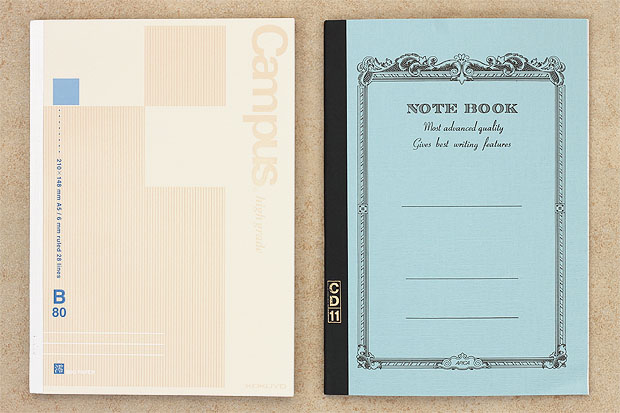 Standard Notebook
These are the most common notebooks, generally featuring a soft cover and either stitched, glued, or stapled binding. They are versatile, easy to stuff into a bag or backpack, and available in a wide range of sizes and paper types.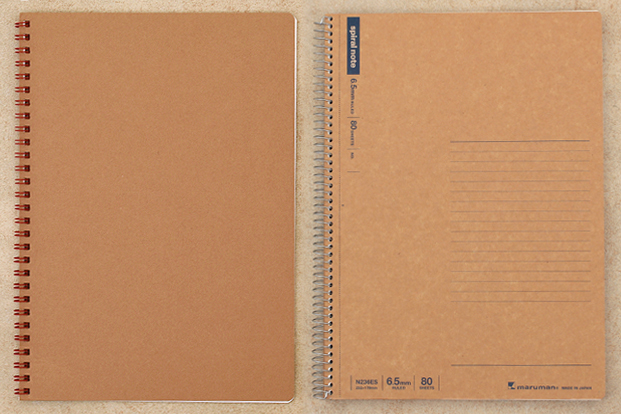 Ring Notebook
These notebooks have either spiral or twin ring binding, making it easy to tear out pages without disturbing the rest of the notebook. They can be folded back to take up less space than a standard notebook, and they typically feature plastic or cardstock covers, making them rigid enough to write on without a desk or other supporting surface.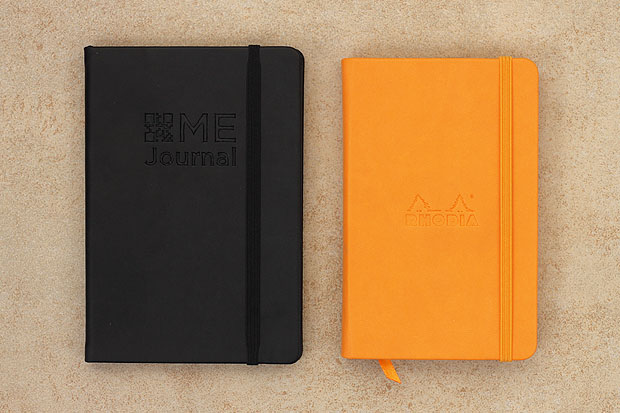 Elastic Closure Notebook
These stylish notebooks feature a convenient elastic band to hold them closed when they are not in use. They often have a durable hard cover that protects the pages from getting bent or crumpled, a small pocket on the inside back cover, and high-quality binding that lets them lie flat when opened.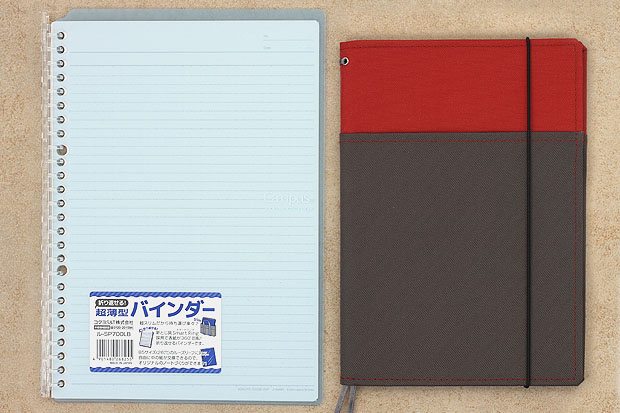 Refillable Notebook
Some notebooks are designed to be refillable, either with loose-leaf filler paper or replacement notebook inserts. Loose-leaf refillable notebooks allow adding or swapping pages on the fly, and notebooks that use replaceable inserts often have high-quality covers, pen pockets, and other useful features not typically found on single-use notebooks.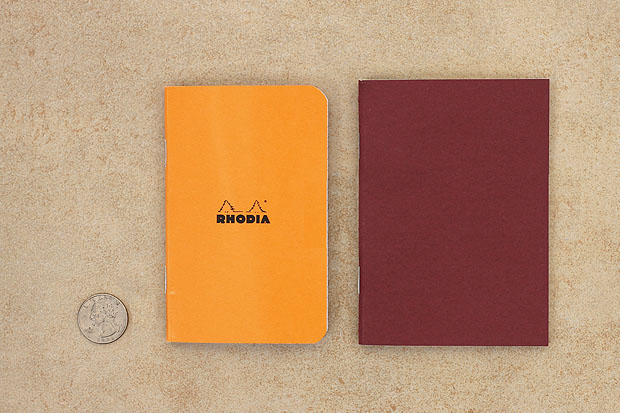 Pocket Notebook
Pocket notebooks are small (around 3.5" x 5.5" or less) and typically have a simple cardstock cover and staple binding—perfect for carrying in a back pocket or purse and pulling out to jot down ideas wherever they strike.
Paper Color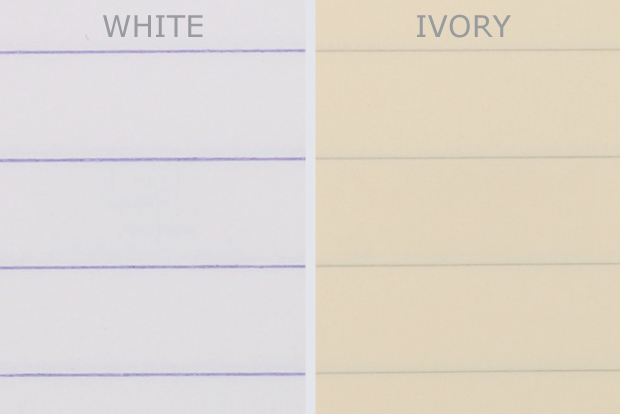 Most notebooks have either white or cream-colored paper. White papers are more common and do a great job of showing off ink colors, but they can also be tiring to read for long stretches. Cream-colored paper is easier on the eyes and can give your writing a more refined feel, but it will also give inks a yellowish tint.
Smoothness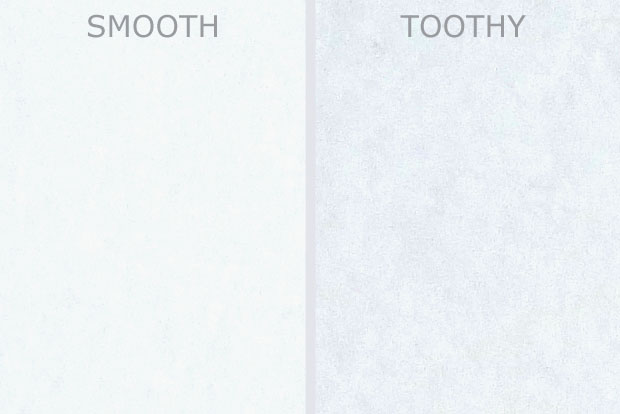 Some people prefer glassy smooth paper, while others enjoy paper with a little bit of "tooth." Super smooth papers can be a joy to write on, but they do have a couple downsides. It typically take longer for ink to dry on smoother papers. They are also more easily affected by hand oils, which can build up on the surface of the paper and cause inks to feather or bleed through. If you notice the pages in your notebook becoming less fountain pen friendly as you move down the page, consider using a small sheet of paper or plastic as a buffer so that your hand doesn't rest directly on the page.
Show-Through Resistance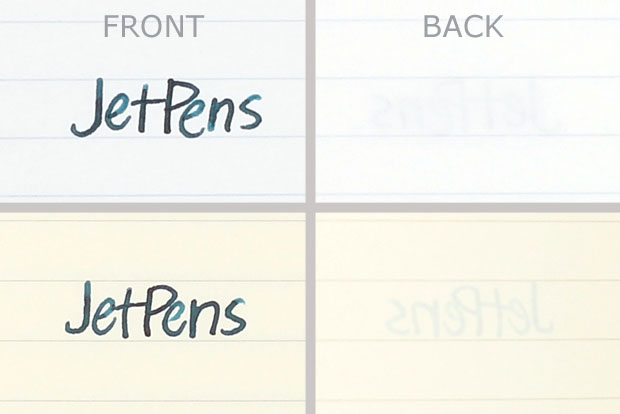 Show-through, also known as "ghosting," happens when paper is thin or translucent enough for writing on one side of the page to be visible on the other. Thinner pages allow notebooks to be more compact, but can also make show-through more noticeable.
Conclusion
These are our favorite notebooks to use with fountain pens, but there are plenty of other great options available, too. Below is a detailed list of all the notebooks that we found to perform well even with a broad nib and wet ink. For those who prefer sticking to fine nibs and drier inks, almost any of our notebooks can be a viable option. Have fun and experiment to find your favorite notebook!
Do you already have a favorite notebook? Tell us about it in in the comments below!
| Notebooks | Form Factor | Paper Color | Smoothness | Show-through Resistance | Size |
| --- | --- | --- | --- | --- | --- |
| Apica CD | Standard | White | Smooth | Good | A5, B5 |
| Apica Blank Cover | Ring | White | Slight Tooth | Good | B5 |
| Apica Wizard | Ring | White | Smooth | Good | B5 |
| Clairefontaine Collection 1951 | Standard | White | Super Smooth | Good | A5 |
| Kokuyo Campus High Grade MIO | Standard | White | Super Smooth | Moderate | A5, B5 |
| Kokuyo Campus Smart Ring | Refillable | White | Super Smooth | Good | A5, B5 |
| Kokuyo Campus Twin Ring | Ring | White | Super Smooth | Moderate | B5 |
| Kokuyo Systemic Refillable Notebook | Refillable | White | Slight Tooth | Good | A6, A5, B5 |
| Life Noble | Standard | Cream | Smooth | Moderate | A5, A4 |
| Maruman Eco Spiral | Ring | White | Smooth | Good | B5 |
| Maruman Mnemosyne | Ring | White | Smooth | Good | A5, B5, A4 |
| Maruman Sept Couleur | Ring | White | Smooth | Good | B7, A5, A4 |
| Midori MD | Standard | Cream | Slight Tooth | Poor | Pocket, A5 |
| Midori Travler's Notebook Refill – Passport Size | Pocket Notebook | White | Slight Tooth | Poor | Pocket |
| Quo Vadis ME | Elastic Closure | Cream | Super Smooth | Good | Pocket |
| Rhodia Pocket Size Notebook | Pocket Notebook | White | Smooth | Good | Pocket |
| Rhodia Webnotebook | Elastic Closure | Cream | Smooth | Moderate | A6, A5 |
| Tsubame Fools | Standard | Cream, White | Slight Tooth | Good | A5, B5 |
---
---
---
comments powered by Disqus