---
Today I'm starting a new blog for JetPens, and I'm calling it Pen & Ink, a phrase that always confounded me when I was in grammar school in the fifties in Queens, New York. I went to catholic schools, and the nuns and brothers always made us write our homework "in pen and ink." I can still see Brother Stanislaus standing in a corner of the classroom, giving us our assignment, and bellowing that it had to be written, and here he raised his voice, IN PEN AND INK. I still can't fathom that phrase: if we wrote with a pen, it had to use ink. If we wrote in ink, it had to be with a pen.
Still, it fits what my subjects will involve in this space.
Until a few years ago, I hadn't picked up a fountain pen since those days in grammar school...
We used a Parker, the only brand available in the bookstore. I still have my
Parker Vector
and it still writes well—more than fifty years later! But the arrow on the clip reminds me of those days, and despite their high quality, is one reason why I favor other brands today.
I got back into fountain pens thanks to my friend, Bert, who gave me a drawing he did with a
Lamy Safari
. He had several, each with a
different nib
, something new to me, that you could
switch nibs.
I bought one, then went for the
Al-Star
and then the
Studio.
Soon I was buying
Sailor
,
Pilot
and
Platinum pens
, which led to my discovery of
ink.
As Bert said, people only think they can write in blue or black. I must have thirty bottles now, including
Ku-Jaku by Iroshizuku
, which one of female friends said is packaged better than an expensive perfume.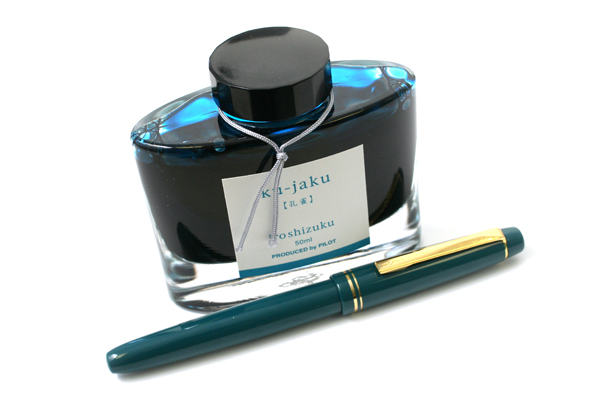 I expect this blog will address the joys and follies that I've had and continue to experience in the world of pen and ink. Including my foray into sumi art, trying
brush pens
, taking a drawing class, sharing pens with friends, trading pens, joining the
Fountain Pen Network
, dealings with nibmeisters, experimenting with various papers and journals, and trying to fathom this obsession which I know can verge into territory braved only by those possessing expertise or maybe just pure nuttiness.
John Skoyles writes the column "Pen and Ink" featured twice monthly on the JetPens blog and is the author of four books of poems, and the memoir, Secret Frequencies: A New York Education.
---
---
comments powered by Disqus