---
John Skoyles writes the column "Pen and Ink" and is a professor at Emerson College, a poet, and author of the memoir, Secret Frequencies: A New York Education. Find out more about John and his work at www.johnskoyles.net.
When I was in college, I enrolled in a painting class taught by an eccentric Eastern European artist named Palko Lukacs. He had a heavy accent and smoked a pipe. I recall one of his self-portraits: an empty armchair with a cloud of smoke above it.
He set up bouquets and fruit platters in the front of the classroom and brought in live models.
One day I was working on the profile of the beautiful woman who posed for us. Palko walked by, paused, and told me to put some blue in her nose. I couldn't understand his command and I ignored him. He strolled by my easel a second time, mentioning the blue once more. "Blue?" I asked. "In a nose?" He didn't answer, so again I paid no attention. When he passed a third time, he squeezed the tube of blue onto my palette, smeared it around with a knife, and jabbed a line across her profile.
"Paint it out!" he said.
I tried, but when I finished, I was left with a woman with a blue nose.
Since then I have continued to paint and draw, almost always badly, but that hasn't stopped me. I frequent art and office supply stores with the dream that the right materials might make me a better artist.
I'm partial to line drawings, and use all kinds of pens:
Koh-I-Noor
,
Pilot
,
Rotring
, and even
manga
and
dip pens
with
India ink
. Sometimes these minimal drawings are almost okay.
Last summer I took an art class. I was by far the poorest student. My drawings had a cartoonish dimension when they resembled anything at all.
One day the instructor made us draw our own fist using a pencil. I had bought
Blackwings
because I had read in
The New Yorker
that these distinguished pencils, long out of production, were again available. He wrote, "devotees of the
Blackwing
had been paying up to forty dollars apiece for them after they were discontinued, in 1998." The motto of the company is "Half the pressure, Twice the speed." The writer ended the piece saying how much he liked them and ordered a gross.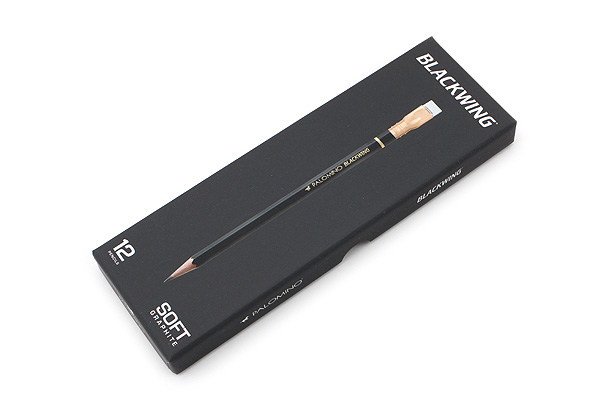 In spite of the high quality pencil, my drawing of the fist had one good fingernail, the rest looking like the roots of a tree, a tree struck by lightning. The teacher took my drawing and with a few strokes using half the pressure and twice the speed, made it into a perfect hand.
Our assignment that night was to draw the fist again. I tried, but the roots of the tree, still scrawny and gnarled, now headed toward the top of the page as if begging the heavens to be buried and hidden from sight.
I looked again at the fine drawing the teacher had made over mine, and I got an idea.
I placed that drawing on our glass-topped dining room table. I covered it with a sheet of paper. I put a flashlight between my knees and aimed it up at the pages.
With my
Blackwing
, I made a perfect tracing of the hand!
A few minutes later, I realized my Pyrrhic victory. I was paying for the instruction and here I was all twisted up at my dining room table, in a ridiculous posture, cheating…
No amount of pressure, no amount of speed could help. The thumb looked like a melon on a tree stump.
I concluded that the formal study of art was not my strong suit.
Still, my lack of ability hasn't stopped me. I just ordered a set of Winsor & Newton oil paints, and I went further and sprung for a brush vase and an easel.
Many amateurs have that last extravagance in common. A friend of mine decided to take up golf. Before he swung a club, he outfitted himself in the fanciest gear, including golf shoes, a glove and waterproof pants and hat.
At his first lesson, the instructor took one look at him and said, "What we have is a problem that brings to mind Descartes."
That the first words out of the golf pro's mouth mentioned a philosopher puzzled my friend. He was thinking this over when the instructor continued, nodding toward the equipment, "You've put
de cart
before
de horse
…"
At least he hadn't gone as far as buying a golf cart, the sportsman's equivalent of my set of oils.
---
---
comments powered by Disqus