---
John Skoyles writes the column "Pen and Ink" and is a professor at Emerson College, a poet, and author of the memoir, Secret Frequencies: A New York Education. Find out more about John and his work at www.johnskoyles.net.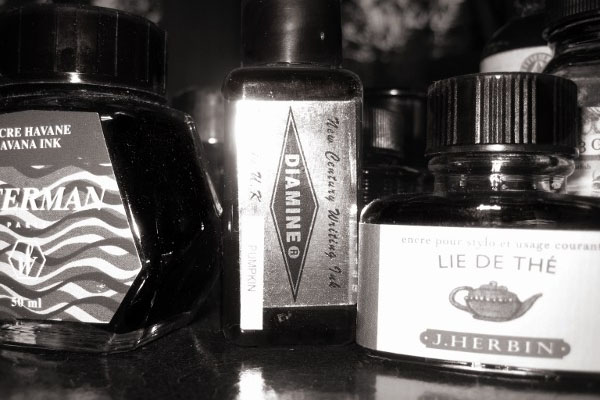 For the last six months I've been writing this bi-weekly column, and I think it's time to put down the quill before the ink runs out. So this will be my final piece, or you can think of it this way: the rest of these entries will be written in invisible ink…
I've enjoyed discussing the pleasures and follies, the virtues and vices of those of us who are infatuated with the fare offered by this website as well as art supply stores. And I've met many people who were kind enough to drop me a line. I will miss the halogen searchlight of public attention.
From one reader, I learned about the
Le Musée du Scribe
in Saint Christol Lez Ales, France, which has a collection of five thousand pens. Another introduced me to his fantastic brush drawings, and still another sent me some fine Japanese writing paper.
I had an interesting exchange with a pen lover who much prefers pens with
converters
to those with
pistons
. The latter mechanism holds more ink, but most piston filled pens make it impossible to know when the ink is getting low, so you could get caught short. You can always check a
converter
, or a
cartridge
for that matter, but you have to refill more often.
Just last week I corresponded at length with another reader about favorite
brown inks
. It was an odd coincidence, as I had just filled several fountain pens with
Waterman Havana Brown
,
Diamine Sepia
, and Galileo Manuscript Brown. When I mentioned missing my favorite Sailor ink, Red-Brown, which is now out of production, she suggested
Rustic Brown from Diamine
as a close second. Further, she said that if I wanted that shade in a cartridge, then
Sailor Clear Candy Fountain Pen Ink Cartridge - Reddish Brown
, might do the trick.
The strange thing is that she had loaded her pens with almost the same browns and reddish browns as I had.
I was wondering about this serendipity while walking my dog (Yellow Labrador—not Chocolate!) in the woods here on Cape Cod. Then it hit me: we were both New Englanders. As I went along the trail, I was stepping on acorns, pine needles and oak leaves, all tints and shades of brown!
Earlier this month I had made my autumnal cocktail hour switch from gin to bourbon. The poet Alan Dugan calls this season "fall and whiskey weather…" It's also the season of changing inks. Goodbye to
South Sea Blue
and
Ku-Jaku
and hello to
Havana
,
Chocolate
and
Sepia
. (I would also say hello to a bourbon or scotch ink, but I know of none….)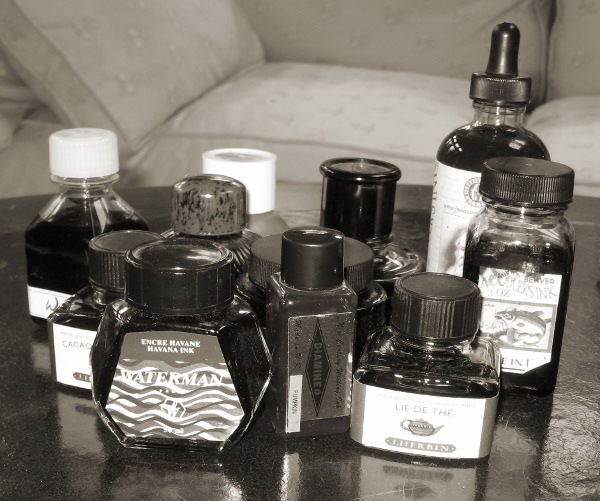 You can see my hoard of
brown inks
in the accompanying photo. Sentences written in
Lie de The
have a strange quality, as if they can predict the future. Galileo Manuscript Brown has an archival look and is also waterproof.
Waterman's Havana
seems to be more than a shade of brown; it seems to glow a bit gold when used with a broad nib.
Cacao du Bresil
leaves a page of words looking like transcribed smoke signals. Two drawing inks here are Walnut and Persimmon, forbidden for fountain pens, but lovely colors for use with a dip pen or brush. I love the
pumpkin ink
, but it is too brazen for doing anything but drawing pumpkins.
It is futile to lament the coming of winter when you live in New England, and yet we do. It's a pastime, like bemoaning the state of the Red Sox. I like to think of each winter day as a day closer to spring, when everything returns to life.
As autumn becomes winter, inks also change on the desks of inkophiles across the country. Oh, quickly disappearing ink, in our more slowly disappearing pens!
---
---
comments powered by Disqus