---
John Skoyles writes the column "Pen and Ink" and is a professor at Emerson College, a poet, and author of the memoir, Secret Frequencies: A New York Education. Find out more about John and his work at www.johnskoyles.net.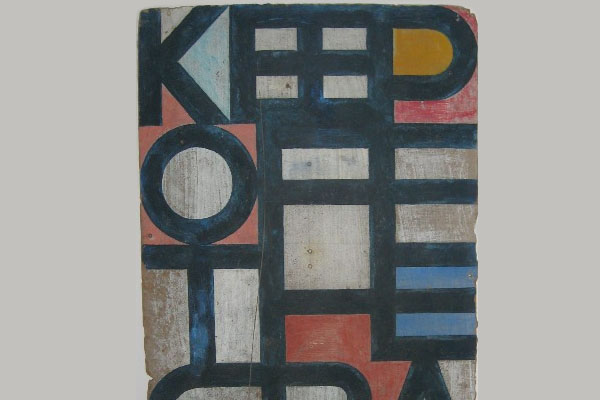 painting by Jackson Lambert
Here in Truro, Massachusetts, we have many visitors in August, enticed by the magnificent climate. It's hot in the day and cool at night from breezes that cross this narrow strip of land that lies between the Atlantic ocean and Cape Cod bay.
Provincetown, the renowned art colony, is only eight miles away at land's end. The abstract painter Hans Hoffman conducted a famous school there for decades spanning the forties and fifties. Among his most famous students were Larry Rivers, Lee Krasner, Helen Frankenthaler and Paul Resika.
That culture remains intact today. As a year round resident of the Outer Cape for twenty years, I have made many artist friends whose work I have bought and been given...
When our summer visitors arrive, one of the first things they do is look at the walls of our house for new drawings and paintings. And when I visit my friends here, I do the same.
A few weeks ago, a building contractor who has been collecting for thirty-five years invited me to dinner. I was amazed by his stunning array of early Provincetown art, particularly by Ross Moffett, known for his paintings of fishermen, boats, harbors and beaches.
I don't have such historical treasures, but let me introduce you to a few things around my house.
Paul Resika, who arrived in Provincetown to study with Hoffman in 1947, when he was nineteen, lives in a former Spanish restaurant which overlooks both ocean and bay. One night after dinner there, he took the nearest paper at hand, a
Rhodia Dotpad
, and with a
lead-holder
, either a Worther or a
E+M brand
, drew a woman with a sailboat in the background, which I've framed.
For my fiftieth birthday, Michael Mazur gave me an oil of paint brushes in buckets. I think of it as an image of a community of artists, although some have more prominent positions than others, so there is a hierarchy…
At the Wellfleet flea market, I bought several sketches of the dunes done in
India ink
by an unknown.
My friend Bert Yarborough, the artist who started my addiction to pens by giving me a
Lamy Safari
a few years ago, did a portrait of my son, Harry, and his son, Sam, when they were boys at the beach. It looks like it was drawn with a
brush pen
.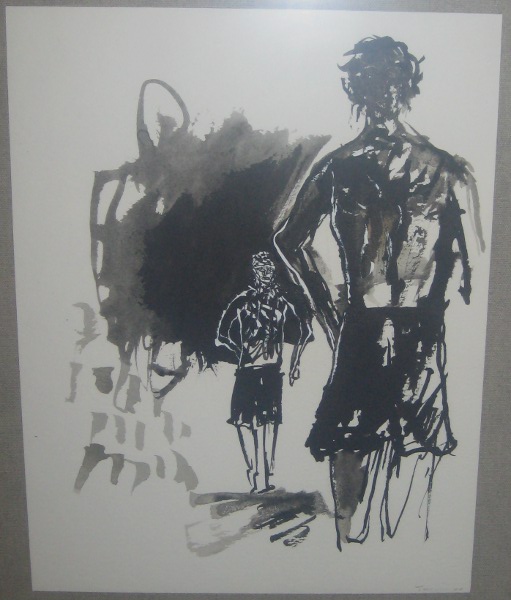 painting by Bert Yarborough
Walter Keane was famous in the sixties for paintings of wide-eyed waifs, and I have a cheap reproduction I bought on Ebay because it reminds me of when I first saw these pictures as a kid. (There's an interesting story about Walter and his wife Margaret – each claimed to have created "big eye" art. Wikipedia has the details about a judge ordering them to paint before the jury to see who was right…it's quite a tale.)
I get a kick out of Pamela Painter's humorous acrylic of me swimming with my bulldog, Zero—the dog's head and paws just above water. And Jackson Lambert's "Keep Off the Grass" sign.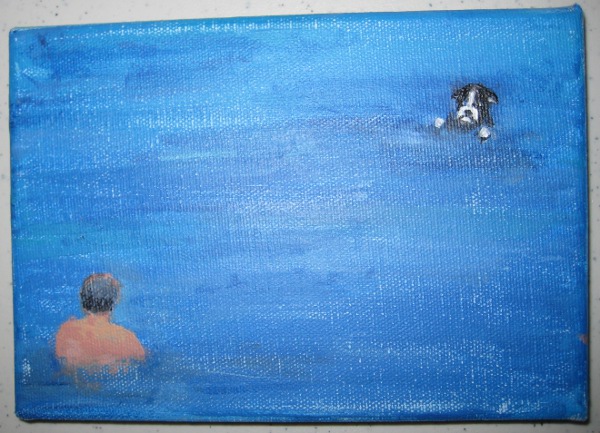 painting by Pamela Painter
My grandfather was an artist who ran a frame shop on Madison Avenue in New York. A few years ago, I cleaned his oil of a stormy seascape. When I tore off the worn brown paper backing, I was surprised to see that he had painted on the other side of the canvas—a beautiful naked woman!
And we have our children's work—our daughter's
watercolor
of a clam shell, and my son's lopsided cup from pottery class.
My own drawings stay hidden in
sketchbooks
. Last year I took an art class in Provincetown with the hope of producing something that could possibly see the light of day. The teacher made it seem easy, quoting Isak Dinesen, "There is no mystery in art. Do the things you can see and they will show you what you cannot see." But I couldn't draw what I saw. I get more pleasure from admiring those whose work reveals a world beyond the one they can expertly portray.
---
---
comments powered by Disqus