---
An interview series featuring notable people whose lives intersect with the world of pens. Schin Loong is a fantasy illustrator who produces stunning calligraphy on the side.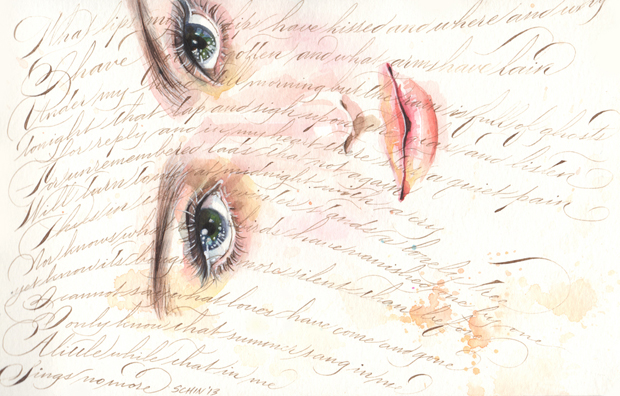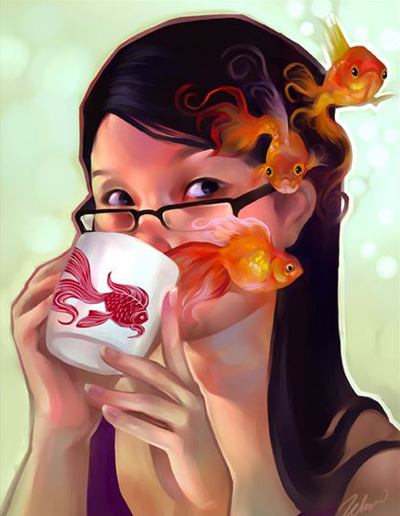 Please tell us a little about yourself.
My name is Schin Loong, I am originally from Malaysia and am currently living in Nevada, US. I work as a graphic artist and illustrator by day, and by night I am a calligrapher.

How did you get into calligraphy?
I discovered flourished birds and ornamental Spencerian penmanship and was blown away by their elegance and beauty, amazed that they were all done by hand in minutes. I vowed to be able to do the same... eventually.
A couple years later, I have barely scratched the surface of what the masters can do. Give me another 50-60 years, I'll get it by then...

Do you have a favorite script/style? Which is the most challenging to master?
My practice is mostly Engrosser's, Spencerian, and modern shaded styles. My favorite is definitely Spencerian, or ornamental penmanship. It is most versatile and challenging. It looks beautiful and elegant when written simply with no frills, but one can also play around with flourishes and twists and turns to connect letters together in a very creative way. I could stare at those wonderful loopy signatures all day and admire how the masters can join them all so effortlessly with no apparent hesitation, forming perfect fine lines. It's almost inhuman!

Can you tell us about your participation with IAMPETH?
I discovered IAMPETH.com through their website and went through all their lessons and books like a lawnmower. When I found out that their annual convention 2013 is going to be in New Mexico, I thought it was too far away and decided not to go. Well, when I arrived in New Mexico, I thought that it would be enough and I can skip the next convention in Indianapolis. And now I am looking up flight tickets to Indiana...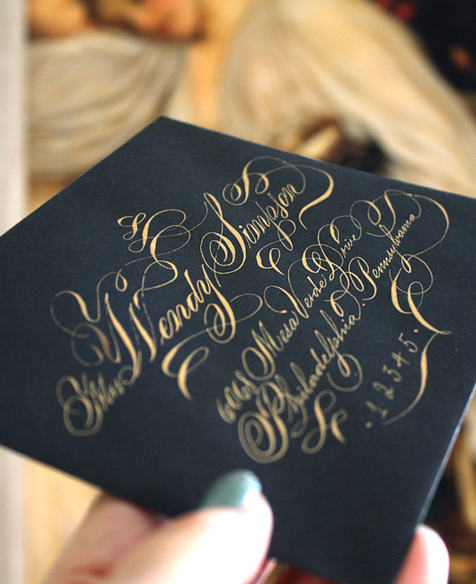 Out of curiosity... how many pen pals do you have?
Let's just say my 2014 New Years resolution is to receive and write a letter every day as a way to practice my penmanship and meet new pals. Maybe two a day?
Have you always been interested in calligraphy?
When I was a young child, I showed interest in learning copperplate so I was given a cheap beginners kit of calligraphy fountain pens. You know, the kind that you can find in bookstores. Now copperplate is only achieved by using pointed nibs, but my set was for italic nibs aka broad pens, which were meant for a different kind of script.
Unfortunately I didn't know this, and I excitedly thought I had all that was needed to write beautiful thick-thin copperplate lines. It didn't help that the set included instructions for copperplate (even though it contained no pointed nibs!). I spent a very confusing hour with ink all over my hands, trying to coax thick and thin lines out of my new Italic pen... eventually giving up and never took up calligraphy again until about 15 years later. To this day I still hold a resentment and disdain for cheap bookstore calligraphy sets.
If you feel like sharing about your other art as well, what inspires your beautiful fantasy illustrations?
I am a big dreamer and what better way to express them but through art? I am inspired by flowers, pretty girls, colors, birds, all kinds of things and need to compile them all into my fantasy artworks. Calligraphy and penmanship is just another beautiful element I hope to compile into my art in the future.

Does your art style play a big role in your current job?
Well, I don't get to paint as many beautiful half-naked women holding flowers as I like, but my job is still pretty illustration heavy and gives me the freedom to explore my skill using digital media. And when I get home, I put away the digital stuff and unwind with my traditional nib, ink and paper. Not a bad balance, I think.
What other hobbies do you have?
In my spare time I enjoy reading, drawing, cooking, and flying kites. I also keep a small collection of old penmanship samples, fountain pens, stamps and nail polish.
Any words of advice to aspiring calligraphers (and/or fantasy illustrators)?
Do what makes you happy, don't waste time trying to be someone else! If you like painting flowers, then paint flowers. If you like writing uncial script, then write uncial. Keep an open mind to learning new things, but don't be afraid to fully embrace what you truly love to do. I used to want to please others by painting only 'serious things', but now I realize art doesn't look quite as good if you don't enjoy it yourself.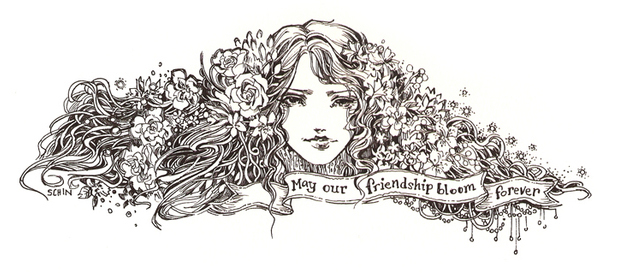 What JetPens products and supplies do you use in your creative process?
More of Schin's beautiful artworks! Click to see full size images.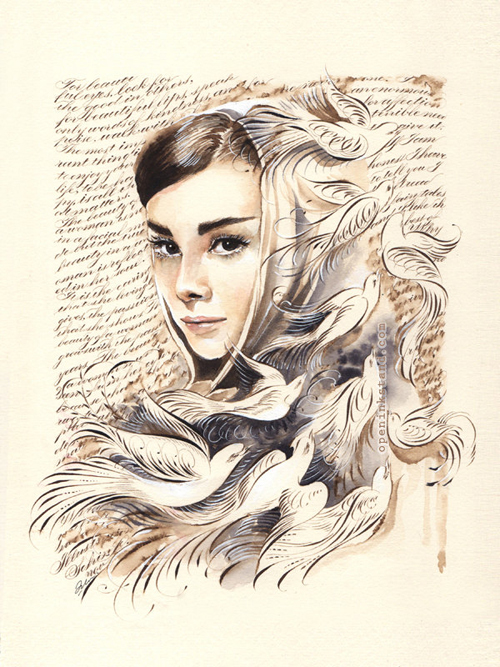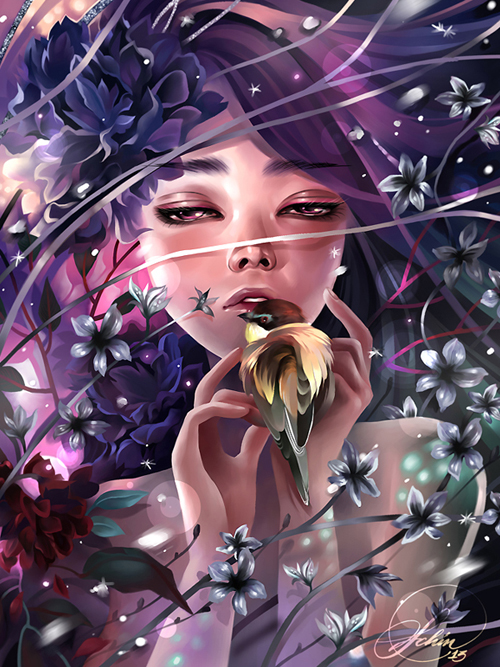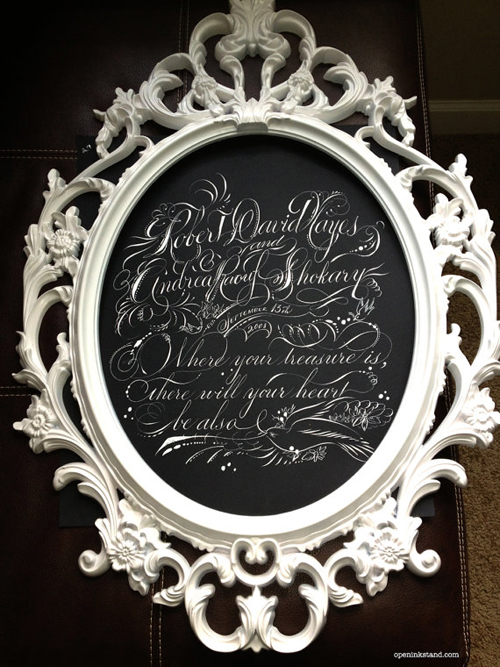 Ever wonder how artists use JetPens products? JetPens showcases artists every month and interviews them to see what their favorite JetPens tools are. Please send any suggestions for Artist Interviews to penpal(at)jetpens.com!
---
---
comments powered by Disqus