---
An interview series featuring notable people whose lives intersect with the world of pens. Pranay and Paul are the masterminds behind the Apollo Pen and Tri-Scale: the ultimate drafting tool for engineers and designers.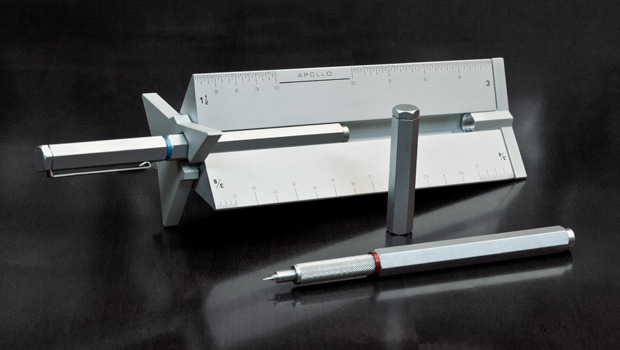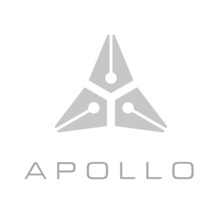 Can you tell us a bit about yourselves?
We both grew up in Ottawa, Ontario -- the capital of Canada. We went to the same high school together, and have been friends since we first met in Grade 10 History class.
Over the years, we've worked together developing and launching a wide range of products in many different fields: social media apps, web services, 3D printers and even a full- scale mobile TV solution for cable operators and sports stadiums!
Even right now, we're working on a bunch of cool new products that should be launching over the next year. We have a very loyal community of followers—both customers and partners, and we often offer them sneak peeks, giveaways, and product trials months ahead of the scheduled launch date.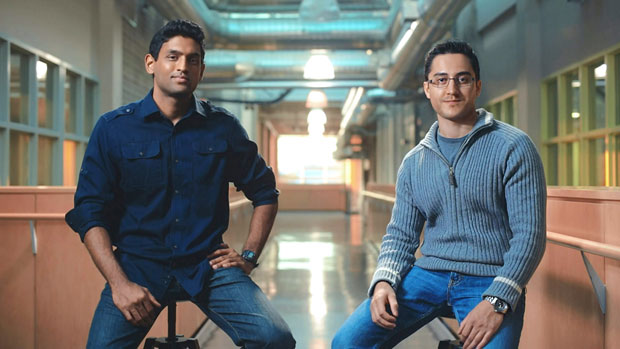 So tell us about your Kickstarter project, the Apollo pen!
We have always followed Kickstarter and have been backing projects for several years. We loved the idea that anyone could share their idea and get almost immediate results.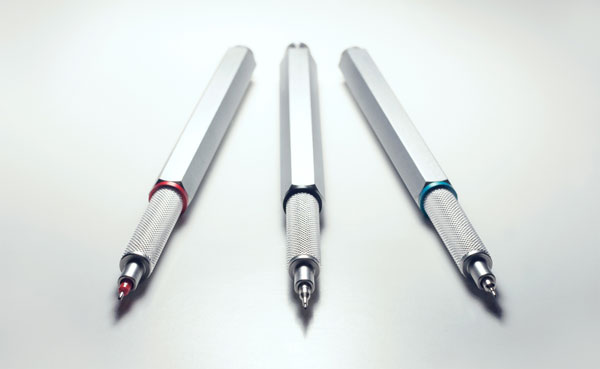 After we decided to do our own Kickstarter campaign, we followed several projects from beginning to end to learn about backer's tastes, pitching, rewards, and campaign management styles.
We both have the habit of conceptualizing ideas and jotting down notes with pen and paper; we're never caught without these tools. So for our first Kickstarter campaign, we saw it fitting to launch the first tool we turn to when embarking on a new project.
We over-engineered the Apollo Pen to be the ultimate writing and drafting tool. From supporting over 50 off-the-shelf refills and numerous mods (like the stylus and pen/pencil conversion kit) to its treated premium titanium body, we're confident our pen will stand out in any collection.
However, we think that the highlight of our Kickstarter campaign just might be the Apollo Tri-Scale. The first of its kind, the Tri-Scale is a 6-sided architect's scale that integrates 3 pens in its inner vertices. We wanted the Tri-Scale to perform as a useful drafting tool and double as a unique carrying case—it draws attention everywhere we take it!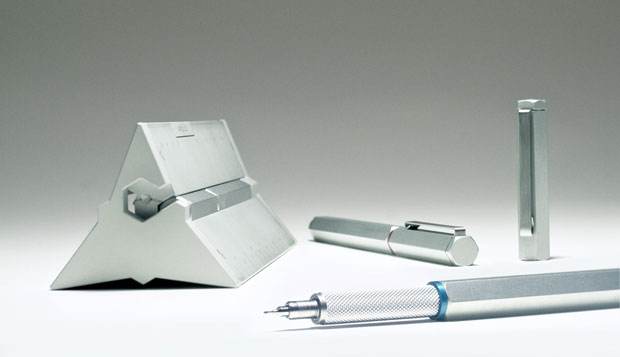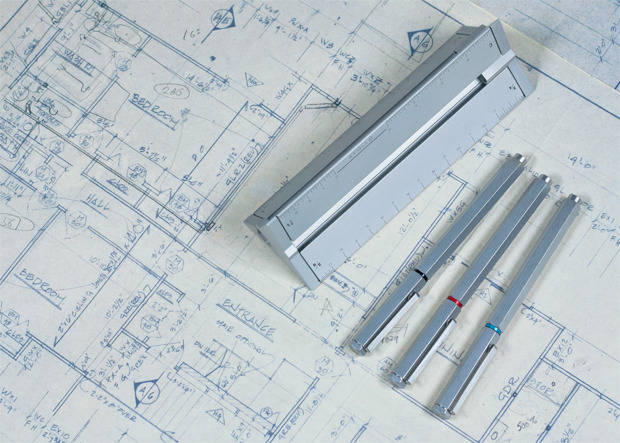 What inspired you to make the Apollo pen, and where did you draw your design inspiration from?
The first version of the Apollo pen was designed for us...and to be totally honest, it was kind of an eyesore! The whole pen was just a knurled round bar with a magnetic cap. It was simple, but it was a great tool that we had specifically made to fit our purposes, so we ended up taking it everywhere.
When we decided to launch the pen on Kickstarter, the Apollo went through an extensive makeover process.
We introduced a custom made, premium Titanium hex bar and a stainless steel nib attachment to balance the weight. We also added a high-strength clip, which was not easy to do! We did our best to pay homage to classic drafting design styles of the past, while incorporating modern purpose and functionality.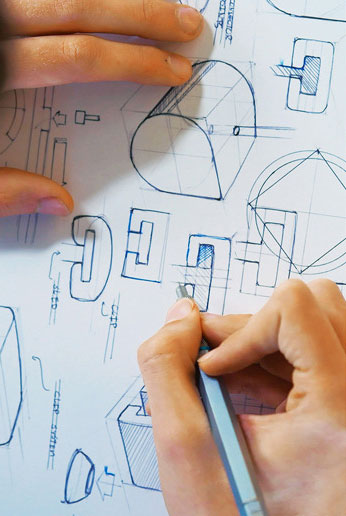 Can you briefly walk us through the ideal design process?
1. Solve a problem. Usually, it's your own!

2. Expand on the problem's scope; this goes hand in hand with the features of your product. Don't hold back in this stage, list up the craziest ideas you possibly can!

3. Narrow down your scope to the minimum viable product that solves the problems and gives your product its unique flare in the market.

4. Start sketching your product concepts, colors, shapes and personality! Show off your ideas—get feedback! Ask more than just your friends to get some honest criticism.

5. Drive hard to create a prototype or a mock up. Be careful when choosing the raw materials and make sure you indeed be source them reliably when it comes time for mass production.

6. Review, Refine and Re-spin.

What was the most challenging part of this project?
The most challenging part of our project was building a product that is manufacturable. This means being able to source the raw materials, finding out how the parts will be machined and making sure each step of the process makes financial sense. The next to most challenging part was getting the word out!
Kickstarter is an awesome platform for gaining exposure—plan to maximize that from the get go. Since the campaign started, we've learned the importance of getting the word out much earlier in the process.


Any upcoming collabs or projects we should keep an eye out for?
Big time! We are always working on several ideas at the same time, and the present is no exception. Alongside the Kickstarter campaign, we're working with several teams on many different projects that will be going live at the beginning of next year.

Do you guys have any other hobbies?
We are both musical (Paul plays the piano, and Pranay plays the guitar). Other than that, we love working with our hands! To help with our prototyping process last year, we designed and built our own 3D printer that creates 12" x 12" objects. We've also worked together on car restorations and are often found tinkering away in the machine shop.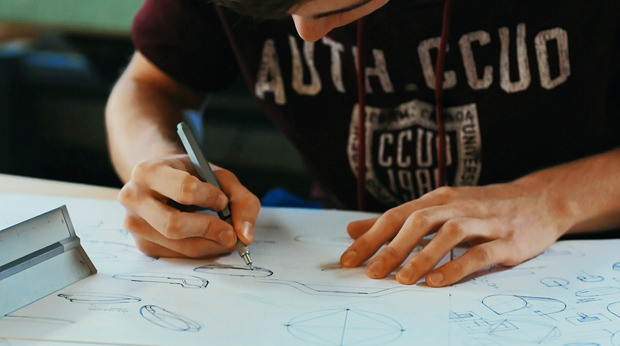 Any advice for aspiring engineers, designers, and inventors?
Many of us get snatched up early in our careers and end up working for mega-companies for the rest of our lives. Don't be afraid to exercise your own creativity, get out of your comfort zone and explore your full potential! Start slow and don't be afraid to share what you've created with others. If there's real value in your idea, it will become apparent very quickly and you'll know to act on it.

Give us a little insight as to how you use JetPens products in your process.

We chose the Japanese Hi-Tec-C as our default refill because it's become a staple in the drafting/illustrating community. We source a lot of Hi-Tec-Cs from JetPens. When designing the Apollo pen's nib, we tested an additional 200+ refills from JetPens and developed a few other favorites in the process! One of our preferred refill makers is OHTO—we absolutely love the OHTO Fude refill. We've gone through several field notebooks (on this project alone) and have an addiction to fountain pens! Both of us carry little black notebooks full of ideas, sketches and notes at all times—you never know when inspiration can strike.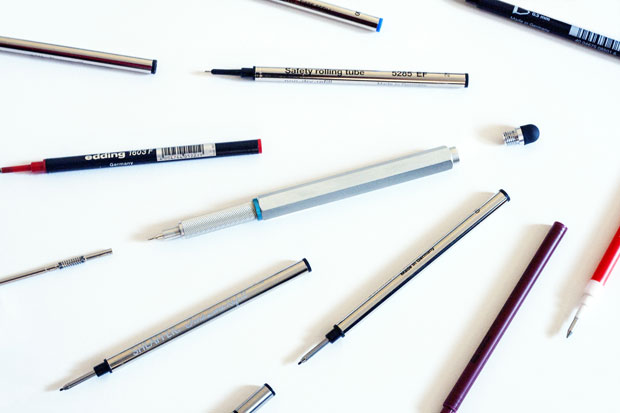 Support Apollo's Kickstarter Campaign!
Do you love the design of the Apollo Pen? Be sure to check out Pranay and Paul's Apollo Pen Kickstarter Page and pledge your support! They only have one week remaining in their campaign, and would love for you to be a part of their journey in creating the ultimate drafting tool.

JetPens Exclusive Apollo Giveaway!
To wrap up their Kickstarter campaign (and because they are just really cool dudes), Pranay and Paul are generously providing one full Apollo Tri-Scale set and one single Apollo pen for an very special JetPens Giveaway! They custom-designed this JetPens Exclusive Apollo Tri-Scale just for us, and are excited to share their creation with a lucky winner.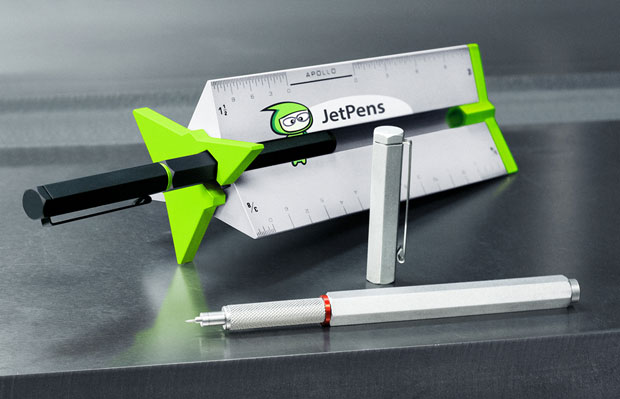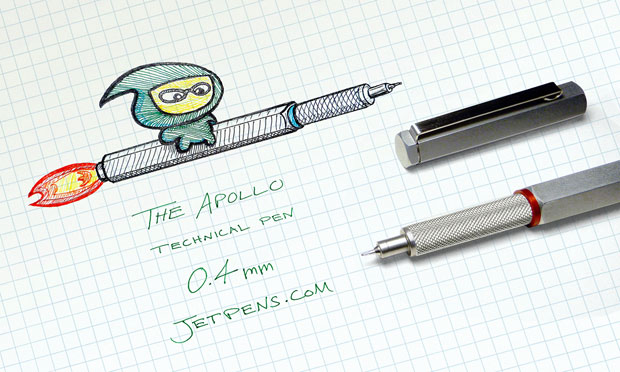 Out of all entries, two winners will be selected:
One Grand Prize winner will receive the full JetPens Exclusive Edition Tri-Scale set, complete with three pens.
One runner-up will receive a single Apollo Pen, which comes with a sleeve, color rings, and one Hi-Tec-C refill.
Rules and Instructions:
1. To enter, please follow this link to our entry submission page!
2. Please note that this contest is limited to U.S. residents at least 18 years of age.
3. Entries will be accepted from now until December 12, 2013 at Midnight EST.
4. Two winner will be selected at random from all entries.
5. The prize will be fulfilled with the Apollo Kickstarter pledges. The projected fulfillment date is from late February to early March.
Official Contest Rules
Official Contest Rules
---
---
comments powered by Disqus