---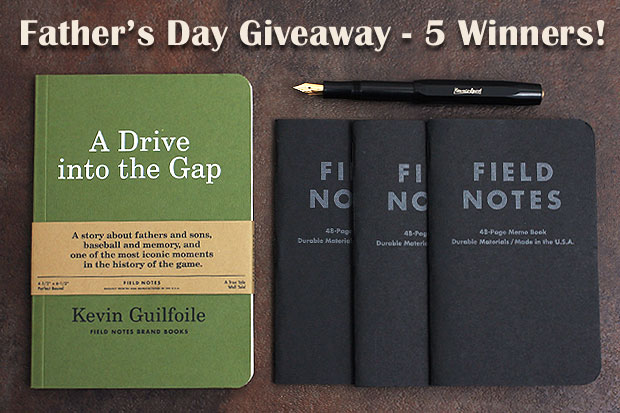 For many kids, some of the fondest childhood memories involve tossing a baseball around with Dad on a warm weekend afternoon. You can carry on this timeless tradition over summer with this prize! A Drive into the Gap is a wonderful true story that will inspire you to take a trip out to the next ball game. Don't forget to bring along your Field Notes book and fountain pen to write down scores.
This prize includes the following items:
This giveaway is now closed. Congratulations to our lucky winners:
Gloria T., David N., Denise R., Annie W., and Rick S.!
Thanks to everyone who entered! Be sure to check out our Pen Perks Page to see if there are any current giveaways!
Rules and Instructions:
1. To enter, please follow this link to our entry submission page!
2. Please note that this contest is limited to U.S. residents at least 18 years of age.
3. Entries will be accepted from now until June 13, 2014 at Midnight Pacific.
4. Five winners will be selected at random from all entries and announced on the entry submission page once the prize is claimed.
Official Contest Rules
Official Contest Rules
---
---
comments powered by Disqus