July 18, 2014 - Posted by Elaine to
Pen Perks
---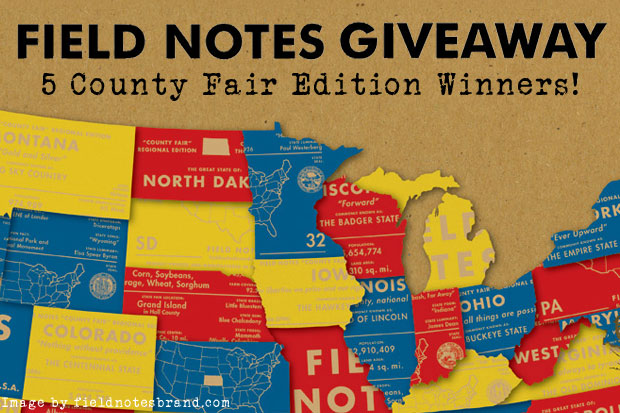 FIVE lucky winners will each receive one pack of Field Notes Color Cover County Fair Memo Books in their state of choice! Each pack contains three memo books in blue, red, and yellow -- the colors of the 1st, 2nd, and 3rd place County Fair prize ribbons. You can select your residence state, your hometown state, or a state you plan to visit on vacation this summer!
This giveaway is now closed. Congratulations to our lucky winners, Alec S. (Pennsylvania), Tom L. (California), Cathy C. (Washington), Adam B. (California), and Marie H. (Texas)!
Thanks to everyone who entered! Be sure to check out our Pen Perks Page to see if there are any current giveaways!
Rules and Instructions:
1. To enter, please follow this link to our entry submission page!
2. Please note that this contest is limited to U.S. residents at least 18 years of age.
3. Entries will be accepted from now until July 25, 2014 at Midnight Pacific.
4. One winner will be selected at random from all entries and announced on the entry submission page once the prize is claimed.
Official Contest Rules
Official Contest Rules
---
---
comments powered by Disqus