January 29, 2014 - Posted by Elaine to
Pen Perks
---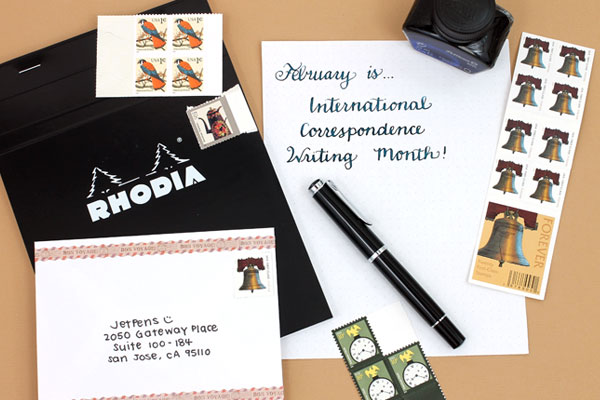 February is most known for Valentine's day, but did you know that February is also Library Lover's Month, National Grapefruit Month, and International Correspondence Writing Month? More casually known as InCoWriMo, International Correspondence Writing Month is the perfect time to get your favorite pens out and embrace the traditional art of letter writing.
If you would like to participate in InCoWriMo, we would love to receive a letter from you! As an incentive for everyone to spread the love of pen and paper, we will be giving away a beautiful letter writing set to one participant.
The InCoWriMo Giveaway Prize includes:



Please address your lovely written correspondence to our office address:
JetPens - InCoWriMo
2050 Gateway Place, Suite 100-184
San Jose, CA 95110
United States
Include your name, return address, and an email we can reach you at. The topic of the letter is entirely your choice -- you can write a poem, share a customer testimony, or just tell us about your day!
Rules and Instructions:
1. To enter the giveaway, please send JetPens a handwritten letter on any topic of your choice!
2. Please note that this contest is limited to U.S. residents at least 18 years of age.
3. Entries will be accepted from now until March 1, 2014.
4. We will select our favorite letter from all entries! The winning letter will be announced and shown on the blog once the prize is claimed. (Please note that unlike our other giveaways, this will not be a random drawing - the winner will be chosen based on content and style!)
Official Contest Rules
Official Contest Rules
---
---
comments powered by Disqus