November 20, 2013 - Posted by Elaine to
Pen Perks
---
This giveaway is now closed. Check out our Pen Perks Page to see if there are any current giveaways!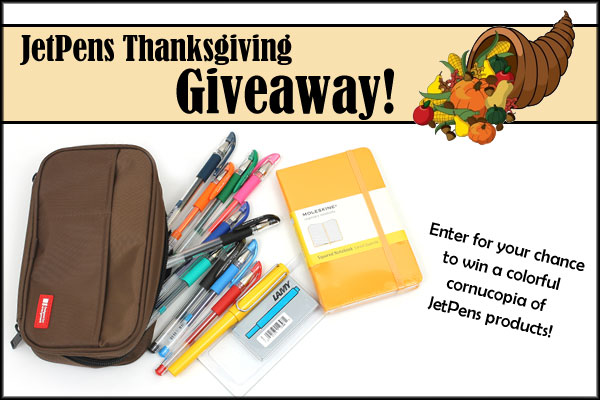 The holidays are drawing near...Thanksgiving is right around the corner! We hope you are all enjoying the festivities of the season -- whether that's preparing delicious recipes, getting some early shopping done, or writing holiday cards to dear friends and family.
We are truly thankful for all of our dear fans and customers, so we're celebrating Thanksgiving by gifting a cornucopia of colorful items to a lucky winner! The prize includes the following items:
Rules and Instructions:
1. To enter, please follow this
link
to our entry submission page!
2. Please note that this contest is limited to U.S. residents at least 18 years of age.
3. Entries will be accepted from now until November 27, 2013 at Midnight Pacific.
4. One winner will be selected at random from all entries and announced once the prize is claimed.
Official Contest Rules
Official Contest Rules
---
---
comments powered by Disqus