December 4, 2013 - Posted by Elaine to
Pen Perks
---
This giveaway is now closed. Check out our Pen Perks Page to see if there are any current giveaways!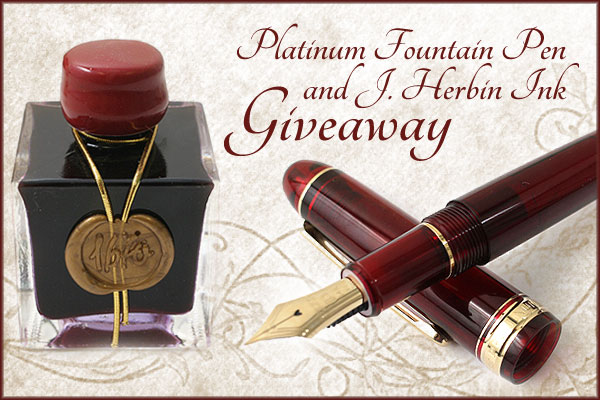 This week, JetPens friends will have a chance to win a gorgeous deep red and gold set! The matching fountain pen and ink will be a classy addition to any desk, and will bring a touch of royalty to your collection.
4 Platinum Black Ink refill cartridges
Read on for more information on these products, and how to enter the giveaway!


Rules and Instructions:
1. To enter, please follow this link to our entry submission page!
2. Please note that this contest is limited to U.S. residents at least 18 years of age.
3. Entries will be accepted from now until December 11, 2013 at Midnight Pacific.
4. One winner will be selected at random from all entries and announced on the entry submission page once the prize is claimed.
Please note that you MUST enter through the submission form; comments on this post, while nice and friendly, will not be regarded as entries
Official Contest Rules
Official Contest Rules
---
---
comments powered by Disqus